27 October 2001
It's another Rambles kind of day, and it's time for more reports from Celtic Colours! Tom Knapp gets things moving with The Hand That Rocks the Bow, a showcase for six female fiddlers in incredible form. Cheryl Turner follows with a trio of musicians at the Whycocomagh Gathering.
Tom begins the CD reviews with something else from Cape Breton: Buddy MacDonald's We Remember You Well. "Buddy isn't just a good singer and guitarist," Tom says. "He's a fabulous songwriter as well."
N
ext up is an Irish musician Tom met in Cape Breton during the Celtic Colours festival: Liz Doherty, whose album Last Orders "quickly became one of my all-time favorite fiddle CDs." Doherty, Tom notes, completed her doctoral thesis on Cape Breton fiddling and has successfully blended Irish and Cape Breton styles in her own work.
Tom concludes his CD triple-decker with Music from Home, the new live album from Texas supergroup Clandestine. "This Houston-based quartet unfailingly provides some of the best vocals and most exemplary instrumental sets in the business," Tom says, "and their show are always high-energy personality-driven events."
Oh wait, Tom has one more -- he got a lot of listening done during the long drive to and from Cape Breton. So let's make it a grand slam with this compilation disc, Songs of the Travelling People. "This isn't a highly polished studio recording by any stretch; it's a musical heritage preserved for future generations to experience," Tom explains. "For preserving that piece of dwindling Celtic and British culture, I'll call this disc a winner."
Laurie Thayer takes over next with Gullible's Travels by the Brobdingnagian Bards. "The technical aspects of the CD aren't the greatest; certain bits sound like they were put together in someone's basement," Laurie says. "But the music is fun and lively and provides a true faire atmosphere."
Wow, that's a lot of Celtic music! Let's change focus for now -- while Laurie has our attention, she can tell us about Rachel Loshak's recent album, Firefly. The album, "with its quiet melodies and Loshak's delicate singing, is a welcome change from the vocal acrobatics of many adult-contemporary/soft-rock artists," Laurie says.
You thought we were done with Celtic music, eh? Well, Amanda Fisher says no -- she has a review of the Celtic-Italian album In'tla Piola by Francesco Benozzo. "Benozzo and his collaborators combine Celtic and Italian poetry and sounds into a stunning and unique album that is like nothing I've ever heard before," Amanda says.
Amanda also tosses a bit of folky blues into the mix with Geoff Muldaur and Blues Boy. "Muldaur's voice is perfect for blues, alternating rough and smooth, and full of feeling," Amanda says. "He doesn't oversell the lyrics, yet his passion comes through."
Wil Owen turns to the jazz scene for some Brite Lites, Big Insects by Don Julin and Glenn Wolff. A fan of older jazz styles, Wil says this CD fits the bill. "Most of the work is relatively new, but you probably will not be able to tell it was not decades old," he says.
W
il keeps the beat going with Himalaya Roots: Traditional Music of Nepal by Bharat Nepali Party. The album, Wil says, "showcases several dream-like, meditative pieces that quickly bring to mind the spiritual background of the Nepalese people. The tranquil sounds can be soothing to one's soul."
Dave Townsend is next with Drum Hat Buddha by Dave Carter and Tracy Grammer. "The songs on Drum Hat Buddha range from beautiful metaphysical ballads to a good truck-driving song," Dave says. "They are filled with beautiful haunting melodies combined with well-crafted lyrics and beautiful vocal harmonies."
The country niche is filled by contributor Chris Simmons, who reviews The Other Sessions by Jim Lauderdale. The CD, Chris says, "will most likely be consigned to the alt-country ghetto, but it deserves much more."
Tom Knapp is back to kick off the fiction section with an Irish novel of many parts: Yeats is Dead! by Roddy Doyle, Frank McCourt and more. "Each chapter in this novel, written to raise funds for Amnesty International, was penned by a different Irish author," Tom explains. "That gives the story a varied flavor, highly seasoned with each writer's style."
Amy Harlib slips into a fantasy vein with Kushiel's Dart by Jacqueline Carey. The novel "offers such a riveting yarn of intense emotions, intriguing background details, compelling personalities, provocative blends of Christianity and paganism and spiritual sensuality that readers will finish it satisfied yet, eagerly awaiting the sequel hinted at in the concluding passages."
Donna Scanlon provides a child's eye to Bill Harley's Bear's All-Night Party. "The tale is simple, strong and well told, and it begs to be read aloud, especially if you can organize your listeners into singing backup themselves," Donna says.
Cheryl Turner tickles her spiritual side with Dave Meurer's Out on a Whim. The slim volume "provokes musings, thought and laughter from its readers," Cheryl says. "The book encourages deeper thinking on issues while demonstrating that poking fun at life is OK, too -- and even desirable!"
Janine Kauffman serves up a double feature of films, starting with Kikujiro -- she describes it as "a tribute to the joys, fears and lessons of journeys." Next is a classic, 1957's Witness for the Prosecution. "It's a brilliant production from the brilliant director Billy Wilder in the midst of his heyday," Janine says. It also shows off a bit of Marlene Dietrich's famous legs.
Elizabeth Badurina ends our review day with a pair of zine reviews: Cathexis #2 and WillZine #5.
Finally today, Beth Derochea provides a New Yorker's view on the events of Sept. 11 in her latest rambling. Beth and her fiance were in the city when the attacks occurred.
Halloween, a.k.a. Samhain, is just around the corner, so don't forget to check out our special page of Halloween treats. Boo!
In memorium: Eamon Kelly, probably Ireland's best-known and beloved seanacha' (storyteller), died this week in Dublin. Eamon, 87, brought Irish storytelling to stages and television screens all over the globe.
21 October 2001
Hello! It's time to kick off our Celtic Colours 2001 coverage with a report on the first day's performance, the Gala Opening Concert in Sydney, Cape Breton. Read Tom Knapp's report on the show featuring Natalie MacMaster, Tony McManus, Mary Jane Lamond, Phil Cunningham and more!!
W
hile we're on the subject of Cape Breton, Tom wants to rectify an oversight on our part and post a review of one of Cape Breton's greatest living musicians, Buddy MacMaster, and his most recent CD The Judique Flyer. See why Tom says this album "should be in the collection of every fiddler and fiddle enthusiast."
Cheryl Turner is next with Heat the Hoose 2, a compilation of some of Scotland's hottest fiddlers in action. "There are many, many talented musicians on this recording," Cheryl says, "and it is a good sample of their work."
Veema Kysac is next with Scotsman Angus Lyon's Long Road. "It's evident he's a master of the accordion," Veema says.
We should mention that Rambles has nearly 600 Celtic CDs reviewed to date -- not bad for a magazine less than three years old! Please note these are individual reviews for each, not "micro" reviews which give short shrift to several albums in the space of a single page. Rambles is committed to bringing you the best in Celtic music coverage, as well as spotlighting other areas of interest in the cultural arts. Enjoy!!
Tom keeps building that number with a look at Orosay by Mairi MacInnes. "Orosay is a pleasure to listen to because MacInnes sings so beautifully, so expressively, whether singing an ancient Gaelic song or a contemporary song of her own composition," Tom says. "The album is a lush landscape of Scottish tradition, subtle enough to work well as background music and yet engrossing enough to hold your attention for more concentrated listening."
Tom's final Celtic CD review for today is Sole Music from the Scottish Stepdance Company. "Listen to this CD closely, or else the performers might kick you in the shins to get your attention," Tom warns.
Donna Scanlon says it's party time with her review of Mardi Gras in New Orleans, a new Rounder compilation. The CD, she says, "captures the spirit and variety of this now famous festival."
And now, turning to the world stage, Donna takes a look at World Library of Folk & Primitive Music: Romania, a new release from the Alan Lomax collection. Romania," she says, "contains a rich and varied sampling of the songs and music integral to Romanian folk life."
Wil Owen gives us some jazz with Kudu's self-titled album. "This is not a bad CD," Wil opines. "But my bet is that Kudo can produce something better."
Wil also has a review of Wayne Hamilton's folk-rockin' Lucky That Way. The album is "a colorful collection of stories," Wil says, but there is a hitch preventing his wholehearted endorsement.
Ah heck, we were going to wait 'til more Celtic Colours reviews were posted before unveiling the new page, but let's go ahead and do it now. Here is Tom Knapp's second review from the week-long international festival, the Gaelic Roots concert in Mabou, featuring Cape Breton band Beolach, Scottish band Cliar and Highland piper Allan MacDonald.
N
ow, back to the CD reviews. Debbie Gayle Rose is next with a review of Linda Allen's The Long Way Home. "The Long Way Home takes unusual paths through lives of people, telling their often surprising stories in the traditional form of ballads," Debbie says. "These cannot be simply labeled as protest songs or feminist songs; these are people songs."
Julie Bowerman dips back into folk-rock with Maggi, Pierce & E.J. for For. "The sweet longing of Maggi's vocals conjures images of Suzanne Vega while the otherworldly interludes hearken to Pink Floyd," Julie says.
Nicky Rossiter adds some bluegrass to the mix with Turning Pages by Andrew McKnight. McKnight, Nicky says, "is described as a poet, geographer, historian and naturalist, and the tracks on Turning Pages bear out those claims."
Switching to country and bluegrass, Amanda Fisher says The Storm Still Rages "is a powerful bluegrass/country album from singer Rhonda Vincent." Read her review to learn why!
Donna is back with Margaret Read MacDonald's take on a Danish folk tale, titled Fat Cat. "MacDonald writes tales which lend themselves to telling, and Fat Cat is no exception," Donna says.
Amy Harlib is up next with The Fablesinger, a first novel from Judith Woolcock Colombo. The book "offers a compelling read because the vivid characters stand out against the equally colorful background," Amy explains.
Conor O'Connor rounds out the fiction department with Sebastian Faulks and Birdsong. "Is Birdsong a war novel?" Conor asks. "Yes, in as much that it is a love story set against the backdrop of one of the greatest tragedies of 20th-century European (if not world) history."
Elizabeth Badurina takes a swing at creative gardening with The Magic Land: Designing Your Own Enchanted Garden by Julie Moir Messervy. See why Elizabeth says you should "save your money and inspire yourself instead."
Janine Kauffman starts today's film festival with Best in Show, a "smart satire" about obsessive dog showers everywhere.
Tom's movie choice for today is a medieval bloodbath, Flesh & Blood, a.k.a. The Rose & the Sword. In this case, Tom says, the movie's ugliness is a virtue and it "will surely give you a taste of an era which was anything but romantic."
Janine comes back with another review to cap the day: Waiting for Guffman is a "gem of a video ... to brighten even the bleakest Missouri winter."
That's it for now. Tune in next week for more from Rambles!
16 October 2001
We're back!! The editor has returned from a fabulous two-week break from craziness ... a holiday dominated by the incredible Celtic Colours festival up in Cape Breton, Nova Scotia. Coverage of the festival will be coming up soon; meantime, here's a short update to tide you over 'til this weekend.
Chet Williamson is first with the House Band and October Song. "Would that every pub had a 'house band' of this caliber," Chet exclaims.
Tom Knapp came back from a recent trip to Ireland with a copy of Songs of Ireland's 1916 Rising, a two-disc compilation set. The songs included in this set, Tom says, "are a slice of Ireland's history, a musical reminder of a struggle long past."
Tom says a band called Keltik Elektrik didn't really learn from its previous mistake before releasing a second album, Just When You Thought It Was Safe to Sit Down.... The album "promised but failed to deliver an album of unceasingly energetic tunes," Tom explains.
Robin Brenner finds a lot of musical history in Zoe Vandermeer's If Love Be the Food of Musick. "The CD feels like a private concert of madrigals, ballads and mournful dirges from some of the more beautiful traditions from France, Italy, England and Scotland," Robin says.
Laurie Thayer reports on one of Putumayo's new compilation discs: Arabic Grooves, she says, rises to the challenge of making "Eastern music styles accessible to Western ears."
There's a variety of folk styles in Scott Hallock's Stories, says Cheryl Turner. "This versatile musician has a knack for adding his own style to any type of music, and arranging it in a way which keeps people listening," she says.
Lynn McLachlan is next with All the Wrong Things by Forrester. "Full of optimism and energy, John Forrester's second album of original tunes is immediately engaging and more likeable on repeated listens," Lynn says.
Charlie Gebetsberger says there's a lot of genre-crossing in the self-titled release from Atomic City Rhythm Rascals. "The way the guys come together in harmony is a beautiful treat to the ear of any music fan," Charlie says.
Rachel Jagt shares a touch of Ephemera with singer-songwriter Suzanne McDermott. Rachel enjoys the mix of "floating vocals, amazing musicians and well-crafted songs."
We have a bunch of live reviews coming your way in upcoming weeks, including several reports from Tom Knapp and Cheryl Turner on events at the week-long Celtic Colours festival in Cape Breton, Nova Scotia. Meanwhile, please enjoy Tom's review of a late August performance by Crosby, Stills & Nash.
Donna Scanlon starts off the fiction section with The Deepest Water, a psychological mystery by Kate Wilhelm. "The plot holds together well, and both plot and characterizations are interdependent, so that the reading experience is rich and satisfying," Donna says.
Amy Harlib has a deuce of novels for your consideration. First is Dulcinea, or Wizardry A-Flute by Shalanna Collins. The novel, Amy says, "inevitably invites comparisons to Harry Potter, but her book, much more otherworldly and with a feminist viewpoint, more favorably equates with the works of the magisterial Diana Wynne Jones."
Also from Amy is Sophie Masson's The Firebird. This book "offers fully fleshed-out, plausibly motivated characters -- male, female and supernatural -- that will appeal to contemporary readers of all ages while losing none of their novelized fairy tale charm," Amy says.
In our non-fiction department, Elizabeth Badurina shares a taste of Dancing Queen: The Lusty Adventures of Lisa Crystal Carver by, of course, Lisa Carver. "Her biting, tongue-in-cheek admiration overlays an insight that is ... funny enough to bring you to tears," Elizabeth says.
Janine Kauffman unlocks the movie section with Cecil B. Demented. The film boasts "jokes about Satanism, heterosexuality, homosexuality, celibacy, violence, death, religion of any sort and terrorism," Janine says. It "manages to offend everyone equally while its humor, when it's on, is prime."
Tom checks in next with another installment in the ongoing Star Trek franchise. Generations, the first film to feature The Next Generation cast, has its high points, Tom says, but overall it "was a fairly weak effort."
Trust Elizabeth Badurina to come up with something offbeat. This time it's Tarka the Otter, a Nature Series video which turns an award-winning children's book into "an otter snuff film."
That's all for today. See ya in a few days with lots more stuff!
29 September 2001
Rambles is not known for taking breaks; we like to keep the good stuff rollin' as much as we can, and with the size and quality of our staff and the great quantity of materials we receive to review, it's easy to provide updates even when everyone else kicks back and says "to heck with it!" This week is one of those rare occasions when the unthinkable occurs, however -- Rambles will not be posting an update in the first week of October. Tom Knapp, our founder, editor and chief bottlewasher, is taking a few weeks off for a leisurely drive up through New England and into the maniacal state of Maine, then on into Nova Scotia and finally Cape Breton for the incredible Celtic Colours international music festival. Tom and fellow staffer Cheryl Turner are on the guest list for the event and will be bringing a fair number of concert reviews back to our readers, but in the meantime, it won't be possible to upload a new edition 'til Tom's return to Pennsylvania in mid-October.
To attone for the disappointment you must surely be feeling, our staff has prepared an extra-large update to keep you busy through the next two weeks. Read on, and enjoy!
It's only fair that Tom kicks things off, so he starts today's edition with the self-titled debut from County Clare's Ceili Bandits. "This album isn't quite as traditional or as polished as the band's follow-up, Hangin' at the Crossroads, yet it's still plenty enjoyable and reminiscent of a hopping pub jam," Tom says.
Tom also has a review of NorthCregg's Mi.da:za, an album he found quite by chance while playing at a session in Letterkenny, County Donegal. "These musicians all have plenty of oomph and instrumental skill," Tom says.
Stephanie Giamundo follows up with Seamus Kennedy's By Popular Demand, Vol. 1. "I never thought I would laugh out loud from listening to a CD," Stephanie says. "Seamus Kennedy made that possible."
Cheryl Turner hits review No. 50 with Dan McKinnon's Songs from the Hearth. "McKinnon brings us another round of the relaxing, fireside-worthy songs that are so characteristic of his work," Cheryl says of the Nova Scotia singer-songwriter. "McKinnon's smooth baritone voice seems simply built for the ballads he sings, and the emotion he brings to each piece sets them apart from the rest of the crowd."
Keeping with the Maritimes theme, Kimberley Marie has a review of the new compilation disc Cape Breton by Request. "This 14-track collection is going to be a treasured CD of mine for years to come," Kimberley says.
Laurie Thayer had to brush up on her French to review Le Long Retour by Acadian singer Ronald Bourgeois. "However, I found that it is not necessary to speak or understand French to enjoy this album," Laurie says. "This is a CD of maturity, of nostalgia without regrets and returning home. All of this is conveyed by the music, even across the language barrier."
Elizabeth Badurina shares up an Afro-Cuban sound in The Rough Guide to Afro-Cuba. "Drawing from a rich and diverse musical history, the songs on this compilation are often just as diverse in feel," Elizabeth explains, "but one basic thread runs through the whole compilation: a beat that doesn't quit."
Donna Scanlon is off to Bulgaria with The Dobroudja Nightingale, Kalinka Vulcheva. "This CD really grew on me," Donna says. "That being said, I think this CD is best appreciated by a listener already familiar with this style of music."
Next, Donna jets off to Yugoslavia for a new Alan Lomax compilation from Rounder Records, World Library of Folk & Primitive Music: Yugoslavia. "Some of the tracks are stunningly beautiful, others are unusual and intriguing, and there are some to which I will never grow accustomed," Donna says. "The overall goal, however, is preservation of a diverse culture's folk tradition, and in that this thorough collection succeeds admirably."
The theme is Jewish holidays but the sound is pure folk in Sparks, a recent release by Rob Tobias and Friends. "You certainly don't have to be Jewish to appreciate the music," Donna says. "The overarching universal themes of freedom, peace and harmony resonate in the listener regardless of faith."
Donna rounds out her musical grand slam with the new age CD Sound Over All Waters by Theresa Thomason with Paul Halley and the choir Keramion. "This CD is an enriching experience regardless of your belief system," Donna explains. "There is a universality in the musical expression that transcends denomination."
Naomi De Bruyn enjoys the country and bluegrass influences to be heard on Spook Handy's new album, Breakfast at Bill's. "This New Jersey resident has a great touch on the guitar and credible talent as a songwriter," Naomi says. "This is a man worth listening to -- again and again."
Erin Bush is up next with Craif Rafuse and Promise Land. The album, Erin says, "is the product of a fairly pleasant but not-quite-ready-for-prime-time regional singer-songwriter. ... Rafuse's greatest asset is his voice -- a smooth, supple tenor with a wide range."
Nicky Rossiter says there are strong American roots to be found in Alan Kelly's The Rest of the Country. Kelly, Nicky explains, "sings with great feeling about small-town America and how it is disappearing."
Sheree Morrow goes on a Soul Celebration with Stephanie Fletcher. Fletcher, Sheree says, "possesses an interesting voice with great range. As a songwriter, she is witty and well read, using reality instead of make-believe to paint her pictures in song. The problem is, she appears to be in such a hurry."
Wil Owen serves up our final CD review for the day with Rick Fines & Friends performing Live at the Harvest. "If you like jazz, blues, traditional folk or Canadians who sound like they are from Louisiana (I mean this as a compliment), then I recommend Live at the Harvest," Wil suggests.
Ellen Rawson provides the live experience this week, featuring Fairport Convention, an unquestionable folk legend, at the Cropedy Folk Festival. Share the experience with Ellen and read all about the incredible show! Also, while we're at it, Tom tosses in an unusual offering for Rambles: a live review of '80s rock band Bon Jovi. What?! Is Rambles going rock? Nope ... as Tom explains, "You'll find some bands listed on the live page which normally wouldn't be featured at Rambles, but we think live performances are a folk art all on their own. Besides, it gives us a chance to stretch a bit in other directions and keep the page fresh and interesting, eh?"
Tom is back to kick off today's fiction section with The Summer King, an enchanting selection from Irish-Canadian novelist O.R. Melling. "The book, though written for a young-adult audience, is equally enchanting for older readers with an interest in Ireland and Irish lore," Tom reveals.
Amanda Fisher says there's mystery of an unconventional sort in The Grand Complication by Allen Kurzweil. "People who enjoy intricate plots will like it ... despite some ambiguities left towards the end, when issues that had seemed resolved reopen," Amanda says.
Elizabeth Badurina found the emotions sometimes painful -- and right on the mark -- in Elizabeth Berg's Open House: A Novel. "There were times, while reading this book, that I had to put it down and walk away," she relates.
In our non-fiction department, Elizabeth takes a serious look at a serious problem as discussed by Patricia Evans in The Verbally Abusive Relationship. "I owe a lot to this book," Elizabeth admits. "For women who are genuinely frightened or confused ... this book can be like a lifeline, even in retrospect."
While Elizabeth has our attention, she'd like to dust off the zine page and share a pair of publications: A Green Day and Guide du Plotz #14: PARIS. Read why Elizabeth thinks both zines are a success!
Janine Kauffman opens the Rambles multiplex with a Bounce. Unfortunately, says she, this vehicle for Ben Affleck and Gwyneth Paltrow falters. "If you're perfectly happy to watch either Gwyneth or Ben onscreen because they're so good looking, then Bounce won't disappoint. There are lots of you out there, so rent it on those terms and you'll be fine."
Janine's second feature today is Croupier, a film about the evils of gambling set, not in Las Vegas, but in London. "Croupier isn't about plot so much as it's about the casino milieu, the lives of people who aren't what they seem but who live life by the odds," Janine explains.
Tom finishes out the day and, alas, the next two weeks with a flashback to the Mel Brooks spoof, Robin Hood: Men in Tights. The final product "would have been a much better film if Brooks had developed a softer touch," Tom says. "But any fan of the Robin Hood legends -- as well as anyone who loves to hate the Costner version of the tale -- will get a royal treat out of this Brooks spoof."
Ta-ta for now ... we'll see you in a few weeks!!
24 September 2001
Belated congratulations to Rambles writer Beth Derochea, who tied the knot this weekend. Best of luck, Beth!
22 September 2001
Tom Knapp starts today's update with a different kind of Celtic music: Wee Blue Man by Florida-based Celtic Soul. The band adds a "heavy dose of western swing to its traditional Irish base," Tom says, in a "successful blend of styles."
Laurie Thayer keeps the eclectic ball rolling -- and hits her 100th Rambles review -- with the bagpipe-driven rock of Brother in Your Backyard. "Although folks looking for the wild sound of a Brother stage show may be somewhat disappointed with Your Backyard, it does, nevertheless, have the same sort of energy," Laurie reports. "It just needs more bagpipes."
Nicky Rossiter comes straight to the point on Michael Snow's new album, The Rats & the Rosary. "Beg, steal, borrow or (preferably) buy this album," Nicky insists. "From its extremely attention-getting title to the final intriguing track, this is a treasure."
Veema Kysac says the Scottish music is good but the pace is too slow on the Lochshore compilation disc Celtic Airs. "As a mood enhancer it's a downer," Veema says. "There's only a slight change of pace between pieces -- slow and slower."
Y
ou'll find a grand mix of American Celtic and bluegrass traditions in North American Traditions: The Art of Traditional Fiddle, a new compilation disc from Rounder. "Any fan of the music will find much of value here, and fiddlers will find a wealth of good music to incorporate into their own repertoires," Chet Williamson says. "This is an indispensable volume for all devotees of the 'Devil's Box.'"
Wil Owen hits review No. 30 with this trip down to Jamaica with Putumayo. "The recognizable, infectious beat makes one want to dance and party," Wil says.
Donna Scanlon is off to Spain with worldbeat musician Paul Winter and his Spanish Angel. "The musicianship is superb," Donna says. "The harmonies are pure and balanced and each musician both shines and integrates him or herself into the music."
Cape Breton singer Bruce Guthro has released a new self-titled album of country and folk-rockin' songs, and Rachel Jagt says it was worth the wait. "Guthro is one of the most skilled songwriters to come out of Canada in recent years," Rachel says. "He seems to have found his ideal expression in these twelve songs."
Next, Sheree Morrow polishes up the Lynoleum from singer Lynn Harrison. Harrison, Sheree says, "possesses a beautiful, full bodied and crisp voice that is a pleasure to hear. Her writing is fresh and clean, but encompasses the everyday events and activities we all live through without putting nearly as much thought to them."
Charlie Ricci slips into jazz mode with Bill Carter & the Presbybop Quartet for Dancing Day. "The Presbyboppers should be taken seriously," Charlie says. "While the Brubeck influence is obvious, Carter's original pieces contain enough of his own creativity and imagination to make the music sound fresh."
Wil Owen is back to take a little Comfort with Denice Franke. "Denice's rich alto adds an emotional touch to the many ballads presented here," Wil says. "She knows how to connect with her audience."
Naomi de Bruyn is up next with Lucid Dreams from Alias Zone. The album, Naomi says, "is a must-have for anyone who likes ambient music or likes to listen to music which makes them think and feel."
Nicky Rossiter was snagged by the music of husband-and-wife duo Anderson-Gram on Where It All Begins. It is, Nicky says in his 25th Rambles review, "a fabulous album which, with a spark of luck and good airplay, could be where it all begins big time for Anderson-Gram."
Tom Knapp has our live review for the day: the Tony Trischka Band performing in Long's Park, Lancaster, Pa. "Trischka, who helped virtuoso Bela Fleck learn his banjo chops, continues to prove his expertise with his trademark hybrid of bluegrass and jazz, with rock attitudes mixed in for good measure," Tom says.
Donna starts off the fiction department with No. 26 in Terry Pratchett's ongoing Discworld series, Thief of Time. "The difference between Pratchett's novels and other comic novels is that there is substance in Discworld," Donna observes. "Pratchett doesn't just appeal to your funny bone -- he makes you think and makes sure that you have a blast at the same time."
And Wil makes one more appearance for a visit to Chalktown with Melinda Haynes. "If you never thought that quirky, bizarre people lived in (certain) small towns, this might just be the book to change your mind! There are things going on that will make you cringe even as you continue to read in fascination."
Let's welcome Naomi back for a review of Karen Mueller Bryson's new novel, Hey Dorothy, You're Not in Kansas Anymore. "If you need a little laughter in your life, give this novel a try," Naomi says, "it may just what you need."
Next, Tom is back to review the DC/Dark Horse collaboration, Green Lantern versus Aliens. The story, he says, provides 'hissing alien encounters, teeth, drool and acidic blood, alien eggs and host bodies, horrible deaths, a scantily clad female survivor, an android and, of course, a major moral dilemma."
Tom also opens the Rambles cineplex with Medicine Man, a cautionary tale from 1992 starring Sean Connery and Lorraine Bracco. This underrated film carries an "important message regardless of anyone's stance on environmental issues," Tom says, "and Connery and Bracco do a fine job of casting it into sharp, unavoidable relief."
Janine Kauffman ends this edition's reviews with Gun Shy, a movie released in 2000 with Liam Neeson and Oliver Platt. Neeson plays Charlie, a DEA agent as well as "a gastrointestinal wreck on the verge of a personal and professional breakdown."
Meanwhile, we don't wish to forget or ignore the ongoing crisis in America. We at Rambles continue to keep the victims, their families and the rescue workers in our thoughts.
15 September 2001
The world continues to try and come to grips with the enormity of the tragedy which struck America on Sept. 11. Ireland declared Friday a national day of mourning, and Canada rallied with aid and comfort in the aftermath of the terroristic attacks. Outpourings of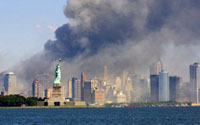 grief and offers of support have come from all corners of the world. Meanwhile, America picks through the rubble, seeking the bodies of those slain as hope of finding more survivors fades. This photo, from the Associated Press wire service, shows the New York skyline bereft of its famous twin towers, both of which now clog the streets in a tangled mass of wreckage. For the latest news, check the CNN website. Also, please scan down to the notices posted Sept. 11 and 13 on this page for information about donating blood and/or money to help support relief efforts in this terrible time of crisis and need.
Tom Knapp shares a few thoughts on the tragedy in a rambling titled A 21st-century day of infamy.
And now, our regularly scheduled update.
Kimberley Marie is up first with Sounds of Nova Scotia, Volume 3. This new compilation disc, like its two predecessors, "contains some of the best new talent from the East Coast of Canada," Kimberely promises.
Amanda Fisher lets the news Out of the Bag -- the new release from Bag o' Cats is "an exciting album of original, Celtic-world fusion."
Tom Knapp is back with Hooligans in Suits: Live in the UK from bluesy Celtic folk-rockers Lenahan. "The boys in the band don't hold back," Tom says, "rocking away with the best of 'em, imposing their bluesy riffs on Celtic tunes with a vengeance."
Next is Chulrua and Barefoot on the Altar. "The startling thing about this CD is how it was made," Tom says. Read his review to learn why!
John Cross explores a Celtic musical crossbreed from the north of Spain with Milladoiro and Auga de Maio. "Here is the Spanish Basque revivalist movement at its finest," John proclaims.
Laurie Thayer explores another samping from the Rough Guide people: The Rough Guide to the Music of Cape Verde. "Even though the words might speak of sorrow, longing or hardship, the rhythms demand movement," Laurie says. "It is almost impossible to sit still when playing this kind of music and I defy you to try."
Robin Brenner hears a lot of atmosphere in Eri Sugai's Mai, an album which has earned Japanese singer Sugai comparisons to Enya. "Mai creates some evocative atmosphere," Robin says, "and thus allows the listener to feel the stories within them -- and in any album, that's about all a listener can ask."
Donna Scanlon hits review No. 325 with Halley DeVestern's Live at the Towpath Inn. DeVestern, Donna says, "has a gutsy powerhouse voice with an edge as keen and as hard as a diamond blade. She sings dark in-your-face blood-stained songs that share that edge, although at times the words seem to serve more as a vehicle for her versatile voice."
Paul de Bruijn says it's Time Again with Catherine Ellis, whose songs should be "played outside in the fresh and open air." Check it out for a last taste of summer!
Debbie Gayle Rose follows up with a hint of autumn in Linda Allen's October Roses. "Her words are deep and meaningful, entertaining on the surface and softly stirring," Debbie says. "Allen continues to give quality all the way through the album with no weak spots to mar the mood."
Nicky Rossiter likes the country-folk sounds of Gen Obata and Better Off On the Run. "The songs are worthy of a wider audience and with proper airplay could make the writer/singer/producer a well-known name," Nicky says.
Amanda Fisher returns with Dubchek and Down Memory Gap Lane, which she describes as "an intense album of bass-heavy, dub reggae with some electronica thrown into the mix." (Yes, Cat, reggae.)
Wil Owen visits Lonelyland with Bob Schneider and finds it good. "As good as the CD is, I bet that he is even better when performing in public," Wil says.
Lynne Remick found disappointment in this addition to our soundtracks page: Andrew Lloyd Webber's Whistle Down the Wind. "All in all, the musical treatment of this Broadway play was highly disappointing," Lynne reveals.
Lynne straddles the line between music and storytelling with Sharon Kennedy's More Irish Folk Tales for Children. "Kennedy's animated vocals and terrific tales make this folk-tale compilation a fantastic journey of the imagination," Lynne says.
Henry Cohen, a newcomer to Rambles, wraps up the music section with a performance by Baltimore's Greenfire. Read what made this show special -- and who was missing from the lineup.
Tom Knapp marks his 700th Rambles review with another welcome release from Ontario's Charles de Lint. This isn't de Lint's usual fare, however; The Road to Lisdoonvarna is a hard-boiled mystery novel. "The book proves de Lint's ability to switch genres and still tell a good tale," Tom says. "He never loses his voice in this book, so I never forgot whose words I was reading -- and yet, oddly, I never really missed the touches of magic so common in de Lint's stories, so engrossing is the plot and so intriguing are the characters."
Donna Scanlon says Connie Willis is at the top of her game in her new SF thriller Passage. "Willis has a reputation for writing intelligent and intricate science fiction, and Passage not only upholds that reputation, it elevates it," Donna says.
Donna turns to nonfiction with Jennifer Niven's The Ice Master: The Doomed 1913 Voyage of the Karluk. "The Ice Master is a taut and compelling narrative, all the more gripping for being true," Donna says. "Niven brings the characters alive until the reader is fully involved in their plight."
Amy Harlib concludes our look at printed matter with her review of Asterix & the Actress, the latest in a series of apocryphal Gaulish graphic novels by Albert Uderzo. "The artwork in the Asterix books delights with richly detailed drawings that skillfully render the comical and cartoonish characters against meticulously researched backgrounds that depict architecture, clothing, everyday objects and historical personages with archeological correctness," Amy notes.
Amy also begins our movie section with The Musketeer, a new interpretation of the Dumas classic tale. "Along the way to the inevitable triumphant conclusion, The Musketeer offers enough dazzle to please in its spectacular scenic locations, costumes, sets and swashbuckling action," she says.
Janine Kauffman goes further afield with The Cup, a.k.a. Phorpa, which tells the true story of displaced Buddhist monks in India and an unusual passion for soccer. Really.
Tom Knapp rounds out the day with a pair of movies from our video archive. (Sorry, Cat, no James Bond films today!) First up is an early work from Kenneth Branagh and Emma Thompson (in happier days). "Dead Again is a powerfully romantic, noirish film that deserves more attention than it received when released in 1991," Tom says. "Branagh's direction is bold and decisive, demonstrating a knack for intense camera work."
And, finally, another in our series of Star Trek film reviews. We're up to No. 6, The Undiscovered Country, in which Tom says the series' "first, best cast took their final bows on a high note."
13 September 2001
Below is a message from Amazon.com, a Rambles affiliate. The company is operating as a collection center for donations to the American Red Cross -- as I write this, nearly $3 million has already been collected to help relief efforts in the wake of Tuesday's assault on America. Please consider following the link to Amazon and making a contribution to this cause.
All of us at Amazon.com are deeply saddened by the recent tragedies in New York City, Washington, D.C., and southwestern Pennsylvania, and we extend our sympathies and condolences to those affected. You can support relief efforts by making a donation to the American Red Cross Disaster Relief Fund. You can contribute from $1 to $100 -- any donation is greatly appreciated. ALL donated money will go to the Red Cross to help victims of this and other tragedies -- Amazon.com is waiving its usual fees.
11 September 2001
It is with shock and sadness that we learned today of the terroristic attacks in the United States. We at Rambles extend our deepest sympathies to the families and friends of the victims of this terrible day's events, and we hope those responsible for this horror are brought to swift justice. Meanwhile, anyone willing and able to give blood to help medical relief efforts should contact the American Red Cross at 1-800-GIVE-LIFE to make an appointment.
10 September 2001
Our thoughts go out to prominent author/formidable lady Emma Bull, who fell this weekend at the Minnesota Renaissance Festival, where the Flash Girls (Emma and the Fabulous Lorraine Garland) were performing. According to Lorraine, Emma broke both arms and her left hand. The injury to her right arm was particularly severe, requiring emergency surgery using a graft and plate to repair the damage.
Emma's husband, Will Shetterly, said doctors expect her to "be typing and playing the guitar soon -- but soon is a relative term."
We wish Emma a complete and speedy recovery!
8 September 2001
C
heryl Turner gets things rolling today with a New York-based Celtic rock band, the Prodigals, and their new CD Dreaming in Hell's Kitchen. "The Prodigals put out a unique blend of punk, rock and traditional Irish music, flavoured with some rather unconventional rhythms that really set their music apart," Cheryl says.
While Cheryl has your attention, let her tell you about First Frost, the latest release from Scottish band Whirligig. Although Cheryl questions the direction the band has taken since its previous albums, she's still pleased with the overall sound. "The musicianship is excellent, there's a great mix of tunes and there's enough instrumental variety to suit many different tastes within the general genre of Celtic music," she says.
Tom Knapp is next with another new Celtic folk-rock CD No Turning Back by Brothers 3. "The band definitely has a handle on mixing traditional, rock and jazz styles," Tom says, "and I look forward to hearing more from this Texas septet!"
Nicky Rossiter keeps the Celtic sounds going with his review of All the Roadside Stops by County Wexford folksinger Joe Monaghan. "All the Roadside Stops is an album that bears repeated listening," Nicky says. "These are tracks that we could all imagine ourselves singing -- but would need the years of experience of Joe Monaghan to do them justice."
Through an oversight, we asked Amanda Fisher to review Celtic Roots by Hesperus -- not realizing that Gilbert Head had already done the job more than a year before. We try to avoid duplication, but we also don't like to waste good writing ... so take a look at both reviews for a second opinion!
Donna Scanlon turns our attention to the coast of Africa for The Rough Guide to Marrabenta Mozambique. "Marrabenta is rhythmic dance music intended to express joy and celebration and was, in fact, considered dangerous by the colonial Portuguese authorities," Donna explains. "It is music with a strong grounding in tradition."
J. Higgins-Rosebrook flies on to Italy for Putumayo's Italian Musical Odyssey. "The various singers and musicians on this CD are also ethnomusicologists, music historians, composers and arrangers," she explains, taking from the old and new to "create a new vernacular in the music of their individual regions of Italy."
Veema Kysac keeps the Italian theme, heading up into the Piedmont region with Tendachant and Ori Pari. The band, Veema says, "delivers a focused and well arranged platter of folk tunes with a mix of traditional and contemporary instrumentals and song. It doesn't matter in the least that the vocals are sung in Piedmontese; their engaging harmony and rhythms emerge from what appears to be a tried and true folk repertoire."
C
het Williamson provides the jazz with a new Telarc compilation, Jazz Live from New York. "I've always admired the lively, open sound of Telarc's discs, and these live recordings only add to their reputation," Chet notes. "Each instrument stands out vividly, and the sound is as crisp and clear as if recorded under more controllable studio conditions."
Rachel Jagt seems pretty happy with Jayne Margo-Reby's CD Shades of Reason. "The themes of her songs are honest and open, and her voice lends itself well to the stripped-down format of the songs," Rachel says. "Unfortunately, there is little on this disc to set her apart from other young female artists of the genre."
Michael Gasser isn't sure Pamela Means took the right direction with her latest album, Pearls. "The disappointment lies ... in the certain knowledge that Means is capable of so much more," Michael says.
For a different sound, Audrey Clark suggests the self-titled album from singer Troy Horne. "It was Horne's masterful voice and the underlying rhythms of this CD that kept me listening," Audrey says.
Paul de Bruijn serves up a slice of Ralph's Last Show: Live in Santa Cruz by Fred Eaglesmith & the Flying Squirrels. "There is a lot of heart in this music and it is well worth the listen," Paul urges.
Ellen Rawson finds a variety of sounds on the self-titled release from Epiphany Project. The band, Ellen says, "hits the heights of ethereal and avant-garde, yet heartfelt, compositions."
Our live music coverage today also comes from Ellen, who caught Richard Thompson performing this summer in London, England. Read all about it!
Laurie Thayer begins our fiction section with The Bloody Chamber, Angela Carter's collection of adult fairy tales. "Told in Carter's sumptuous, often convoluted prose, these are magnificent tales," Laurie says.
Amy Harlib is next with a new one from popular fantasy writer Mercedes Lackey. The Serpent's Shadow, Amy says, "with its vivid background, detailed descriptions of elemental magic ... and its exciting plot (a more unusual Snow White variant would be hard to find), well rewards the reader."
Beth Derochea found a blend of "spiritual fiction with an edge of ESP and a dash of occult intrigue" in Alexis Masters' book The Giuliana Legacy. Check it out!
Tom re-enters the world of Neil Gaiman's Endless -- with a distinctly diminutive edge -- with Jill Thompson's new work, The Little Endless Storybook. "Think Li'l Archies, but with Destruction instead of Jughead, Death instead of Veronica, and so on," Tom explains.
Tom digs down into the movie archives for a classic taste of Britain in The Sword of Lancelot. "In the end, this won't stand among the finest of its genre," Tom says, "although devotees of classic romance and tragedy will find this to their liking."
For something a little more modern, if perhaps a bit more obscure, check out Amy Harlib's review of Pandaemonium, which focuses on the relationship between British poets Samuel Taylor Coleridge and William Wordsworth. "Pandaemonium must not be missed by anyone who appreciates the great literary heritage of the English Romantic poets ... or who craves intelligent entertainment," Amy says.
Janine Kauffman wraps up the day with a Japanese film, Adrenaline Drive, a.k.a. Adorenarin doraibu. This movie about the Japanese mob provides "slapstick, lovesickness and gangsters chasing robbers, all in spirits good enough to prod the most reluctant subtitle-reader to give it a chance," Janine promises.
That's it for another day here at Rambles -- tune in next week for more!
1 September 2001
Greetings! We hope everyone is having a grand Labor Day weekend, whether or not you get a day of rest in celebration!
We have several excellent performance reviews coming to you in the next few weeks. This week's feature is by Cheryl Turner, who caught Glen and Keith MacNeil with Russell Deveaux at the Red Shoe in Cape Breton. "You could feel the electricity in the room," Cheryl says.
Kimberley Marie sticks with the Maritimes theme, providing a taste of Cape Breton fiddler Jennifer Roland and Wings. Roland "puts all her talents up front on her latest CD -- from fiddle playing to stepdancing to piano playing," Kimberley says. "This young dynamo has so much energy and she's able to keep the pace going from start to finish."
A
manda Fisher is dazzled by the music on the Tartan compilation disc Heat the Hoose. It is, Amanda says, "a fiddle-lover's dream."
Donna Scanlon joins Christina Harrison in a tribute to the small ones on the album Wee Folk Songs. "Overall the CD is a delight ... and Harrison's voice is enviably lovely," Donna says.
Laurie Thayer flashes back to the 12 century with Canty and Wings of Wisdom, an album based on the works of abbess Hildegard von Bingen. "The ethereal music on Wings of Wisdom is the perfect antidote to a vexing day," Laurie says.
Tom Knapp takes a listen to Live Bait, the live album from Ontario's comedy folk trio, the Arrogant Worms. "This album, filled to the gills with sly wit and unsubtle buffoonery, is a slanted homage to the Great White North," Tom says. "Yes, Americans believe a host of stereotypes about their northern neighbors, and the Worms exploit them so gleefully they get laughs from Yanks and Canucks alike."
Amanda Fisher heads south of the border for a taste of Putumayo's Mexico. "It's a delight from start to finish and a wonderful introduction to many Mexican musical styles," Amanda says. (Special note: This marks Amanda's 100th review for Rambles. Congrats, Amanda!!)
Wil Owen is next with Yellela by Eyuphuro, a band from the African island of Mozambique. "Yellela leaps across the language divide and speaks through complex rhythms, irresistible riffs and a musical harmony that demands attention," Wil promises.
Wil also snags a ride with Andy Offutt Irwin on his Banana Seat. Irwin, Wil says, "is one of the most clever, hysterical, and eccentric adult children I have ever run across" with "a wide range of vocal talents."
R
ambles welcomes another new writer to the fold; Valerie Fasimpaur makes her debut with a review of country singer Kasey Chambers and The Captain. "This is an enjoyable CD for anyone who appreciates country music that isn't over orchestrated and over-produced," Valerie says. "Kasey has a sweet voice and a talent for writing."
Nicky Rossiter encounters 2001 -- An Old-Time Odyssey with the Wolfe Bros., a band he describes as "accomplished musicians who enjoy playing good tunes for fun more so than profit or fame. ... If you like traditional music, good story songs, fiddle music and supporting a strong music culture go out and buy this CD."
Nicky also hitches a ride with English folk-rockers Magic Car for their album Yellow Main Sequence. It's Nicky's first exposure to the band, he said, and "I certainly want to hear a lot more."
Lynn McLachlan pays a visit to the late Shel Silverstein via Fred Koller's CD No Song Left to Sell. The songs were co-written by Koller and Silverstein, Lynn explains, and "thank heavens they met and were able to work together so well."
Ellen Rawson explores a Paradox of Grace with folksinger Don Conoscenti. "Conoscenti's voice matches the emotional clarity and output of his guitar," Ellen says. "It has a strong, resonant timbre to it that manages to suit the different styles performed on the album."
Donna Scanlon goes global for the new age sounds of Jonathan Goldman and The Lost Chord. "The reverberating result is eerie, fascinating and soothing," Donna says.
Naomi de Bruyn cracks the first book in our fiction department with Edo Van Belkom's horror-mystery novel, Teeth. "You won't be disappointed with Edo's abilities to weave a horrifying and spellbinding tale," Naomi promises.
Elizabeth Badurina rekindles a childhood memory with Harriet the Spy by Louise Fitzhugh. The author, Elizabeth says, "is a genius at getting in there and explaining the views of a pre-teen in language that even the dullest among us could understand. She uses a liberal dose of humor and a lot of action, not to mention that her characters are created lovingly with a knack toward the quirky."
Tom Knapp is back in the world of Johnny in Terry Pratchett's hilarious Johnny and the Dead. "This book will entertain young and old readers alike with its fresh, blunt and wholly wicked sense of fun," Tom says.
Today's graphic novel features DC's running man, the Flash, in Iron Heights. "Its success will be judged more for what will come in its aftermath, I suspect," Tom says.
Tom gets the film section rolling with Kevin Smith's latest movie, Jay & Silent Bob Strike Back. "Final word for Smith's detractors: Skip this movie," Tom says. "However, Smith fans will come away with a very different reaction."
Amy Harlib goes to ancient China for Wu Yen, which relies on a style of "verbal nonsense comedy that relies on quality writing of rapid-fire dialogue, witty ripostes and punning."
Nicky Rossiter takes an uncertain view of Pints, Pounds & Pilgrims, which "does not exactly make for a riveting film."
25 August 2001
I
t's always an event when Charles de Lint releases a new novel, and for fans of his Newford tales it's doubly special to learn that his latest, The Onion Girl, focuses on the beloved character Jilly Coppercorn. So let's start today's update with Tom Knapp's review of this much-anticipated return to Newford. "Prepare to be emotionally wrenched as you read about the tragedies -- horrific abuses and betrayals, shattered trusts, lost loves, missed opportunities and feelings laid bare -- which haunt the lives of de Lint's characters," Tom says. "At the same time, he provides ample evidence of true love and friendship, as well as the unyielding spirit that allows strong individuals to rise above their woes, living and always searching for the silver linings and hidden joys that make life worthwhile."
Turning to music (we'll have a few more books for you later on in today's edition), we find Play Each Morning Wild Queen, the latest from the Flash Girls, Emma Bull and Lorraine Garland. "Cunning musicianship sets traditional roots on end for a unique package sure to find a home in the hearts of fey folkies everywhere," says Tom.
Tom also has one for us from Irish supergroup De Dannan. Sadly, he says, Welcome to the Hotel Connemara falls far short of its mark. The tunes, which are new interpretations of classic rock songs, sound "suspiciously like Irish Muzak, a tepid collection of tunes well-suited to fill the silence on Irish elevators and in Irish doctor's offices and shopping malls."
Kimberley Marie switches our focus to Nova Scotia for Jimmy Rankin's new release, Song Dog. "Jimmy has always been the primary songwriter for the Rankins, and it's like the words just pour out of life's happenings and onto paper and the stage," Kimberley says. "For those fans of the Rankins who have missed hearing anything new in a few years, this CD is sure to be a must-have in your collection."
Kimberley sticks with a Celtic theme with Prince Edward Island singer Patricia Murray's new album Primrose. "The honesty in Patricia's songs can take you back to a less hectic era when everyone was so carefree," Kimberley says.
Cheryl Turner finds a strange mix of music in Siete, the recent album from Celtic-Mexican folk-rock band Druidas. "Energy levels soar, and the vocals are strong and emotive," Cheryl says.
Cheryl dresses to the nines for a little Black-Tie Banjo, who are playing At Home. Read her review to learn about the little-known genre of classical banjo music.
Donna Scanlon dances the night away with the artists of Putumayo in the new compilation disc Carnival. The CD, Donna says, "is an eye-opener in more ways than one. It introduces you to the many variations on theme of the carnival celebration, and its spirited sound is sure to chase away the blues."
Donna also shares some blues and bluegrass with Ray Chesna and Every Day Above Ground is a Good One. "Chesna's voice is smooth and velvety, subtly changing to suit the style of the song," Donna says. "His guitar-picking is precise and passionate, and the backup performers shine yet maintain the balance."
Amanda Fisher slips into a bit of new age music with The Longest Dream by Revival. "The influences heard here are diverse, from classical through world music, and are mixed seamlessly into a fascinating and meditative whole," Amanda says.
Amanda also finds Life Imitates Art by Steve Glotzer to her liking. Glotzer, she says, "takes a folksy approach to jazz, adding Latin sounds and blues to create a personal and unique sound."
Lynn McLachlan enjoys the mix of folk, rock and country sounds in Adam Michael Rothberg's new album, All the Whispering. "The challenge for Rothberg will be to find his own true voice and commit to it," Lynn says.
Rachel Jagt, who today posts her 30th Rambles review, revisits the music of Toronto folk-rocker Sarah Slean and Universe. Slean, Rachel says, is "a cross between Sarah McLachlan and Tori Amos, with just a touch of Ani DiFranco thrown in for good measure."
Naomi de Bruyn is next with Bill Morrissey's Something I Saw or Thought I Saw. "His songs have a lot of heart and soul within them, they touch a number of people in different ways," Naomi says. "A wonderful balm for the broken heart, be it male or female, is found within these tracks."
Patrick Derksen has the latest from Brooks Williams, titled Skiffle-Bop. "Overall, it's an easy-going, mellow album that doesn't seem to want to impress you so much as to just let you sit back and calmly enjoy the tunes," Patrick says.
Ken Fasimpaur serves up some jazz in this self-titled release from Acoustic Unit. Read all about the universal language Ken discovered in the band's "mild and accessible take on melodic, intelligent jazz."
V
eema Kysac gives us an unusual pair of reviews today, starting with Middlin' Sisters from performance poet Minton Sparks. This CD, Veema says, "is more provocative than ordinary fare and sends conflicting messages of comfort and misery. "The contents can be caught between the teeth and shaken and tossed, pulled and stretched, but will not fall apart, it's so strongly built."
Veema gives us a live dose of Cape Breton music and literature in her review of Fiddle & Prose, an Aug. 5 performance in Mabou. A sort of "reading ceilidh," the event "combines acts of Cape Breton writers reading their material with entertainment by down-home musicians, singers and dancers," Veema explains.
Laurie Thayer looks at music in its printed form with O'Carolan's Tunes for Piano by Richard Voss and Laurence Traiger. Laurie says the book "is a good introduction to the music of Turlough O'Carolan and a fun way to spend a few hours."
Back to fiction, as promised ... Laurie sees a few hitches in J. Robert Whittle's historical novel Lizzie: Lethal Innocence. "While the historical setting is well-researched and vividly presented, the action is unrealistic and improbable," Laurie says. "But the story is fast-paced and younger readers especially should enjoy Lizzie's hijinks."
Carool Kersten is new to the Rambles family, and he gets his start with a review of Amitav Ghosh's The Glass Palace, a historical novel set in in Burma, India and British Malaya. "Apart from its absorbing story, what makes The Glass Palace into a special book is the fact that in this history of the British Empire there is hardly an Englishman in sight," Carool says. "The epoch is seen entirely through the eyes of locals."
Naomi de Bruyn is back with Mahogany Row, a mystery novel by Wayne J. Keeley. "Mahogany Row will take you on a compelling ride from start to finish, but although the characters are strong and the plot believable, there is something missing, something I find integral to a great read," Naomi says. "It didn't touch any emotions in me, nothing beyond twisted amusement at this poor pathetic protagonist."
Amy Harlib opens the Rambles cineplex with a review of Osmosis Jones, a new live-action and animated film starring Bill Murray's innards. "The film offers a fantastic voyage into a conception of human exterior and interior life laden with laughter that hopefully will also make you think twice about what you put in your mouth," Amy says.
Janine Kauffman goes back a few years to review Endurance, which Janine calls "a beautifully filmed re-creation/documentary about Haile Gebrsellasie, the talented and determined athlete Runner's World magazine deems the best long-distance runner ever."
And Tom Knapp goes back the farthest, closing the theater with 1987's Raising Arizona. "Raising Arizona is a fun, offbeat way to pass 94 minutes ... much of which I guarantee you'll spend in laughter," Tom says.
Donna Scanlon closes today's edition with a memorial written for a beloved friend. Read Vincent, a loyal dog.
20 August 2001
Greetings!
T
om Knapp has returned, fiddle in hand, from the bonny hills of Eire -- refreshed, relaxed and full of music, he launches today's edition with The Green House by Grey Larsen and Paddy League, a pair of Indiana-based Celts. "Neither Grey Larsen nor Paddy League is a one-trick pony," Tom says, "and The Green House gives both men ample opportunity to show their chops."
Chet Williamson is next with the music of Robin Bullock on Between Earth & Sky. Bullock, Chet says, "is an extraordinary instrumentalist. Despite some concerns with the amount of overdubbing on this album, Chet says "the final result here is a beautifully crafted, skillfully played album of Celtic instrumentals that has few equals."
Chet is less ecstatic about the singing of Joe McPartland on Songs o' Bonnie Scotland. "It's not my cup of tea, but if you like this sort of thing, this is the sort of thing you will like," Chet says, enigmatically.
Cheryl Turner swings our attention back to the Canadian Maritimes for the cleverly titled CD CapeBretonFiddleMusicNOTCalm, a joint release from Howie MacDonald and Ashley MacIsaac. "The listener is treated to 59 minutes of pure Cape Breton energy," Cheryl says. "I can't imagine someone actually listening to this album without moving or tapping at least something!"
Cheryl explores the roots of Irish music from the east coast of America in the new Rounder Records release, Traditional Irish Music in America: The East Coast. "The music is excellent -- not the full instrumental bands that many have become accustomed to today, but still lively and definitely full of character -- and the accompanying historical information is chock full of interesting information," Cheryl reports.
Hot enough for ya? If you're in a part of the world suffering from an August heatwave, take a tip from Amanda Fisher and slip some cool Christmas licks into your stereo with the Peter Smith Quartet and Yule Like This.
Amanda also shares the ambient sounds of Tony Stoufer's One Swell Foop. Says Amanda, "If you've been bored by ambient music or put off by the esoteric experimental stuff, I suggest giving this album a try."
Richard Cochrane slips into the blues/jazz stylings of F. Vattel Cherry, who asks Is It Because I'm Black? Cherry, Richard says, "seems to enjoy a funky way with rhythm which can often ramble in odd directions, like a pub anecdote."
Laurie Thayer sends us into the Islam world with The Rough Guide to Sufi Music. "Patience is required, but that patience can be rewarded with an appreciation for the intense passion that goes into the music," Laurie says.
Debbie Gayle Rose is next with David Elias' Time Forgets. "David Elias is a brilliant songwriter and lyricist," Debbie says. "His songs are intense and yet subtly so, moving in a way that so few are these days."
Paul de Bruijn shares some Mourning Dove Songs with Jennie Stearns. "There is a sorrow in these songs that is hard to explain ... a softness in the music, sometimes in the lyrics themselves," Paul says. "Whatever the source, there is a darkness here that is beautiful, it pulls you in and embraces you."
Timothy Keene says Kent McDaniel shows "a great deal of talent" on About Time, but says the album still comes across as fairly mediocre. Read why Tim predicts better results on McDaniel's next release.
Nicky Rossiter says it's best to play K-Passa's The Morning After...? at the party itself, not the morning after. "I defy any party to falter if this is on the player," he says.
Also from Nicky today is Ernie: Songs of Ernest Noyes Brookings, a musical interpretation of the late poet's work. Unfortunately, Nicky says, the album "is not as good as the sum of its parts."
S
witching gears a bit, Nicky finds the words and music from an important American era in Jerry Silverman and Wayne Ebersen's Ballads & Songs of the Civil War. "If you like good music, history, social comment or some political satire, this is the set for you," Nicky says.
Over in our fiction section, Donna Scanlon leads the way with The Watcher by Margaret Buffie. "Buffie has a reputation for taut, suspenseful and original young adult literature, and The Watcher upholds her reputation well," Donna says. "The plot is tightly woven and fast paced, with a novel, fresh use of folk elements worked into an original story."
Paul de Bruijn says the action is packed into Stuart M. Van Tine's novel A Fine and Private War. "You might not see new depths to the human soul, but it will keep you entertained and that alone makes it worth the read," Paul concludes.
Wil Owen isn't sure what, if any, religious message is to be found in Barry H. Smith's recent novel Twilight Dynasty: Courting Evil. "The book is entertaining but has flaws if you are a picky reader," Wil says.
Conor O'Connor switches to non-fiction mode for a look at science and the evolving science of us in How We Became Posthuman by N. Katherine Hayles. See why so many people are already, in the true sense of the word, cyborgs.
Tom slips back into Irish mode for the movie Circle of Friends. "There is nothing terribly unique or startling about the plot, but the success of Circle of Friends lies in its strong characters, good dialogue and believeable plot," he says.
Sheree Morrow switches our focus slightly east for Saving Grace, in which a recently widowed Cornish woman finds an unusual means of saving her home from repossession.
Amy Harlib casts her eyes elsewhere for a glimpse of Himalaya, which Amy says "offers a truly dazzling filmgoing experience."
10 August 2001
We're posting this edition a little early, and the next one will be a little late ... so the editor can go off for nine days with his fiddle in lovely Ireland! Watch for another big update when he returns. In the meantime, we hope this will tide you over!
Today's update has several offerings from the Canadian Maritimes, beginning with Kimberley Marie's take on Cape Breton fiddler Kendra MacGillivray's new release, Over the Waves. "If you're a dancer, this CD will instantly become a favourite," Kimberley says.
Tom Knapp is next with Nova Scotia band Fortune's Hand and Rhythm of the Wind. "Whether old or new, the songs are presented here with energy and distinctive Fortune's Hand style," Tom says. "I look forward to this band's next endeavor!"
Cheryl Turner provides our third Maritimes review today, this time featuring Cyril MacPhee and his new CD Back on Track. "I have nothing but praise for this album," Cheryl says. "Each and every song is filled with the same good characteristics -- MacPhee's expressive tenor, great harmonies, well-blended and interesting instrumentals, insightful lyrics and the kind of catchy melodies I can't help but sing along to."
Rambles quite probably posts more Celtic music reviews each week, on average, than any other magazine on the 'Net. Tom Knapp keeps the music flowing with Stonecircle's 1997 release, Serendipity. "Seek out Stonecircle and grab everything recording they release," Tom encourages. "It looks like Buffington, Schoemaker and the musicians they surround themselves with can do no wrong."
Cheryl Turner is also back with Hollow Log's Catch a Caber, a rockin' Celtic album from a Los Angeles band heavily seasoned with Cajun and Gypsy influences. Cheryl wasn't blown away by this one, but says perhaps her tastes are too tame for this stylistically diverse band.
Wil Owen concludes the Celtic music portion of this edition with Celtic Wanderers: The Pilgrim's Road by the Altramar Medieval Music Ensemble. "Altramar performs with a passion that must be heard to be appreciated," Wil says.
Wil hits review No. 25 with his look at Richard Isen's Let It Fall. The album is dominated by Isen's piano skills, Wil says, and his "sad, but strong voice adds a lot of emotion to the ten selections offered here."
C
het Williamson was very impressed with Am I Born to Die: An Appalachian Songbook by Mason Brown and Chipper Thompson. "Brown and Thompson are not only dandy singers, they're damned solid musicians," Chet says. "The whole package is a gem, highly recommended for the fan of old-time music and traditional balladry."
Amanda Fisher gives us a different sound with Cubanismo's Mardi Gras Mambo. "This album is full of great music that will get your toes tapping and your hips swaying," Amanda says. The disc, she adds, "is like a party in a CD case."
Paul de Bruijn has two CD reviews for us today, starting with organist/pianist Paul Halley's new-agey album Triptych. "Triptych is full of beautiful music that goes down easy," says Paul (our Paul, that is). "Take the time to sit back and enjoy this fine vintage of music."
For a jazzier flair, check out Paul's review of Wendy Jones Merkley's Calling Card. "Some of the songs are magic; the musicians are talented and the lyrics are well crafted -- and yet very few of the songs engage me," Paul admits.
K
ate Danemark offers a bite of Fiona Apple in the bluesy When the Pawn.... The album "is a perfectly blended and soulful release of emotion," Kate says. "Often amusing, and just as often angry, the music tells the cold facts of love gone wrong."
Tom Knapp also provides a review of singing legend James Taylor's recent performance in Hershey, Pa. "All he had to do was walk onstage," Tom reports.
Switching to the printed word, Tom shares a book of Crow Indian legends he picked up during his recent trip to Montana. The book, Old Man Coyote by Frank B. Linderman, "is a delightful introduction to the stories unique to the Crow tribes," Tom says.
Conor O'Connor picks up a copy of Sailing to Sarantium by Canadian author Guy Gavriel Kay. Loosely set in the days of the Roman Empire, "there are essential differences between this world and the historical reality we know, and the story lies in these differences," Conor explains.
Donna Scanlon examines the children's fantasy Growing Wings by Laurel Winter. "Winter's prose is luminous but grounded in everyday details; fantasy and reality balance each other," Donna says.
Julie Bowerman found David Elroy's Bouncing Worlds unsatisfying. "It wasn't excruciatingly painful, but it also wasn't a joyous experience," Julie relates.
Tom, who previously reviewed some of the earlier volumes of the popular Love & Rockets series, skips ahead to a more recent edition. Poison River, which relates the history of the Luba character, fails to hold his interest, in part because of "the lack of a single sympathetic character."
Tom opens the Rambles cineplex with Jurassic Park III, one of this summer's blockbusters. "JP3 edges JP2 but still falls short of the original," Tom says. "However, if you're not looking for heavy plot and character development, you'll surely find the dino bits up to snuff."
Janine Kauffman pays a visit to Mansfield Park, the 1999 adaptation of Jane Austen's novel. This version, Janine says, "while not completely faithful to Austen's novel, has enough of the great writer's touch, and a wonderful cast, to give viewers a real taste of the original."
Amy Harlib closes down our triple-feature with Andanggaman, an African feature about the slave trade. "Andanggaman, with its excellent production values, proves a worthy tribute to Africa's martyrs in the past and alas, those still suffering the same tragic fate in the present day," Amy says.
4 August 2001
Ralph DiGennaro spent last weekend at the Falcon Ridge Folk Festival in New York, and he's taking all of us along for the ride! Read his synposis of the weekend's events to see why Ralph says Falcon Ridge "is like an extended family picnic."
T
om Knapp launches today's CD reviews with Scottish Rant, a collaboration between fiddler Bonnie Rideout and the City of Washington Pipe Band. Read why Tom thinks the album is a musical success, yet still fails to live up to the potential of merging fiddles and pipes into one unified whole.
Jo Morrison makes a rare but welcome appearance with her review of In the Sunny Long Ago by Margaret Bennett. Bennett, Jo says, "is a jewel among traditional Scottish singers, with a voice as clear as crystal that caresses you with its liquid tones."
Cheryl Turner continues the Scottish theme with Finlay MacDonald's self-titled debut. "I am quite impressed by the diversity shown by this young artist," Cheryl says. "MacDonald's mastery of several different instruments ensured that the first time I listened to it, I was never quite sure might hear next!"
Cheryl hits review No. 40 with British Columbia singer Paddy Hernon's By Request. "Hernon's rich baritone voice does justice to his chosen material, and his guitar playing is wonderful," Cheryl notes. "I would recommend it to anyone with an appreciation for a good shanty or an interest in the history behind traditional songs."
Julie Bowerman has become a real fan of the Arrogant Worms, as she shows here with her review of the Ontario band's 1999 album Dirt! "I dare you to listen to this CD and not laugh," Julie insists.
We may soon have to open a new section just for Hawaiian music, due in large part to the efforts of Jamie O'Brien. Today, he takes a look at Herb Ohta Jr.'s Ukulele Dream. Ohta, Jamie says, "is a versatile, accomplished player who knows how to select superb music as well as excellent musicians to accompany him."
L
ynne Remick finds, not one, but many Gardens of Eden in this new Putumayo release. "Each and every selection of this compilation proves rich in culture and sound," Lynne enthuses. "The pieces are literally so wonderfully chosen, but so inherently different, that it's hard to pick a favourite."
Nicky Rossiter dabbles in country-rock with Eric Westbury and Walking Tracks. "Eric, like many other songwriters, is out there producing some gems of tunes and lyrics but without air play and the elusive break, millions of potential fans will remain ignorant even of his existence," Nicky worries.
Gilbert Head explores a Deep River of Song in another Alan Lomax release from Rounder. This one focuses on Virginia and the Piedmont. "For those who may be unfamiliar with the source material for the more mainstream blues and gospel giants, this disc is your opportunity to understand what roots music is all about," Gil says.
Audrey Clark says folksinger Pete Nelson "moves through the stages of heartbreak with evocative lyrics and strong arrangements" in his sophomore CD, Days Like Horses. "Pete Nelson has created a stunning album."
R
achel Jagt asks Will I Ever Know? along with folksinger Kim Buchanan. The answer, Rachel says, can be found in Buchanan's "ethereal but strong voice" and her "simple music and poetic lyrics."
Richard Cochrane has a jazz doubleheader for us today: Obliques before Pale Skin by the Remote Viewers and Dark Embrace by the Poison Cabinet, both featuring Louise and David Petts. "Although hard to describe, the music these people make is easy to recommend," Richard says. "Check it out if you haven't already done so."
Paul de Bruijn has a taste of Canadian folk-rocker Florence Foxwell and Open Windows. It's not magic, Paul says, but it's worth a try nonetheless.
Ellen Rawson has the latest from singer-songwriter Terry Quiett, Joyride. The album, Ellen says, demonstrates Quiett's "strong emotional and vocal range."
Ellen also serves up a review of the Bridget Jones's Diary soundtrack. See why Ellen says it's "a pleasant collection with some questionable choices combined with interesting new songs and old classics."
Naomi de Bruyn tackled a big project when she vowed to review The Great Book of Amber, an omnibus of the late Roger Zelazny's Amber series. Read why Naomi believes this is a series worth reading again.
Donna Scanlon found a surprisingly Celtic slant on Mary Magdalen in Elizabeth Cunningham's novel Daughter of the Shining Isles. "Cunningham writes with scintillating wit and brilliance," Donna says. "Her narrative is crisp, surprising and as bracing as sea spray, well-laced with humor and making a strong connection with the reader who does not demand strait-laced historical fiction."
Also from Donna today is a review of Tanya Huff's Fifth Quarter, a sequel to Sing the Four Quarters. "Huff once again demonstrates her ability to mesh a taut plot with living and breathing characters into an exciting reading experience," Donna says.
Amanda Fisher wanted to like Stefan Rochfort's God Shock, but she can't recommend it. "Rochfort has, I think, some potential as a writer, but he needs substantial training and discipline to reach it," Amanda says.
Amanda is much happier with Gus diZerega's non-fiction text, Pagans and Christians: The Personal Spiritual Experience. "I particularly recommend it to pagans who have Christians in their lives with whom they would like to increase understanding, and similarly to Christians with pagans in their lives," Amanda urges.
Tom's contribution to the graphic arts this week is The Batman of Arkham, an Elseworlds tale with a new twist on Bruce Wayne's diurnal activities.
Amy Harlib has a pair of new film releases for us today, starting with the highly animated, game-based feature, Final Fantasy: The Spirits Within. The film, Amy says, "delivers maximum, eye-candy dazzle along with some intriguing spiritual dimensions that enliven the not-always-original plot." Next up is the comedy Cats and Dogs, which Amy says flounders because of a singleminded bias against felines.
Janine Kauffman flashes back to the classics with Gaslight, a 1944 movie Janine describes as a "beautifully lit, brilliantly paced piece of black-and-white cinema that features landmark performances by several of its stars."
Tom wraps up the reviews with a quirky look at a famous legend in Monty Python & the Holy Grail. "This film is a model of modern comedy," Tom says. "It's silly, yes, but it's impossible not to laugh no matter how many times you watch it."
At a time when Northern Ireland and England continue to strive for peace, it's important sometimes to look back at the past and the people who have been a part of the struggle. Stephany Duncan Gormley makes her first appearance at Rambles with her evocative recollections of a visit with Joseph Doherty, an Irish Republican, in a British-run prison near Belfast. To share her experience, read about Visiting Time at the H-Blocks with Stephany.
2 August 2001
Famed science fiction and fantasy writer Poul Anderson, 74, died of prostate cancer shortly before midnight on July 31. With a career spanning more than 50 years, Anderson was considered one of the best writers in the genre, having penned hundreds of short stories and dozens of novels, and producing more than 100 books in his lifetime.
28 July 2001
Who'd have expected Eileen Ivers, the amazing fiddler best known for her stint with Riverdance, to put on a free concert in a small city park? Tom Knapp was there -- read all about the dancing, the dust and the music.
D
onna Scanlon begins today's set of CD reviews with Cape Breton composer/guitarist Scott Macmillan's Celtic Mass for the Sea. "Celtic Mass for the Sea brings the ocean to me in all its majesty, mystery and splendor," Donna says. "I never thought I would find myself tapping my toes to a mass."
Sticking with the Maritimes, Kimberley Marie says 16-year-old New Brunswick fiddler Stacey Lynn Read is certainly Playing with a Full Deck on her latest recording. "Listening to the intricacy and speed on many of the tunes, it's hard to believe this is a teenager playing! She ranks up there with some of Canada's best," Kimberley says.
Bill Knapp is next with another CD from Seamus Kennedy's collection. Favorite Selections is not Kennedy's usual batch of "light-hearted Irish melodies," Bill says. "One cannot listen to this recording without coming away with a deeper appreciation of 'this troubled land.'"
Christina Harrison has gotten three very positive reviews here at Rambles. But there are always dissenting opinions, and Lynne Remick was not impressed by Harrison's 1998 release, Someday I'm Going Home. "This disc lacks the 'grit' that makes Celtic music come alive for me," Lynne says.
Cheryl Turner, who lives in the lighthouse-heavy region of Nova Scotia, samples some folk music from the west coast: Mark J. Bradlyn Lighthouse Keeper. "Melodious and soothing guitar melodies blend with pleasant instrumental accompaniment and Bradlyn's soft, natural voice," Cheryl says. "The result is a pleasing, comfortable mix of songs which will appeal to those seeking folk music which is easy to listen to."
A
manda Fisher says the harmonica, not the harp, is the featured instrument on the blues instrumental album Superharps II. "It's hard to choose favorites when all the songs are so good! The pacing is also well done, moving from the lively to the slower and back," says Amanda.
Amanda jets to Hawaii for Led Kaapana and Bob Brozman's new release, In the Saddle. "The sparkling skill and sensitivity of both musicians comes through clearly even to one who is new to this style," Amanda says.
Donna Scanlon joins Robert Gass and other artists for Chant: Spirit in Sound. The album "does indeed live up to its promise of presenting 'the best of world chant.'" Donna says. "Give it a try for a truly mind and ear-opening experience."
Audrey Clark does the folk-pop thing with Edie Carey's Call Me Home. "Carey combines all my favorite elements into a truly amazing release: a beautiful, expressive voice, distinctive acoustic arrangements and poetic, surprising lyrics," Audrey says. "There's not a bad song on this entire CD."
Next, Audrey scales back the sound a bit for singer-songwriter Judy Gorman's Analog Girl in a Digital World. "This album is evidence that Gorman has found a vocal and musical range that suits her," Audrey says.
Nicky Rossiter was pleasantly surprised by the folk-rockin' sounds of Kate McDonnell's new CD Don't Get Me Started. "Kate needs air play to get her style and songs recognised and heard," Nicky says. "If she gets that break she will be big."
Patrick Derksen says Richard Gilewitz's Synapse Collapse "is an acoustic guitar masterpiece. ... Not only is he an extremely talented guitar player, he demonstrates how to work mood into the songs with innovative flair."
Laurie Thayer tackles the folk-rocky new-age sound of Zoe's Musical Fairy Tale: Upon a Time by Zoe Vandermeer. "Upon a Time is a fairy tale in both music and narration," Laurie explains. She calls the package "tremendously entertaining."
C. Nathan Coyle says the bluegrass sampler Sneak Preview from Acoustic Endeavors is too short, but recommends you check it out for the music just the same.
Richard Cochrane closes down the CD review section with Nanocluster, a recent jazz offering from Bertrand Denzler and Norbert Pfammatter. "This is very contemporary, unapologetically difficult free jazz which takes a very open set of ears to hear it," Richard says. "It does reward patience, however, this intelligent and stimulating converstion between two instrumentalists of impressive vision."
Cheryl Turner takes some singing lessons from Breck Alan's new book, The Art of Body Singing, Vol. I. "Alan believes that beginners will enjoy the fact that the method starts from scratch, has a clear outline and contains everyday terminology," Cheryl says. "More advanced singers will appreciate the tools provided by his method, and the answers to many of the technical questions which plague students of voice."
Erin Bush opens up our reading library with The Last Hot Time, a contemporary fantasy by John M. Ford. "The Last Hot Time is not, in fact, a Bordertown novel, but the world Ford creates bears a striking resemblance to that created by Windling & Co.," Erin says. "It's a tribute to his skill that the novel never feels imitative, but distinctly his own and fresh despite the familiarity of the basic concept."
Donna Scanlon takes a trip into the SF world of Operation Sierra-75 (Vor, No. 6) with Thomas S. Gressman. "The plot, while gripping, does have flaws," Donna says. "Still, for a space adventure and escape reading, Operation Sierra-75 is a good bet."
Nicky Rossiter experienced the audio version of Ron Miller's Bradamant: The Iron Tempest. "The story, based on European mythical characters, hurtles along at a very good pace and for the convenience of the listener it is divided into chapters which can virtually stand-alone," Nicky says.
Tom Knapp goes to the jungle for a DC/Dark Horse crossover event, Batman & Tarzan: Claws of the Cat-Woman. "I suppose the partnership was inevitable, given that the two heroes both prowl jungles, be they African or urban, in pursuit of justice," Tom notes.
Janine Kauffman has a cheery Welcome to Hollywood as today's first feature in the Rambles cineplex. "It's all a 90-minute gloss of lightweight fun -- not Spinal Tap but probably a better reflection of true Hollywood than most movies about that town," Janine says.
Amy Harlib is off to China for Amanishahan, a historical drama with English subtitles recently featured at the Village East Theater in New York. This "respectful and sympathetic homage that humanizes a revered historical figure may be a bit slow-paced at times for Western audiences used to Hollywood's slam-bang style," Amy says, "yet Amanishahan well rewards those willing to immerse themselves in a time and place of great beauty."
Wrapping things up today is Tom Knapp's review of the 1991 gangster flick Billy Bathgate. "Billy Bathgate doesn't break new ground in the gangster genre and its pace is a little slow at times, but it'll absorb you into the story regardless until its abrupt, somewhat unsatisfying end," Tom says.