How Faint the Whisper is Luke's second disc release; the first was Spring Song, which was released in 2000. This will be an artist to keep an eye on; his rich and meaningful lyrics are combined with some very impressive guitar work. Although the music is unique, there are some definite shadows of performers like Bruce Cockburn to be found within it. As Luke says "I'm constantly learning from all my favorite songwriters and musicians. Whether it's the lyrical grace of Bruce Cockburn and Nick Drake or the inventive guitar playing of Michael Hedges and Ali Farke Toure, I soak in the beauty of the music I love and it bleeds into what I create." This is apparent when one sits and listens to the outcome of that creation.
The title track is the first one on the disc, and "How Faint the Whisper" is an example of some of Luke's guitar playing. The notes are crisp as an autumn apple, and the melody draws you along. The lyrics of this song could be taken any number of ways, so I won't even presume to guess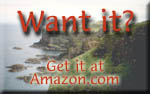 which way the artist means them. The chorus is interesting: "Lover, can you hear me? / I'm calling out to you / how faint the whisper I am." This track was co-written with Luke's brother Daniel.
"Still Life" is a slow folk piece and it depicts a piece of real life. Luke's vocals are joined by a gentle and haunting woman's voice, who I can only assume is Vesper Stamper. The lyrics paint a clear picture -- this is real life, and time passes. Luke has a soothing vocal style, and the slow pace of this piece is perfectly suited to him. The music turns a little discordant as it fades away into silence.
Luke's guitar playing abilities are flexed in "The Eight Day," as we are treated to a stirring instrumental and a hint of the range a guitar can cover when in the hands of someone who not only knows the limits and boundaries, but stretches them and makes new ones as he goes along. This song seemingly has two titles, although the first is the one listed on the back of the disc, the inside has it as "The road forms underneath your feet (the eighth day)." It is a delightfully uplifting piece, and goes perfectly with a Sunday morning.
I am looking forward to hearing more of what Luke can do in the future, and it is a future which looks bright and promising for this talented artist.
[ by Naomi de Bruyn ]
Rambles: 10 November 2001