Dave Carter and Tracy Grammer can claim a wide variety of songwriting awards to their credit. Their national debut album, Tanglewood Tree, showcases the stunning lyrics, beautifully delivered vocals and honed playing skills that make listening to them a treat for the senses.
To be honest, the first song, "Happytown," just didn't reach out and grab me. Carter's voice is too country on this track for my tastes, although the lyrics are well-crafted and the music is infectious and bouncy. I quickly skipped through this one and was rewarded with the exquisite title track, "Tanglewood Tree." Featuring a strong backbeat and acoustic guitar, Carter and Grammer weave their voices into an intricately branching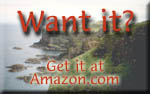 harmony that left me simply breathless. Carter's gift for mystical lyrics shines on this tune, and Grammer's 1770 vintage violin provides a haunting accent to these musings on love.
"The Mountain" features Grammer stepping out on lead vocals. Grammer's voice is clear and vibrant, playing beautifully off the rich rhythms of this song. "Farewell to St. Dolores" is a slow, somber piece of heartache, while "Hey Conductor" is a rambling, finger-pickin' tribute to that mainstay of country music -- the train.
From there, Carter and Grammer tell the tall tale of the "Crocodile Man" with some great duel-spoken lyrics before delving into another acoustic beauty -- "Walking Away From Caroline." Carter's voice is just right on this one -- not too twangy, with just the right amount of emotion to present the myriad faces of the relationship. "Farewell to Fiddler's Rim" is another excellent example of Carter's storytelling expertise; "Cat-Eyed Willie Claims His Lover" combines the elements of a traditional ballad with a brand new hero.
The final tracks on the CD serve to round out the selection: "Cowboy Singer" immediately reminded me of James Taylor's "Sweet Baby James," with its three-step rhythm and contemplative lyrics. "Bitterroot Valley" gives us another taste of Grammer's vocals and a haunting, dreamlike acoustic introduction.
Carter and Grammer met in 1996; those four years were spent playing, writing and bonding. The results are evident on this CD. Carter's lyrics, combined with the the pair's well-matched voices and playing abilities, definitely lives up to their self-described label: "post-modern mythic American music." This CD features music that sounds suprisingly familiar; Carter and Grammer stay true to old traditions in county and folk while adding their own flair. Backed by musicians Richard Gates on bass, Lorne Entress on drums, Roger Williams on dobro, Bob Dick on upright bass and Chris Turner on harmonica, Dave Carter and Tracy Grammer create a CD with a sound that's all their own and worth your time and money.