---
advertisement
Find concert tickets and theater tickets right now. We have the best Wicked tickets and Lion King tickets, plus Carrie Underwood tickets.
---



Movies are listed alphabetically by title. Click on a title to read the review.











Movie theme pages
Capes, masks & spandex:
a focus on superheroes
Legends & heroes,
from Arthur to Zorro
---
Check out our line of Rambles.NETwear, courtesy of CafePress. There are more than three dozen items available!


---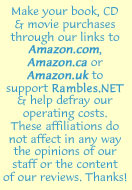 Alphabetical directory of films:
T
U
V
W
X
Y
Z