The information included with this CD tells us that Phil Cody is related to Buffalo Bill. This piqued my interest as William Cody is alleged to have Wexford (my hometown) origins.
The album is titled Big Slow Mover, which is a misnomer in two ways. To begin with the tracks here are, in the main, far from slow; they are upbeat, rocky, fun folk tunes. Secondly, given a fair exposure, this CD will move quickly from the store shelves.
Maybe to contradict myself, I would pick the slowest track on the CD as a favourite. The fact that this is one of the few tracks not penned by Phil is no detraction from the quality of his work. "If I Needed You" is a classic and as such should be approached with care and trepidation. Phil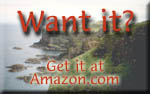 gives it a beautiful treatment that is further enhanced by the backing vocal of Emmy Lou Harris. "City of Destruction" is a rocking piece of folk that reminded me of the Strawbs.
"Orphan Train" tells the poignant tale of the orphans who were transported to the frontier lands to satisfy a need for new blood. It will strike a chord in every culture recalling how the vulnerable were seen as a national commodity to be passed on or sold.
One of the true strengths of Cody's songs is that they remind us of the universality of small-town life. If you live in small town Ireland, the U.S., Australia or any other country you can identify with the sentiments. His "Spencer's Song" remarks on growing up in a small town, father working for the major local industry and doors never being locked. I can recall the same 3,000 miles away. His lines "We got beat up by the big ones and we picked on the littler ones, and the world ain't much different today" say it all. Good story songs speak a universal truth and that truth seldom changes.
This 13-track CD is excellent and showcases a prime new talent. As always there are slight problems. The few times that he uses sound effects they jar and the long gap between the main album and the bonus tracks makes you wonder if your speakers have blown. As with so many folk albums in particular, regardless of how good the diction and sound, we need the printed lyrics.
All in all this should be big but not a slow mover.
[ by Nicky Rossiter ]
Rambles: 21 December 2001