The CD artwork shows off the western landscape favored by Chicago native and Colorado transplant Don Conoscenti. Paradox of Grace, Conoscenti's eighth and most recent release, effectively combines the wide open feel of Conoscenti's adopted home with his skillful guitar playing. Past winner of the New Folks competition at the Rocky Mountain Folks Fest, Conoscenti teams up with Boston singer-songwriter Ellis Paul on backing vocals on most numbers and co-writing credits on one song ("Drink Another Round").
"Let's go to Milan and walk the ancient streets / do the things that lovers do / use the language that they speak" starts "Molly," the disc's opening track. It ambles through Italy, and "across town and through the world" as the narrator tries to convince Molly that he is "so sorry for [her] sad beginnings." It's a gentle opening with acoustic guitars ringing pensively in the background as the narrator tenderly implores Molly to "see yourself through my eyes."
While that acoustic guitar is effective accompaniment, Conoscenti doesn't really begin to demonstrate his instrumental abilities until the third song, "Red Man Sky." Conoscenti, generally considered an acoustic folk performer, also is a jazz guitarist known for his innovative style, including the use of multiple capos. Here, he starts to cut loose on guitar and adds banjo. Multi-instrumentalist Conoscenti takes responsibility for creating most of the musical sounds on this album, including various types of guitars, banjo, flute, piano and didgeridoo, among others.
"The Burren," the one wholly instrumental piece on the album, lets him break into a little finger picking. Its follow-up song, "Texas Moon," allows him to continue that work, albeit in a different style. The cover of Woody Guthrie's "Vigilante Man" (the only cover on the CD) really gives him a chance to kick back with his banjo.
The disc's closing track, "Beautiful Valley," a musical tribute to Colorado's Sangre de Cristo and San Juan mountain ranges also features Conoscenti's banjo. For years, people who move to Boulder, Colorado, often have been told they are victims of Niwot's curse. Chief Niwot, a leader of the Arapahoe nation, was claimed to have "cursed" the whites immigrating to that area in that they would never want to leave the Boulder Valley after seeing it once. Conoscenti sings similarly about Colorado's San Luis Valley, stating that not even moving to New York City,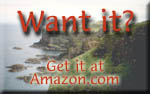 California, nor even Boulder can keep one from returning to his beautiful adopted home in southern Colorado. Not even including the chorus to Woody Guthrie's "This Land is Your Land" towards the song's close, a choice that might at first appear a little trite, could keep this ex-pat Coloradan from feeling homesick.
Conoscenti's voice matches the emotional clarity and output of his guitar. It has a strong, resonant timbre to it that manages to suit the different styles performed on the album. There's no twang to go with Guthrie's "Vigilante Man," not even with the mention of John Steinbeck's Oklahoman Reverand Casy, but it's not necessary. He has the rough tones needed for Guthrie, but his voice also possesses radio friendly lighter features on pieces such as "Molly," "Drink Another Round" and the album's title track. Ellis Paul is a good choice for backing vocals; their voices blend nicely together and create attractive harmonies.
With Paul's help, Conoscenti has created his most ambitious release to date. He's a compelling performer who continues to grow with time and each new recording.
[ by Ellen Rawson ]
Rambles: 1 September 2001