Erika S. Rabideau makes her home on the east coast of North Carolina with her husband, dog and cat.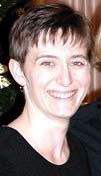 She is an avid reader of mystery and suspense novels and dabbles in scrapbooking. Despite not being able to play or sing a note, her biggest passion is music. Her first love is Scottish-Celtic music, but she likes almost all Celtic music, a passion that grew over time into a love of Celtic culture. She is also quite fond of world, folk and any type of music that can be considered "roots." She also has come to terms with the fact that she likes many singers and songwriters from the late 1960s and the '70s. This was her (gulp) parents' music.
Erika blames her parents for a lot of her musical tastes -- especially her father! When she was a teenager, he repeatedly subjected her to long drives filled with Celtic music and information. Despite desperately trying not to like what she heard, Erika fell in love with the stuff. Little did her father know he would be to blame for creating a Celtic music monster. She now spends a lot of her free time doing research on this subject, adding more and more CDs to her collection and going to live gigs. Erika also enjoys sharing her Celtic music knowledge with her father whenever possible.
Reviews by Erika include:
Kate Bennett
• Over the Moon
Capercaillie
• Choice Language
Anne Heaton
• Black Notebook
Nusrat Fateh Ali Khan & Michael Brook
• Night Song
Little Windows
• Just Beyond Me
Iarla O'Lionaird
• The Seven Steps to Mercy
Christine Primrose & Brian O'hEadhra
• An Turas: Gaelic Songs from Scotland & Ireland
Peggy Seeger
• Heading for Home
various artists
• Beautiful: A Tribute to Gordon Lightfoot
Fucadairean Coimheach Rioghail (Fierce Royal Milling Singers)
Nicolas Boulerice, Benoit Bourque & Olivier Demers (Le Vent du Nord)