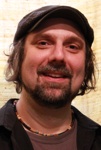 Tom Knapp:
fiddle, bodhran, backing vocals

Tom studied classical violin during his formative years but locked it away in a dusty closet immediately after graduating from high school. Years later he released it from captivity, dubbed it "fiddle" and began a wild love affair with Irish music. He began attending Irish sessions in the Harrisburg area and started the first local sessions in Lancaster County before deciding (quite by accident) to start this band.

He co-founded Fire in the Glen in March 1999 with local musician John Varner, later working with singer/guitarists Chet Williamson and Jason Mundok and singer/drummer Aaron Gagne before landing the current lineup. The band has released four CDs and an EP to date.

Tom has played bodhran on albums by Harmony Hill and Varner Lynch, and he has performed on stage with Maggie Drennon, the Rogues, Enter the Haggis, Clannamore, Laune Rangers, Knotwork Band, Woad Women and Arcona Reel Band. When he's not performing, Tom is a reporter with the Intelligencer Journal/Lancaster New Era, Lancaster County's daily newspaper.

A Lancaster County native, he is founder and editor of Rambles.NET, a prominent online review magazine, and he's the proud husband of Katharine McGourty Knapp.
Amanda Wells:
lead vocals, guitar, harmonica, percussion

Amanda is Chester County-born and southern Lancaster County-raised. A singer-songwriter, she began her informal music education at the ripe age of 10 under the watchful eyes of musical friends of the family and her late father. Although Amanda has a fondness and appreciation for most genres of music, her early and most prominent influences were bluegrass and folk.

Amanda moved to Lancaster after high school to pursue an education in art, but eventually fell into the grips of adulthood and a full-time job. After taking a "semi-permanent hiatus" from art, she focused on songwriting and performing, and in 2005 released a rough first CD. She has since recorded and released a professionally produced second album and has been performing with husband and metal front man, Robb Graves. Amanda was also invited to be a touring and album vocalist for the Indiana-based fantasy metal band, Lorenguard.

Primarily a guitarist and vocalist, Amanda dabbles with piano and harmonica, and she will attempt to play any stringed instrument laid in front of her. Amanda also runs her independently owned fantasy- and medieval-themed costume business, Equip This.
Michael Filippo:
lead guitar, vocals

A Lancaster resident for eight years, Michael co-founded the Dwindling Farmboys with Jeff Bryson in 2005 and the Bon Accord Trio with Chris de Vitry and Trixi Greiner in 2007. He plays guitar and banjo, and he sings in a neo-traditional style reflecting a cross-pollination of musical influences.

Michael previously lived in Boston, where he was exposed to traditional Irish music through musician friends and in local pubs, performing in all-night sessions that also featured the likes of legendary Donegal fiddler Tommy Peoples, banjoist Kevin Griffin and uilleann piper Paddy Keenan. It was at this time Michael began playing old-time music in pub sessions and house parties. He also learned to play the banjo clawhammer style. All this was a departure from Michael's blues rock and jam band electric days, gradually transforming him into a trad-rat. (He still digs Zappa's Hot Rats.)

Though he lived briefly in Reading, Sinking Springs and Willow Grove as a young child, he hails from the Hudson River town of Sleepy Hollow: home of the Headless Horseman.

He lives in Lancaster with wife Ana and son Oskar.