Fire in the Glen's fourth CD, Shout 'til the Break of Day, is the only recording of the band with Jason Mundok on the mic, guitar and a few other instruments, while Tom Knapp continues plugging away on fiddle and bodhran.
You can still buy it at our shows, or you can order it by emailing the band. The CD is $10, plus $2 for shipping and handling if you order through the mail.
Track list: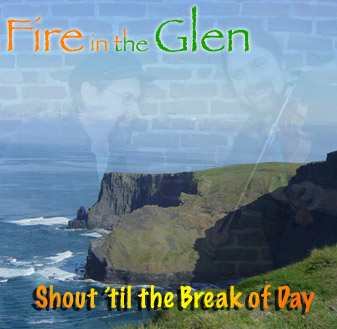 • 1. All for Me Grog
• 2. The Mermaid
• 3. The Road to Lisdoonvarna
O'Keefe's Slide
The Stool of Repentance
Stan Chapman's Jig
• 4. Cockles & Mussels
• 5. Johnny Jump Up
• 6. Yellow Leaves ***
Big Harbour Dock Frolic ***
• 7. Whiskey in the Jar
• 8. Old Dun Cow
• 9. Ger the Rigger
Maggie in the Wood
Bill Sullivan's Polka
• 10. Mari Mac
• 11. A Walk in the Irish Rain
• 12. Katie's Oh So Hornpipe ***
Katie's Totally Reel ***
• 13. The Leaving of Liverpool
• 14. Finnegan's Wake
• 15. Lannigans Ball
The Mucking of Geordie's Byre
Rattlin' Bog
John Ryan's Polka
• 16. I'd Stop Drinkin' ***
• 17. Susquehanna Pirate ***

*** denotes a Fire in the Glen original

Tom Knapp: fiddle, bodhran, backing vocals
Jason Mundok: lead and backing vocals, guitar, harmonica, bass, tambourine
Recorded, mixed and mastered by Jason Mundok at the Oil Tank, Lancaster, Pa.
Back to the Fire in the Glen home page.