Fire in the Glen

Our short-lived EP, Aaargh! The Susquehanna Pirates, provided a first taste of the second incarnation (Chet & Tom) of Fire in the Glen -- but it's long gone! If you want to hear the boys at work, check out their subsequent full-length CDs, Pirates, Wakes & Whiskey and Let the Wind Blow High. Cheers!
Track list: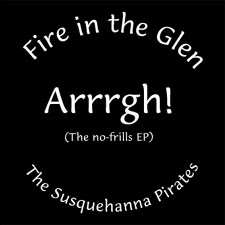 • The Night Pat Murphy Died
• Swallowtail Jig/The Rakes of Killdare
• The Susquehanna Pirate
• The Day Dawns/Sleep Soond in the Mornin'
• Scots-Irish
• Scarce o' Tatties/The Lilting Banshee/The
Road to Lisdoonvarna/O'Keefe's Slide/The
Stool of Repentance/Stan Chapman's Jig/Scarce
o' Tatties (reprise)

Tom Knapp: fiddle, bodhran, backing vocals
Chet Williamson: lead vocals, guitar
Recorded, mixed and mastered by Steve Puffer
at Parallel Productions, Willow Street, Pa.
Back to the Fire in the Glen home page.