Fire in the Glen,
Shout 'til the Break of Day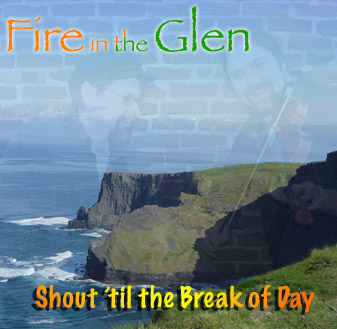 Based in Lancaster, Pa., Fire in the Glen has been thrilling audiences for well over a decade now. One of the main reasons for the duo's success is the excitement in their performances and that excitement is something they've captured on this, their fourth CD.
Fiddler and bodhran player, Tom Knapp, founded the group in 1999. Interestingly, the lineup changes in Fire's history have been important ones -- Jason Mundok is the third lead singer. Mundok has already established himself as a fine singer, songwriter and guitarist and now he immerses himself in this fiery style of celtic music.
Much as I like the earlier incarnations of the band, I feel this is probably the best. Knapp and Mundok have a chemistry that is stronger than anything I've experienced with the duo on earlier recordings and live performances. A strong vocalist, he approaches the songs with gusto and freshness.
As a steady guitarist, he provides a reliable accompaniment on the tunes. His bass and percussion playing also gives nice depth. Knapp has steadily grown as a fiddler. There's a drive and lift in his playing that makes the music highly danceable. He also provides a laid back percussion to many of the tracks as well as backing vocals.
Among the tracks are some celtic standards: "All for me Grog," "Finnegan's Wake" and so on. The same applies to the tunes ("Road to Lisdoonvarna," "John Ryan's Polka" and others). But they also turn to their own compositions with a set of hornpipes, here and song there. But for me, it's Steve Spurgin's "A Walk In The Irish Rain" which stands out. It's almost as if it were written for Fire in the Glen!