Gloria Oliver lives in Texas with her husband, daughter and three cats.
She is the author of the novels In the Service of Samurai and Vassal of El, both in the fantasy genre and both finalists in the EPPIES. Two other fantasy novels are due for release in 2007: Cross-eyed Dragon Troubles and Willing Sacrifice. She also has stories in The Four Bubbas of the Apocalypse, Small Bites and Fundamentally Challenged anthologies. She is a proud member of both EPIC and Broad Universe.
When not busy working with numbers at work, she enjoys reading, writing, watching movies, Japanese anime, trying to learn Japanese and making her mind mush by translating Japanese comics. To find out more, please visit her website.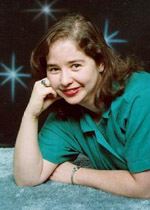 Reviews by Gloria include:

M.D. Benoit
• Metered Space

Rachel Caine
• Devil's Bargain
• Devil's Due
• The Morganville Vampires #1: Glass Houses
• The Morganville Vampires #2: Dead Girl's Dance
• Weather Warden #3: Chill Factor
• Weather Warden #4: Windfall
• Weather Warden #5: Firestorm

Mayra Calvani
• Embraced by the Shadows

Stephen R. Donaldson
• The Man Who Risked His Partner, writing as Reed Stephens
• The Man Who Tried to Get Away, writing as Reed Stephens

Carole Nelson Douglas
• Cat in a Hot Pink Pursuit
• Cat in a Red Hot Rage

Charles Coleman Finlay
• The Prodigal Troll

J.C. Hall
• Lady of the Lakes

Joan Upton Hall
• Arturo el Rey

Barbara Hambly
• The Emancipator's Wife

Thomas Harris
• Hannibal Rising

Robin Hobb
• Shaman's Crossing

Stephen King
• Lisey's Story

Naomi Novik
• Temeraire #1: His Majesty's Dragon
• Temeraire #2: Throne of Jade
• Temeraire #3: Black Powder War

Dr. Bob Rich
• Striking Back from Down Under

Selina Rosen
• Strange Robby

Christopher Stires
• Rebel Nation

Martha Wells
• The Element of Fire
• Stargate Atlantis: Reliquary