Marianne Green, with Andy Irvine,
Dear Irish Boy
(Glas, 2010)

---
Marianne Green sings with a voice as gentle and delicate-sounding as Belleek porcelain.
But delicate doesn't mean fragile. Green's lovely voice is a strong presence on her first full-length recording, Dear Irish Boy.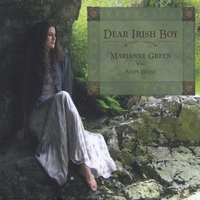 Musically, Green came to this race with a stallion in her stable. Renowned Irish musician Andy Irvine not only produced the album and arranged the music, he supplied mandolin, bouzouki, mandola, bass bouzouki and harmonica to the tracks. Recording engineer Colum Sands provides double bass and concertina, and Gerry O'Conner adds violin.
Green just sings but, believe me, her voice is the focal point of each and every track.
The traditional songs here, drawn largely from the Co. Down region of Ulster, are "The Banks of the Bann," "Ta Me Mo Shui," "The Doffin Mistress," "Bonny Portmore," "Ar a Ghabhail Go Baile Atha Cliath Damh," "The Dear Irish Boy," "The Road to Dundee," "The Wreck of the Newcastle Fishermen" and "Carrickmannon Lake."
Green adds two songs of her own making, "You Make Me Fly" and "The Wife's Lamentation," as well as "Cian's Song" by executive producer Martin O'Hare. The originals fit neatly into the overall sound of this album.
Dear Irish Boy is rare in its restraint. Far from the heavy production values that clutter so many contemporary Irish albums and lacking the trend to plug in the guitars and add a drum kit to the ensemble, this album is clear, pure and deeply rooted in Ulster.
It's been six years since Marianne Green recorded her EP, By Yonder Town. I hope it doesn't take her so long to get back in the studio after Dear Irish Boy.





Rambles.NET
review by
Tom Knapp

27 March 2010


Agree? Disagree?
Send us your opinions!