Heather Lewin-Tiarks, from Milwaukee, WI, has been playing stringed instruments for more than 24 years.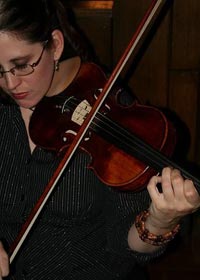 She began Irish fiddling about eight years ago, as a result of her involvement in Irish ceili and set dancing. Since then, she has traveled around, constantly in search of new tunes and techniques, and has had the privilege of learning from many great Irish, bluegrass, Cape Breton, oldtime and jazz fiddlers, including Maria Terres-Sandgren, Ed Paloucek, Liz Carroll, Liz Knowles, Liz Doherty, Matt Cranitch, Seamus Kennedy, James Kelly, Denis Liddy, Sean Cleland, Tommy Peoples, Paddy Glackin, Crystal Plohman, Buddy Spicher, Bobby Hicks, Martin Norgaard, Vassar Clements, Siobhan Peoples, Eileen O'Brien, Maire Breatnach, Paul Kelly and Jerry Holland.
Heather has performed with many different types of musicians in multiple genres. Some of the groups are the Tatra Slovak Dancers, Milwaukee Youth Symphony Orchestra, the Central Wisconsin Symphony, the UWM Symphony, Concord Chamber Orchestra, the O'Shyttes, the Irish Fest Ceili Band, Bootless Harlequins, West of Ennis and Bounding Main. You can currently find her performing with Slainte L'Chayim, the Consorte of Somesorte, the Mighty Lumberhorn, Roberts String Quartet, the Romaniax, the O'Donoghue's Wednesday Night Ceili Band and Athas.
Heather is also a frequent feis musician, and she enjoys playing for ceilis and set dancing whenever possible. She can often be spotted at Irish, bluegrass and blues sessions across the Midwest. Heather has fiddled all over the United States, as well as in Ireland, England, Eastern Europe and Japan.
She is a graduate of UW-Milwaukee, where she earned bachelor's degrees in anthropology and American Indian studies and received her Celtic studies certification in May 2006.
On weeknights, when she's not out doing gigs, Heather teaches private violin, viola and cello lessons in the Milwaukee area. Check out Heather's website and myspace profile for more info.