Susan Howatch again takes us into the dark corners of the Church of England with Glamorous Powers, the second book in her series revolving around the Church in the early 20th century. The first book, Glittering Images, introduced us to Jon Darrow as a religious lifeline to Charles Ashworth when he most needed guidance. Jon was a staid Fordite monk who used his psychic ability to alleviate suffering in others and to assist them on their spiritual journey. Charles viewed Jon Darrow as a man who "had it all together," the type of man Charles wanted to be. Glamorous Powers shows us that what we see on the surface can be extremely different than what lies beneath.
Early one morning, Jon is overcome with a vision he believes is sent from God to deliver a startling message: leave the Order of the Fordite monks after 17 years of service. One simply can not walk out of a monastic order; Jon must obtain permission from his superior. Unfortunately,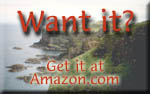 Jon's new superior is an acquaintance from his college years with whom he shares a mutual abhorrence, Francis Ingram. The intellectual exchanges that take place between Jon and Francis are both mentally stimulating and humorous, and as a reader I found the evolution of their friendship extremely fulfilling. Ultimately, Francis decides Jon has truly been called by God to leave the order, and Jon is out in the world for the first time in 17 years.
This sprawling novel presents the many sides of Jon Darrow: the serene servant of God, the aging 60-year-old man who doesn't feel a day over 45, the failed father of two grown children, and a man making a second attempt at married life after a hugely botched first marriage. Howatch deftly weaves these many faces of Jon into the story so that we see him develop into a full character, a union of the many roles he must play. The complexity and multitude of relationships in need of healing are such that I dare not go into too much detail here for fear of ruining a truly great romp through the psyche of one agonized man.
Jon's psychic abilities are central to the main conflicts in the story, from how he handles his temper with Francis to how he comes to grips with the ministrations of his recently-deceased spiritual adviser, the mysterious Father Darcy. Troubles begin to compound, and we watch Jon tread down a path that we can see from the outside is clearly a dreadful mistake. I genuinely wanted to reach out and throttle the man back into some sort of logic at one point in the story. The muddle in which Jon ultimately finds himself seems at first insurmountable; however, Jon finds a way through and emerges with flying colors.
Susan Howatch has again furnished a truly satisfying read with Glamorous Powers. Jon Darrow is a feisty old coot of a character who proves that redemption and healing in any relationship is possible regardless of the passage of time or the depth of the wound.
[ by Carie Morrison ]
Rambles: 2 March 2002