Jessica Lux-Baumann was raised by a librarian mom and a historian dad.
As a child, she regularly hit the 15-item limit on her library card. To pay the bills, she is an aerospace engineer by day, but she devours literature at night. Jessica is a fan of children's literature, young adult books and modern literary fiction. Her main drugs of choice, however, are memoirs and autobiographies about trauma, addiction, recovery and purely strange lives.
Jessica enjoys making Amazon.com lists and guides, and regularly corresponds with her parents about their latest reads. On any gift-giving occasion, she looks to her review list to match a title with the recipient.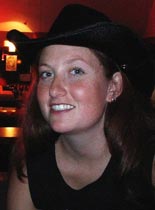 Reviews by Jessica include:

Margaret Atwood
• Cat's Eye

Will Beall
• L.A. Rex

Andrew Beaujon
• Body Piercing Saved My Life: Inside the Phenomenon of Christian Rock

Alex Boese
• Elephants on Acid: & Other Bizarre Experiments

Peter Bogdanovich
• The Killing of the Unicorn: Dorothy Stratten, 1960-1980

David Borgenicht
• How to Con Your Kid: Simple Scams for Mealtime, Bedtime, Bathtime, Anytime

Yvonne Bornstein, with Mark Ribowsky
• Eleven Days of Hell

Lorraine Bracco
• On the Couch

David Brin, editor
• King Kong is Back!

Hillary Carlip
• Queen of the Oddballs: & Other True Stories from a Life Unaccording to Plan

Linda Carroll
• Her Mother's Daughter:
A Memoir of the Mother I Never Knew & of My Daughter, Courtney Love

Michael Carroll
• Awake at Work:
35 Practical Buddhist Principles for Discovering Clarity & Balance in the Midst of Work's Chaos

John Carter
• Sex & Rockets: The Occult World of Jack Parsons

Marilyn Church
• The Art of Justice: An Eyewitness View of Thirty Infamous Trials

Will Clarke
• The Worthy: A Ghost's Story

Eden Collinsworth
• It Might Have Been What He Said

Kerry Max Cook
• Chasing Justice: My Story of Freeing Myself After Two Decades on Death Row for a Crime I Didn't Commit

Bernard Cooper
• The Bill from My Father: A Memoir

Rita Cosby
• Blonde Ambition: The Untold Story Behind Anna Nicole Smith's Death

John Crawford
• The Last True Story I'll Ever Tell: An Accidental Soldier's Account of the War in Iraq

Lionel Dahmer
• A Father's Story

Phoebe Damrosch
• Service Included: Four-Star Secrets of an Eavesdropping Waiter

Stephen Dobyns
• Eating Naked

Elena Dorfman
• Fandomania

Glen Duncan
• I, Lucifer: Finally, the Other Side of the Story

Jennifer Egan
• The Keep

Dave Eggers
• A Heartbreaking Work of Staggering Genius

Stephen Elliott
• My Girlfriend Comes to the City & Beats Me Up

Bret Easton Ellis
• American Psycho

Janet Fitch
• Paint It Black

Emma Forrest
• Damage Control: Women on the Therapists, Beauticians, & Trainers Who Navigate Their Bodies

E.R. Frank
• Wrecked

Lynn Freed
• The Curse of the Appropriate Man

Stephen Fried
• Thing of Beauty

Lonn Friend
• Life on Planet Rock: From Guns N' Roses to Nirvana, a Backstage Journey through Rock's Most Debauched Decade

Debra Galant
• Rattled

Stefan Gates
• Gastronaut: Adventures in Food for the Romantic, the Foolhardy & the Brave

Deborah Godin
• Papa Do Run: A Baby Boomer Looks (& Laughs) at Vintage Rock 'n' Roll

Robert Greenfield
• Timothy Leary: A Biography

Adena Halpern
• Target Underwear & a Vera Wang Gown: Notes from a Single Girl's Closet

Jake Halpern
• Fame Junkies: The Hidden Truths Behind America's Favorite Addiction

A.M. Homes
• The Mistress's Daughter: A Memoir

Mike Horn
• Conquering the Impossible: My 12,000-Mile Journey Around the Arctic Circle

Elisabeth Hyde
• The Abortionist's Daughter

John Irving
• A Prayer for Owen Meany

Kazuo Ishiguro
• Never Let Me Go

Kevin Jennings
• Mama's Boy, Preacher's Son

Terri Jentz
• Strange Piece of Paradise

Ron Jeremy
• The Hardest (Working) Man in Showbiz

James David Jordan
• Something That Lasts

Carrie Kabak
• Cover the Butter

Sue Monk Kidd
• The Mermaid Chair

Anthony Kiedis
• Scar Tissue

Josh Kilmer-Purcell
• I Am Not Myself These Days: A Memoir

Barbara Kingsolver
• Pigs in Heaven

Caroline Knapp
• The Merry Recluse: A Life in Essays

Jon Krakauer
• Under the Banner of Heaven: A Story of Violent Faith

Robert Kurson
• Shadow Divers: The True Adventure of Two Americans Who Risked Everything to Solve One of the Last Mysteries of World War II

Lori Lansens
• The Girls

John Leake
• Entering Hades: The Double Life of a Serial Killer

Wendy McClure
• The Amazing Mackerel Pudding Plan: Classic Diet Recipe Cards from the 1970s

Richard Melo
• Jokerman 8

Elizabeth Merrick, editor
• This is Not Chick Lit: Original Stories by America's Best Women Writers

Mary Beth Miller
• On the Head of a Pin

Christopher Moore
• A Dirty Job

Michael Moynihan
• Lords of Chaos: The Bloody Rise of the Satanic Metal Underground

Karin Muller
• Japanland: A Year in Search of Wa

Haruki Murakami
• After Dark

Justine Musk
• Bloodangel
• Uninvited

Chuck Negron
• Three Dog Nightmare: The Chuck Negron Story

Jack Olsen
• I: The Creation of a Serial Killer

Carolyn Parkhurst
• Lost & Found

Kathy Passero & Beth Efran
• Laguna Beach -- The Real Orange County: Life Inside the Bubble

James Patterson
• The 5th Horseman

Cetywa Powell, editor
• Underground Voices

Julie Powell
• Julie & Julia: 365 Days, 524 Recipes, 1 Tiny Apartment Kitchen

Laura Preble
• The Queen Geek Social Club

Roy Ratcliff
• Dark Journey, Deep Grace: Jeffrey Dahmer's Story of Faith

Dana Reinhardt
• A Brief Chapter in My Impossible Life

Mary Roach
• Spook: Science Tackles the Afterlife

Matt Ruff
• Bad Monkeys

Jennifer Saginor
• Playground: A Childhood Lost Inside the Playboy Mansion

Elyn R. Saks
• The Center Cannot Hold: My Journey Through Madness

Hana Schank
• A More Perfect Union: How I Survived the Happiest Day of My Life

Julia Scheeres
• Jesus Land: A Memoir

Alice Sebold
• Lucky: A Memoir

Amy Sedaris
• I Like You: Hospitality Under the Influence

Nikki Sixx
• The Heroin Diaries: A Year in the Life of a Shattered Rock Star

Slash & Anthony Bozza
• Slash

Irene Spencer
• Shattered Dreams: My Life as a Polygamist's Wife

Michelle Tea
• Rose of No Man's Land

Dave Thompson
• Black & White & Blue: Adult Cinema from the Victorian Age to the VCR

Keith Thomson
• Gus Openshaw's Whale-Killing Journal

Cathy Travis
• Constitution Translated for Kids

Lisa Tucker
• Once Upon a Day

Adrienne Maria Vrettos
• Skin

Annie Wang
• The People's Republic of Desire

Wendy Wasserstein
• Elements of Style

Kayla Williams
• Love My Rifle More Than You: Young & Female in the U.S. Army

Gary A. Wilson
• The Triangle

Philip Zimbardo
• The Lucifer Effect: Understanding How Good People Turn Evil