Kaitlin Hahn has been playing fiddle since the tender age of 6.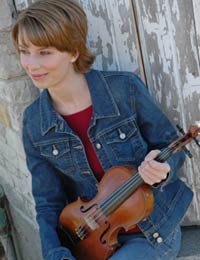 She began her musical journey as a classical violinist, starting to study Celtic fiddle with Ed Paloucek at age 18. Since then, she has become an active session player and has filled in for fiddlers in a few local bands in the Milwaukee area. Kaitlin teaches music throughout southeastern Wisconsin and is on the faculty of Milwaukee's Irish Fest School of Music. She attended the Mark O'Connor Fiddle Camp in Tennessee and took classes in fiddle and piano accompaniment at the Gaelic College of Arts & Crafts in Cape Breton, Nova Scotia. She has studied with Liz Carroll, Stan Chapman, Glenn Graham and several others.
Kaitlin is a former member of the Milwaukee band Bantry Bay and now plays with Atlantic Wave. She recently released her debut solo album, Nice to Meet You, in 2004, and Atlantic Wave made its recorded debut with Craic'd in 2006. Also in 2004, she was chosen to travel and perform in Chiba, Japan, as part of a cultural delegation for Wisconsin Gov. Jim Doyle. On top of all of this, she recently graduated from UW-Milwaukee with a degree in instrumental music education.
Be sure to visit Kaitlin's website!
Reviews by Kaitlin include:

Beolach
• Variations

Melody & Derrick Cameron
• When There's Music

Johnny Connolly
• An Mileoidean Scaoilte, with Charlie Lennon

Sutton Foster
• Wish

Karen & Helene
• Solen

Oisin McAuley
• Far from the Hills of Donegal

Manus McGuire
• Fiddlewings

Jennifer Roland
• For Each New Day

Smithfield Fair
• Winds of Time

Young Dubliners
• Real World




Barra MacNeils: 20 Years & Counting

Festival Club 2009, opening night

Festival Club 2010, opening night

Festival Club 2011, opening night

Fiddle Workshop with Buddy MacMaster

Louisbourg Crossroads (2007)

Louisbourg Crossroads (2011)

My Old True Love: The Songs that Bind

Pierre Schryer & Quinn Bachand

The World's Biggest Square Dance




Derrick Cameron: spreading tradition

Liz Carroll: fiddles, kids & the Cubs

Danu (Oisin McAuley): doing his best

Joella Foulds: Otis Tomas's fiddle tree

Natalie MacMaster: fiddler, producer, wife & chef

Joanie Madden: riding the Celtic wave

Manus McGuire: an Irishman in Cape Breton