Katie Knapp (formerly Kate Danemark) is a responsible adult with absolutely no vices whatsoever. Those have all been taken away by force. And yet, she is married.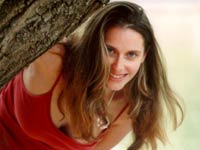 Required to lead a healthy life, she now does nothing but exercise, eat whole grains and write prolifically for Rambles.NET. Anyone who wants to argue to the contrary will be asked to redirect their statements to the editor, who will assure them that he has indeed chained poor Katie to the keyboard with the expectation that she will write the bulk of Rambles.NET material for the foreseeable future. And do the ironing, too.
Katie is frightened.
She will doubtlessly avenge herself on the editor through poetry and countless domestic snares. In the meantime, she is building a protective wall around herself made up entirely of books, CDs, empty Pringles cans, lollipop wrappers and discarded children's toys.
Oh, and there's a dreamcatcher for pretty. And two very lovely rings (with bling!) that bind her forever to her editor in many unspeakable ways.
Editor's Note: Some of the above statements are lies.
Reviews by Katie include:
Chava Alberstein
• End of the Holiday
Fiona Apple
• Extraordinary Machine
• The Idler Wheel is Wiser Than the Driver of the Screw
& Whipping Cords Will Serve You More Than Ropes Will Ever Do
• When the Pawn...
Neko Case
• Fox Confessor Brings the Flood
Dead Can Dance
• Toward the Within
Duenow
• If You Could Only See What They Are Doing to You
The Elders
• American Wake
Chris Isaak
• Heart Shaped World
Christine Lavin
• I Was in Love with a Difficult Man
• Live at the Cactus Cafe
• Sometimes Mother Really Does Know Best
Wynton Marsalis
• Haydn: Three Favorite Concertos, with Yo Yo Ma & Cho-Liang Lin
Hannah Montana (Miley Cyrus)
• Hannah Montana
Old 97s
• Fight Songs
Po' Girl
• Home to You
• Vagabond Lullabies
The Ruffians
• Live At CBGB: The Official Bootleg
various artists
• Disney Channel Hits
Dar Williams
• The Beauty of the Rain
Keller Williams
• Laugh
William J. Bennett
• Children's Book of Virtues
Francesca Lia Block
• Echo
Bodil Bredsdorff
• The Crow Girl
Herbie Brennan
• Fairy Nuff: A Tale of Bluebell Wood
N.M. Browne
• Basilisk
Sandra Jones Cropsey
• Tinker's Christmas
Ellen Datlow, editor
• Off Limits: Tales of Alien Sex
David Delamare
• Animerotics: A Forbidden Cabaret in 26 Acts
Anita Diamant
• The Red Tent
Chuck T. Falcon
• Family Desk Reference to Psychology
Neil Gaiman
• The Wolves in the Walls, illustrated by Dave McKean
Patricia Reilly Giff
• Maggie's Door
Brian Gleeson
• Anansi
Laurence Gonzales
• Lucy
Charlaine Harris
• Living Dead in Dallas
Laura Hillenbrand
• Seabiscuit
Alice Hoffman
• Water Tales
(omnibus: Aquamarine, Indigo)
Mary Howitt
• The Spider & the Fly, illustrated by Tony DiTerlizzi
Carl Japikse, editor
• Fart Proudly: Writings of Benjamin Franklin You Never Read in School
Nic Kelman
• Girls
Sue Monk Kidd
• The Secret Life of Bees
Dexter Scott King, with Ralph Wiley
• Growing Up King: An Intimate Memoir
E.L. Konigsburg
• From the Mixed-Up Files of Mrs. Basil E. Frankweiler
Susan Krinard, Tanith Lee, Evelyn Vaughn
• When Darkness Falls
Beverly Lewis
• The Heritage of Lancaster County #1: The Shunning
• The Heritage of Lancaster County #2: The Confession
Michael Patrick MacDonald
• All Souls: A Family Story from Southie
Frank McCourt
• Angela's Ashes
Rainer Neumann
• Labyrinth: A Mythic Journey
Jennifer Niven
• Ada Blackjack: A True Story of Survival in the Arctic
James Patterson
• Violets Are Blue
Camille Peri & Kate Moses, editors
• Mothers Who Think: Tales of Real-Life Parenthood
John L. Ruth
• Forgiveness: A Legacy of the West Nickel Mines Amish School
David Sedaris
• Children Playing Before a Statue of Hercules
• Dress Your Family in Corduroy & Denim
Stephen M. Silverman
• Envy, Anger & Sweet Revenge (Sin Series No. 5)
Janeen Solberg
• Staying Centered: The Art of Full-Time Parenting
Nicholas Sparks
• The Notebook
Jeanne Treat
• Dark Birthright
Harry Turtledove
• In the Presence of Mine Enemies
Deborah Werksman, editor
• I Killed June Cleaver: Modern Moms Shatter the Myth of Perfect Parenting
Christopher Whitcomb
• Black
Connie Willis
• All Clear
• Blackout
• D.A.
• Inside Job
• Lincoln's Dreams, et al
• Winds of Marble Arch & Other Stories
Chelsea Quinn Yarbro
• Dark of the Sun
Jane Yolen
• The Radiation Sonnets: For My Love, in Sickness & in Health
John Zakour & Lawrence Ganem
• The Doomsday Brunette
Federico Zeri
• Van Gogh: Starry Night
Baddeck Art Club Colours Exhibit
Na h-Eilthirich: The Emigrants
Eloise
• Little Miss Christmas
• Me, Eloise
Harry Potter & the Sorcerer's Stone