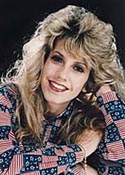 Freelance writer, poet and book reviewer Lynne Remick is a frequent traveller to Celtic Britain. Lynne writes mini travel guides, including favorite Celtic destinations like the Scottish Highlands and Belfast in Northern Ireland.
Lynne lives in New York with her adored son, Kevin, a Belgian schipperke named Dante, an African pygmy hedgehog named Willow (and her babies, Hamlet, Athena and Sirena) and a feral cat named Sahara. Her website is a work in progress. You can contact her at UnderCoverReader@aol.com.
Reviews by Lynne include:
Muriel Anderson & Jean-Felix Lalanne
• A Little Christmas Gift
Klaus Badelt
• K-19: The Widowmaker
Bridget Ball & Christopher Shaw
• Mountain Snow & Mistletoe
Eric Bogle
• Endangered Species
Chris Botti
• Night Sessions
Bourcier, Julin & Wolff
• Live at St. Andrew's
Carter Burwell
• The Man Who Wasn't There
Margie Butler
• The Magic of the Celtic Harp, Vol. II: Lure of the Sea-Maiden
Coila
• Full On
Dancing Fantasy
• self-titled
Mychael Danna
• Hearts in Atlantis
Dreamcraft
• Echoes of Ancient Songs
Linda Dunn
• Linda Dunn
Chinmaya Dunster
• Yoga: On Sacred Ground
Kat Eggleston
• Second Nature
Golana
• Feather on the Wind
Golden Bough
• Christmas in a Celtic Land
Phamie Gow
• Lammermuir
Nanci Griffith
• Poet in My Window
Christina Harrison
• Someday I'm Going Home
James Horner
• A Beautiful Mind
• Windtalkers
Sharon Kennedy
• More Irish Folk Tales for Children
Lisa Lynne
• Daughters of the Celtic Moon
• Seasons of the Soul
Angus Macleod
• The Silent Ones: A Legacy of the Highland Clearances
Will Millar
• Celtic Reverie: Women of Ireland
David Newman
• The Cat in the Hat
Charlie Ningiuk
• Inuit Nunangani
Sheila Noonan
• Radio Sweethearts
NuSound
• Erotic Moods: The Very Best Of
Raffi
• Let's Play!
Sue Richards
• Hazel Grove
Anne Roos
• Haste to the Wedding: Celtic Wedding Music
Phil Rosenthal
• Folksongs and Bluegrass for Children
Maggie Sansone
• Sounds of the Season: Traditional Christmas Carols & Dances
Steve Schuch & The Night Heron Consort
• The Shores of Lillisand
Edward Shearmur
• Johnny English
• K-Pax
Smithfield Fair
• Burns Night Out!
• Cairdeas (Kinship)
• Jacobites By Name
• The Winter Kirk
Sarah Swersey
• Nightingale
Teada
• self-titled
Tomandandy
• The Rules of Attraction
Sue Trainor
• Under Tables, Out Back Doors
Alison Vardy
• Apasionada
• Island Suite: A Solo Harp Odyssey
various artists
• Ali: The Original Soundtrack II
• Caribbean Voyage -- Tombstone Feast: Funerary Music of Carriacou
• Gardens of Eden
• Global Lounge
• The Inuit Artist World Show Case
• Italian Treasury: Abruzzo
• A Jewish Odyssey
• The Rough Guide to the Music of Greece
• Tears of a Thousand Years
• Tribute to Fleetwood Mac: The Blues Years
• Where Have All the Flowers Gone: The Songs of Pete Seeger
• Whistle Down the Wind
• World Serenade
Wendy Weatherby
• A Breath on the Cold Glass
T.A. Barron
• Tree Girl
Michael Connelly
• City of Bones
Jack Conway
• Life Sentences
Sheila R. Davidson, editor
• God's Greatest Gift -- Grandparents
Nelson DeMille
• Up Country
Emily Drake
• The Magickers #3: The Dragon Guard
Brian Haig
• The Kingmaker
T.D. Jakes
• Cover Girls
Faye Kellerman
• Stone Kiss
Cathleen Schine
• She is Me
Brad Meltzer
• The Millionaires
James Patterson & Peter de Jonge
• The Beach House