Shannon Johnson is a bit giddy. She makes silly faces without provocation. She breaks into impromptu dances at the drop of a hat. She fixates on trivia to the point of distraction. She sometimes ribs her brothers mercilessly, and she has devised a creative origin story for band percussionist Francois Taillefer involving an abandoned mine and feral lobsters.
She also plays a wicked fiddle, earning a reputation as one of the top fiddlers in Canada. The Alberta native puts a strong Celtic face on the jazz- and worldbeat-inflected sounds of her half-brothers, Jeremiah and Solon McDade, in the McDades.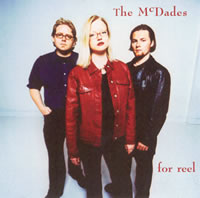 The band, though young, has two decades of musical experience under its collective belt. Performing first as the McDade Family Band and, later, as Terry & the McDades (led by their father, Celtic harper Terry McDade), the group has shrugged free of purely traditional strictures to devise its own unique musical hybrid. Shannon has made a name for herself as a composer, arranger and producer, and she and her brothers have performed and recorded, separately and collectively, with an impressive array of cross-genre musicians.
Shannon credits her stepfather Terry with her and her brothers' love of music. Alberta, she notes, has "a large fiddling tradition," but it tends more to old-time styles, not Celtic. But Terry, she says, made Celtic music a constant presence in their home.
She began taking classical violin lessons at age 3. Her course changed when her dad brought home a Celtic fiddle tunebook, she recalls, and by age 8 she was working to hone her folk style. But her younger brothers (Jeremiah is now 26, Solon is 29; Shannon just turned 34) opted to study jazz at McGill University in Montreal, where they now reside. Shannon still lives in Edmonton, making rehearsals and studio time a little hard to arrange.
So why didn't she join in her brothers' jazz efforts? "It just didn't really appeal to me," she says. "I like old jazz, but the newer stuff drives me around the bend."
Shannon laughs, and says she and her brothers were destined to be a band despite their musical differences. "We were bred to do it," she says. "There's no escaping -- after 10 years playing with your family in a band, we can't get rid of each other ... and we really do enjoy playing together."
Don't get her wrong, Shannon is intoxicatingly happy with her fate. "I think it's brilliant that our parents got us into music," she says.
Both of her brothers are musical "risk takers," she says. Together, the music "just gelled. At first we were just talking about it, and we thought it would be a good idea to open the music up a bit." It all started in an informal family jam session, she says. "We didn't consciously decide to add jazz to Celtic music -- making 'jazzeltic,' or whatever. We were playing a tune ... and we just opened the music up to improvisation."
Now, a year after they began touring and recording full-time as just the McDades, the development of their musical style has become "a continuing process," Shannon says. Their first CD as the McDades, For Reel, is a bit more traditional and less improvisational, although the percussion adds a worldbeat feel, she says. Their sound is evolving, she adds, but no musical direction has been set in stone. "We're just plugging along, trying to write more music and see where it takes us. It's pretty open at this point -- I don't think we'll turn into a ska or heavy metal band, however."
As the siblings write more material, they are leaving more gaps in the music for onstage improvisation, she notes. "There is structure," she says. "It's all within defined arrangements." Meanwhile, she admits, "we're still getting a feel for each other and where we can go."
Shannon is the more traditional of the three, and she leaves most of the improv to her brothers. "I do a little but, but I wouldn't say I'm the improvisation queen. I wouldn't say that at all."
She decided on her own career track in school and honed her performance skills touring with the likes of Bill Bourne, Maria Dunn, Mad Pudding and Fear of Drinking. She has recorded with various others and continues to play classical violin as well.
Serious dedication notwithstanding, Shannon has a refreshingly lighthearted approach towards interviews. This one takes a strange turn once brother Jeremiah joins us on the chilly patio outside the Celtic Colours green room.
"Jealousy is a terrible thing, especially when the youngest is the most talented," he says, grinning into his glass. Soon, the two are enthusiastically recounting the legend of Francois and the feral lobsters, a story they created on the spot earlier that day and had a CBC reporter in tears of hysterical laughter.
But Jeremiah shares his sister's musical devotion as well as her wit. He and Solon are both acclaimed instrumentalists and have built quite a portfolio of studio and live recordings. Jeremiah believes their music has a touch of the baroque, and he wonders sometimes if the audience always gets it.
"I hope they get a general vibe, the all-mighty groove," he says. "I hope they appreciate the technical level of the music. And I hope they're open to our sound."
"We're hoping they think it's interesting," Shannon adds, "rather than thinking, 'Why are they butchering that lovely traditional tune? The bastards!'"
"I just hope they get it," Jeremiah insists. "I want them to know we're different, but not just for the sake of being different. We're breaking new ground. ... There are probably bands out there who do what we do, but not in the same way." "We're breaking ground in our own backyard," Shannon exclaims. "Yeah," agrees Jeremiah. "Like we're gardening."
Their energy is boundless. Their goofiness is entertaining. And their music, well, that's the stuff. Not simply content to put a new polish on their traditions, the McDades are crafting a new Canadian sound.
- Rambles
written by Tom Knapp
published 15 November 2003