The guitar is one of the instruments I appreciate the most, and El McMeen delivers a cut above on this CD. It's a rich sound that flows from his strings. He is accompanied by his friends Larry Pattis, Bob Pegritz, Kate MacLeod, Steve Black and Marc Moss. The whistle that accompanies the guitar on this one is especially sweet.
The title has a Celtic flavour, and as McMeen is one of the smoothest Celtic performers worldwide, it fits. However, the selections are varied with 18th-century Carolan compositions, Scottish tunes, contemporary pop by some of the players mentioned above, and contemporary tunes such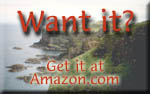 as "Sad Eyes" by Bruce Springsteen, "Here Comes the Sun" by George Harrison, and an old favorite, "Stop in the Name of Love."
This is a CD that's engaging in its simplicity. And deceiving. El McMeen makes it sound so simple. He began playing the guitar in the 1960s and is now internationally known for his innovative techniques and artistry as a finger-style steel-string guitarist.
With fourteen albums to his credit, seven of which are solo albums, there are ample opportunities to hear more of this musician's stunning ability. Because the sounds are so clear and sharp, yet very melodic, there is an excellence to the music on this CD that makes you close your eyes and feel the vibrancy of every note.
El gives a lot of credit to his friends who play with him. Comments in the liner notes celebrate the talents of his friends who assisted him on this musical enterprise. As he states, Kate MacLeod adds her fiddle magic, Pegritz's whistle enhances "Bridget Cruise, 3rd Air," and brilliant harmonization is done by Pattis on "Ashokan Farewell." All true.
As much as I like rollicking reels and heavy guitar hands of some other Celtic players, I discovered that I enjoyed the baroque, almost spartan sound and style of this album. The music is not the toe-tapping sound I'm used to, but it is dynamic and expertly done.
[ by Virginia MacIsaac ]
Rambles: 21 December 2001