I wanted this CD to do a few things for me that it didn't. I expected a set of Gaelic lullabies to remind me of the mouth music my grandmother hummed as she rocked wee ones so many years ago. I anticipated simplicity and child-some lyrics I'd be able to repeat after a listen or two. I envisioned purchasing the CD for friends with newborns, for my godchildren, for christening gifts.
What I got was a very layered, misty, moody arrangement of songs that floated through the air, and that I was never quite able to catch the words of. So I thought, maybe for a child, words don't matter; they probably couldn't understand them all anyway. Maybe, the mood lullabies create put babies to sleep. You know: soothing, calming, relaxing. Warm and snuggly. Well, try these for sleep concepts -- eerie, unsettling, provoking, damp -- not what I expected.
Don't get me wrong, Cave of Gold reveals beautiful music as it spins. However, don't expect this CD to play a child to sleep. Its mysterious energy is an excellent listen though, for those nights you cannot sleep, when you cannot do anything but rub your eyes and ponder about the mystery of night and the mystery of sleep.
Inside there are crooning lullabies, but the musical accompaniment sets scenes of mythical creatures, stormy winds and rushing waters, damp caves and sorcerer's spells.
I suspect Lynn Morrison has a clear, warm voice, but on the title cut, it resonates as if she's singing deep within a cave, and on others it's layered over itself or hidden in the music. There is a whispery quality to it, and probably this is done deliberately to emulate the "Cronon." The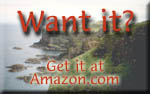 word translates as "lullaby" and is described as a "purring type of music, produced in the throat." Though I'm bothered by the integration of Lynn's voice into the music, I can hear deep devotion in each breath, and a gentleness that draws one into the song amidst the haunting echoes, water dripping, and animals howling. Put a child to sleep? I think not, but the musical context certainly expresses the fears and imaginings of children. In "The Silver Wood," a mother sings of the sights and sounds around them to ease her child's fears. From the primal urge to protect and comfort, we create lullabies.
Celebrated is the theme of motherhood as Lynn's repertoire ranges from her own composition, "Finn's Song," to older sleep-songs from Celtic folklore. The liner notes are filled with myths and fables of danger and trickery.
The selections are sung with a rhythmic and captivating harmony. Instruments include whistle, accordion, clarsach, cello, mandolin, acoustic guitar and electric guitar. Lynn plays fiddle, guitar, and keyboard. The music tantalizes and sweeps over you with intoxicating magic. Once I realized the CD wasn't what I expected, I enjoyed it as a creative musical expedition through the superstitions and fairyland of the Celts. Cave of Gold is back on my gift list.
[ by Virginia MacIsaac ]
Rambles: 21 December 2001