On Monday, Sept. 24, Dervish performed to an appreciative and responsive audience at Manhattan's Knitting Factory, eight blocks from the massive carnage that used to be the World Trade Center. Odds were poor that the gig would take place, as the club could not guarantee patrons access through the police barricades that closed the area even to foot traffic. The band was unsure they could fly into New York and, once the airports reopened, they learned that the club had canceled the show.
But according to singer Cathy Jordan, when the Knitting Factory offered, three days before the scheduled concert, to reinstate the date if the band was interested in playing, they came ahead. Once in New York, there were other challenges. "We were in a long queue on the road and if we'd have waited as long as it would have taken, we wouldn't have made it," says Jordan. "But we met an officer calling himself an 'Italian Jew that played Irish music,' and he organized an escort and we drove through the cordoned off areas that nobody could get down, through smoke-filled streets."
"They had to escort us, flashing lights and all," exclaims mandola player Brian McDonagh. "We were very fortunate that we even got there."
"Being in New York was bizarre," continues Jordan, "because it's usually loud, with the hustle-bustle vibe of New York, and it seemed to have an eerie quietness about it when we arrived. And people were friendlier than usual. I never considered them unfriendly but there was a different kind of attitude there than what we've experienced before."
The mood in the city had indeed been somber and people were still unsure about going out, much less about going downtown. The smell of burning metal and the glare of the monstrous floodlights around the corner from the venue certainly didn't set a festive mood. Additionally, many other groups had already cancelled their fall and winter stops in New York City. But the decade-old seven-piece Sligo band persevered, donating their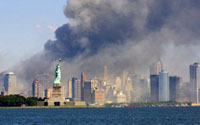 evening's proceeds to the World Trade Center Disaster Fund and playing two tight sets. In addition to their own tunes, these included Bob Dylan's "Spanish Boots of Spanish Leather" and Paul Simon's "An American Tune," which Jordan introduced by saying "It would be impossible to play joyful music all evening and not address the situation."
The latter was a brilliant choice. "Actually," muses McDonagh, "we were rehearsing that particular song when we heard about what happened." "We had been looking at it before Sept. 11," adds Jordan, "and toyed with the idea of maybe playing it sometime and it seemed to fall into place when this happened."
In performance, with the sound of the rescue effort's light generators barely out of hearing, the song left few eyes in the house dry with lines such as "I don't know a soul who's not been battered, I don't have a friend who feels at ease. I don't know a dream that's not been shattered or driven to its knees. But it all right, it's all right, for we've lived so well so long. Still, when I think of the road we're traveling on, I wonder what went wrong...."
"The first couple of nights to a week it got highly emotional," Jordan reflects about the song's performance, "and people were so sad, so heartbroken. Then they started to get angry I think, and the sentiments maybe seemed a little too depressing for people who were trying to pull themselves back together; too upsetting and lacking in hope. But generally speaking it's gone down really well every night." Although some have urged them to record the song immediately, they're instead considering putting this beautiful rendition on the next Dervish album.
While the sadness of current events permeated everyone's thoughts, there was great joy to the evening, which offered the weary audience a chance to put their troubles aside. Featuring a wide selection of music off their five albums, with a focus on 1999's Midsummer's Night, Dervish transformed the club into a safe haven of sorts, a reminder that beauty still exists in the world. Jordan's whimsical explanations of the stories behind the songs even made us laugh. And the layering of the multi-talented Seamus O'Dowd and Liam Kelly's backing vocals against Jordan's voice on "Allellu na Gnamha" from the group's Live in Palma was transcendent as was the exuberant "Touching Cloth" set off 1996's At the End of the Day.
It has been easy for many to pledge solidarity to the U.S. in these troubled times, but Dervish has to be particularly commended for following through on their convictions and giving hope to many of us in NYC who might have otherwise taken longer to find it.
Another Irish band affected by the terrible events of Sept. 11 is Lunasa. Having closed the World Trade Center's Celtic Tuesday's series just two weeks before to the day by playing to 4,000 avid listeners, the destruction of the Towers brought the horror home. There was the threat of rain the night of the show, so those of us in the audience spent some amount of time looking up -- at the sky and at the beautiful buildings that were reflecting the setting sun. Everyone that I know who was at the show that night can't stop talking about the contrast between the peace we shared that evening while listening to Lunasa's signature driving rhythms and the terror that came so shortly afterwards.
On a personal note, I was fortunate enough to have the opportunity to volunteer at the site two weeks after the tragedy. And that the greatest mound of rubble was in the space where the stage stood that night was a particularly terrible and indescribable sight.
Fiddle player Sean Smyth, who also serves as the band's chronicler on Lunsasa's delightful website, quickly wrote the following to accompany photographs that are now both joyous and chilling: "Lunasa had the privilege of playing the Twin Towers Plaza two weeks previous to the fateful day. In actual fact it was like any other ordinary day, meeting our friends and colleagues and doing what we do. And what we do is play music for ourselves, our friends, and for people we will never now know."
In conversation, he said that he heard about the tragedy from his sister. "It was just surreal, very devastating and shocking and because we all know people in NY and have family there so we pretty much went through the emotions that everyone else did in half-shock."
"We wanted to get back to the States as soon as possible, to show solidarity with the people there, not to give in to terrorism," he continues. "Members of our band have lived with terrorism very much on a day to day basis in Northern Ireland, so one thing that's overriding is that you don't let the terrorists feel that they're winning and disrupting your life, you get on with life as completely as possible." Lunasa came back to the States to play Colorado the following week, but disappointingly found that their Oct. 1 gig in New York had been cancelled.
Musicians already in New York faced and continue to face a whole different set of challenges. Fiddler Tony DeMarco and flutist Linda Hickman lived across from the World Trade Center and DeMarco worked in Building #4. DeMarco heard the first explosion and remembers thinking "oh no, some knuckle-headed pilot crashed into the tower." But by the time he got to the street and saw people jumping from the first tower and the second plane hit, he knew that things were more serious. He rushed back into his building just as it was being evacuated and was able to stop Hickman in the stairwell. They made their way back to their apartment, grabbing their instruments and paperwork before heading to their car to check on relatives and leave the city for their house in Pennsylvania. They continue to drive into the city to play their regular gigs, reaffirming the healing power of music.
"We were in shock," he exclaims. "We didn't know what to expect." Tom English, one of New York's finest bodhran players, is also an emergency room nurse for Columbia Presbyterian Hospital. He managed to get into the site to help and also left a note in DeMarco's apartment.
I'm sure that there are those who might deem it frivolous to care about music when all is falling down around you. But first-hand experience says otherwise. New York, Washington, Pennsylvania and indeed the world are still in need of beautiful things: sounds that draw us together instead of apart and a reason to move past our fear.
As Smyth says, "There's a level of communication you can achieve through music in times of great sorrow that's sometimes far greater than words. It's part of the healing process for the community in general. Let music and musicians play their part because they often don't know the help they can do."
[ by Helene Northway ]
Rambles: 19 January 2002
reprinted with permission from
Irish Music Magazine