Angie Palmer's CD A Certain Kind of Distance is a very promising debut: not perfect, but honest, gritty and soulful.
The first CD for this Manchester, UK singer was produced by P. Mason and consists only of Angie's vocals and acoustic guitar. I've come to appreciate these simple projects and I believe they are often both a practical and artistically valid choice for the independent singer-songwriter. It's a strategy that makes sense for Angie Palmer. In fact, instead of creating any kind of distance between herself and the listener, Palmer's simple approach draws us in.
Angie Palmer has a powerful, emotional voice that reminded me of Janis Joplin even before I realized that "Mercedes Benz" is on the CD. Her rhythmic guitar work suits her bluesy, groove-based songs and her lyrics ("heating up my cool") are edgy and accessible. However, one flaw that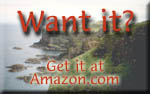 was immediately clear to me was that the guitar is often slightly out of tune. While tuning problems may be okay (sort of) in live performance, they can be easily avoided when recording. It's a little thing, but it makes a huge difference in terms of how a project is perceived.
The songs themselves are pleasant to listen to, despite the fact that many of them sound similar and lack elements that make them truly memorable. Palmer really shines when the song itself is excellent, as is "These Days" which Palmer co-wrote with her producer. This song, unlike some others on the disc, has an uplifting and memorable chorus, as well as strong hooks in both the guitar arrangement and the melody. I wanted to hear this song again, and found it running through my head all day, despite the technical imperfections in the performance. Palmer comes across well in this sweetly melodic song, but in some of the tougher, bluesy songs ("Love Me Like a Man") her voice occasionally takes on a harsh edge.
I think it's a smart idea to include songs by other writers on the CD. It keeps things interesting and allows Palmer to benefit from the songwriting chops of more experienced writers. That said, both "Mercedes Benz" and Joni Mitchell's "A Case of You" are redone quite often. Picking more obscure material by lesser-known songwriters (while keeping an eye out for the truly great songs) might be a good strategy for Palmer. I'm reminded of Jann Arden, whose first big hit "Insensitive" was written by (the still little-known) Ann Loree, and Joan Osborne, whose hit "One of Us" was written by Eric Bazilian of the Hooters. There are so many great unknown songwriters around, why not cover some great unknown songs? With a voice like Palmer's, everyone could benefit.
[ by Joy McKay ]
Rambles: 15 February 2002