Highland Hopes is the first volume in Gary E. Parker's Blue Ridge Legacy. It spans the first 30 years in the life of Abigail, the 100-year-old matriarch of an Appalachian family.
Set in the mountains of North Carolina, Highland Hopes follows the triumphs and struggles of the Porters, a "highland" family. The story begins with Abigail's birth during a stormy April night in 1900, a birth which causes her mother's death. From there, the novel recounts not only the events affecting the family but also explores the relationships of the Porter family with each other and with the community in which they live.
Solomon Porter, the taciturn, hardworking head of the family, is a man of simple but strong faith. His faith is tested repeatedly, from his wife's death to the paths his sons take to the various entanglements and encounters with the Clacks, another highland family. Solomon's faith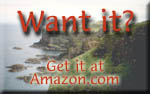 sustains him each time. The Clacks are relatively prosperous due to their moonshine production and are the antithesis of the Porters in most ways, but Parker does not cast the rivalry and conflict in black and white. Instead, he chooses to create more complex and dimensional characters whose motives are varied and universal.
Abby is determined, stubborn and very intelligent, perceptive enough to grasp the nuances of her situation from an early age. She is also practical enough to recognize when she should set aside emotional considerations and do what she needs to do. Abby earns her triumphs but also makes very human choices and mistakes. Like many of those in her family and community, she relies on her faith also doubts and re-evaluates it all the time. Abby's honesty and human frailty makes her all that more appealing.
The supporting cast of characters are well drawn as well: multidimensional realistic men and women with positive and negative traits. Parker's writing brings the little town of Blue Springs to life in description that is detailed without being florid. The plot threads of each character weave together to create a sustained narrative with a strong but not overbearing inspirational message. A good pick for older teens as well, Highland Hopes is a solid page-turner that creates anticipation for the next installment.
[ by Donna Scanlon ]
Rambles: 1 December 2001