When they chose their name, the Ensemble Mystical wasn't kidding. For instance, how many other groups can say that their band includes a carnyx? Or a sackbut? Or an alphorn? Not to mention the more commonly-known harp, cello, melodeon, fiddle and Northumbrian pipes? For that matter, how many listeners even know what a carnyx, sackbut or alphorn is?
According to the CD insert, a carnyx (actually THE carnyx) is a 2,000-year-old Celtic bronze war horn, "complete with a wild boar's head, gaping mouth and lolling tongue." It is played by John Kenny. The sound is loud, wild and gloriously brassy (bronzy?). Kenny also plays the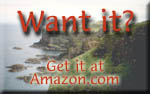 sackbut (a medieval form of the trombone, per Mr. Webster), alphorn (the long alpine horn -- from the Ricola commercials, for U.S. readers) and the disappointingly ordinary (compared to the others!) trombone.
Wild brass instruments aside, Kathryn Tickell, who plays Northumbrian pipes, fiddle and sings, is joined by Mary Macmaster on harp and voice, Ron Shaw on cello and Julian Sutton on melodeon. The combination of such skilled musicians is bound to produce an amazing sound, and Ensemble Mystical is no exception.
Most of the music which appears on this CD is traditional, from dance sets to ancient Christmas carols. Only four of the eleven tracks have any singing, which is provided either by Tickell or Macmaster. Both have very sweet voices. The eleventh track has a poem spoken to the accompaniment of fiddles.
This is a just a wonderful CD. (Yes, I'm aware that I'm gushing, but it really is that good!) Fans of any of the Ensemble musicians will want a copy, as will anyone who just likes traditional music played in new ways.
[ by Laurie Thayer ]
Rambles: 14 December 2001