Like the mythical phoenix, Timothy Keene, one of the first reviewers for Rambles.NET, returns to the staff a little older, a little wiser, but still bringing a no-holds-barred honest opinion and an acerbic wit to his reviews.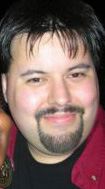 Tim grew up in both California and Georgia, and he lives in San Antonio, Texas with his dog and two cats. Professionally, he works for a server hosting company as a systems administrator, and in his free time he works out, enjoys the local music scene in both San Antonio and Austin, spends the little free time he has getting into trouble with friends, romping around the city and surrounding area with his camera, entering karaoke contests, but most importantly enjoying life and all it has to offer.
In regards to all media, be it music, movies or the written word, Tim has one philosophy -- you can always learn more. He enjoys music from all ages and countries, whether it be blues, jazz, folk, motown, punk, rock or spiritual. He enjoys movies of all kinds, be they major blockbusters, foreign films or low-budget independent films, although nothing makes him happier than locking the door and delving into an all-day Kurosawa movie marathon or Godzilla kaiju fest. Luckily, the pets never seem to mind.
Reviews by Tim include:

Aionios
• Aionios II

Bisia
• Thirsty Desert

Burgandy Brown
• My Lucky 13

Chuck Durfor
• Fallen/Forgotten

Great Northern
• Low Lonesome

Jim Henry
• The Wayback

Tish Hinojosa
• Sign of Truth

Terry Kitchen
• Blues for Cain & Abel

Dana Mase
• Through the Concrete & The Rocks

Simon Mayor
• New Celtic Mandolin

Kent McDaniel
• About Time

Corky Siegel
• Solo Flight: 1975-1980

Peter Smith Quartet
• Caliente & Cool

Jeff Talmadge
• Secret Anniversaries

Tsufit
• Under the Mediterranean Sky

various artists
• Blues for a Rotten Afternoon

Brooks Williams
• Little Lion




Fred Saberhagen
• Ariadne's Web




Austin Powers 2: The Spy Who Shagged Me

Lock, Stock, & Two Smoking Barrels