My boyhood dreams didn't include being in a band.
After all, I didn't play guitar or other "cool" instruments in my youth. I was a violinist in the school orchestra, which meant even geeks and gamers were afraid to be seen with me.
It didn't help being shy. In an orchestra, at least, I was one person among dozens. No one, except for my proud parents and grandma, was going to pick me out of the crowd. So, when I graduated from high school, I did the reasonable thing: tossed my violin in a closet and ignored it for five years.
I tried my hand at a few other instruments, but nothing clicked. Then a friend invited me to a jam session on his porch and suggested I bring "that old fiddle" along.
Fiddle? Hmm.
So I did. To my surprise, I enjoyed myself.
I began playing for fun, with friends and in private. I started teaching myself Irish fiddle tunes and listening to recordings -- almost obsessively -- to better learn the style. Then a guy asked me to substitute for an absent fiddler in his Irish band while I was visiting him in California.
The bug had taken its first bite.
Soon my fiddle and I (and a cheap bodhran, or Irish drum, I'd picked up on a lark) were jamming regularly in my living room with a pal who sang and played guitar. Sometimes, we talked about what we'd name our band.
I came up with "Fire in the Glen," the name of a tune I didn't know and a song I didn't really like. I just liked the sound of it.
We were kidding. At least, I was.
When the phone rang and the woman on the other end told me she wanted to hire my band, I was confused. "What band?" I asked. "Fire in the Glen," she replied.
At first, I was angry at my guitar-playing friend. I learned later that he'd slipped my phone number to the manager of a bar that occasionally featured Irish music. Why my number and not his? I don't know. As revenge, I went ahead and booked the show.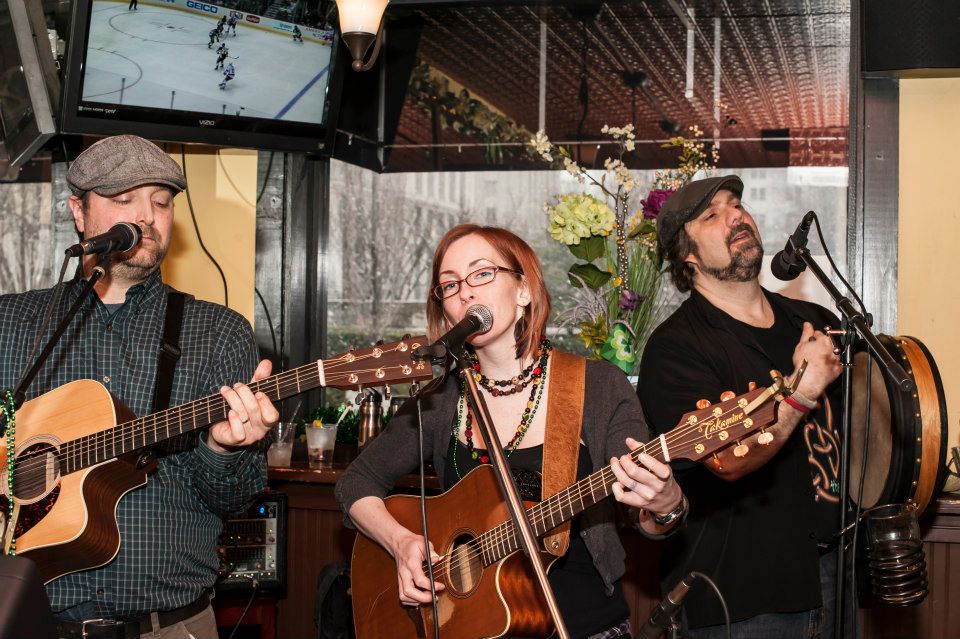 We had three weeks to come up with a three-hour show.
And man, it was fun.
The frantic scramble to learn new music. All-night rehearsals, fueled by pizza and Guinness. The purchase of a new fiddle when I realized my old student model was falling apart -- and, to be honest, not really of a quality for solo performances.
Whoa. That's when I realized I was pretty committed to this "band" concept, since it would take quite a few gigs to pay off that investment. Was it worth it?
Oh, yes.
I rediscovered my love of music, which flourished now that I numbered myself among that elite crew of performers. I came out of my shell, evolving from a quiet fellow who never spoke on stage to an effusive chatterer who rarely shuts up between numbers. (To bandmates, past and present, I apologize -- and not just because of the terrible jokes I often tell.)
It's been a good, long while since that first gig on March 17, 1999. I sometimes can't believe I'm still playing fiddle in the band I started because of an unexpected phone call.
And I'm gratified to have shared the stage with such talented personalities over the years -- from John Varner, with whom Fire in the Glen took its first halting steps, to Chet Williamson, Jason Mundok and Aaron Gagne, who helped refine its sound. Fire in the Glen now features Amanda Wells and Michael Filippo -- both talented singers and multi-instrumentalists -- to round out the trio.
Being in a band is also how I met my wife, Katie -- but that's another story.
by Tom Knapp
Rambles.NET
20 April 2013