Charlie Zahm,
Recent Journeys
(independent, 2008)

---
Last month, in a review of a Charlie Zahm recording, I mentioned that my knowledge of his work transitioned from his Celtic music, then on to early American, maritime and Civil War songs, and finally hymns. Now I learn that he has recently released a CD of songs he has written and composed himself. Does this man's talent know no bounds? My father always said you could be a Jack of all trades and master of none, but Zahm is definitely a master of them all.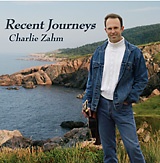 Recent Journeys, released in 2008, is actually Zahm's third original CD. The two earlier recordings are the 1997 release A Summer's Morning Rare and Under the Great Northern Stars released in 1995.
What struck me about this 10-track CD was the ho-hum factor the first time through (I was driving at the time). With each subsequent listening, however, I became more appreciative of Zahm's craft in melding words and music. The words tell a definite story and the music enhances the storyteller's art.
The first time Zahm sang "Goodbye to Bonavista" was for a Newfoundlander who asked to hear a song of home. The poignant lyrics and down-home tempo make this opening track very listenable. "Leave a Little Love" has a railroading flavor; as Zahm says, "in Life, the rails can take you far away, but they can also bring you home."
If rail travel isn't your thing, try a sea journey on a sailing ship. Zahm wrote "The Sultana" especially for the commissioning of Maryland's tall ship of the same name. The melody almost makes the listener feel the salt spray. "Without You" is a tender love song and Zahm writes this cryptic comment in the liner notes; "What can I say about this song and what led to it ... that's the way it goes."
"Down in Ontar-i-o" is a lively tribute to the Canadian province where his mother was born. Several members of her family are mentioned in the song. The collection closes with "My Little One," as gentle a lullaby as I've ever heard. "Children need to know you love them, I tried to say that in this song," Zahm wrote. He succeeded in spades.
Charlie Zahm's nearly two dozen CD and DVD releases plus dozens of appearances annually have earned him a reputation as a serious and seasoned musician. Not only is he an accomplished singer and songwriter, he is a multi-instrumentalist as well. In addition to the guitar, which he uses mostly during his concerts, he is equally adept on the 5-string banjo, mandolin, flute, pennywhistle and others as the mood arises.
Recent Journeys was produced by Zahm and Marc Moss, who also recorded the CD at his Target Recording Studios in Wilmington.