Fire in the Glen

Our third full-length CD,
Let the Wind Blow High!,
is STILL AVAILABLE!
You can buy it at our shows, or you can order it by emailing the band. The CD is $10, plus $2 for shipping and handling if you order through the mail.
Track list: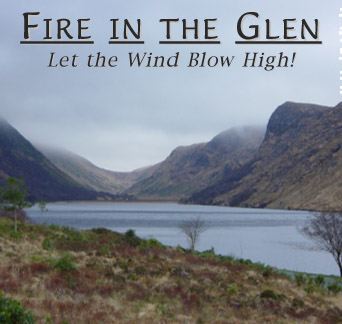 • 1. Reilly's Daughter
• 2. The Day Dawns
Sleep Soond ina Morning
• 3. Donald, Where's Your Troosers
• 4. Waking Alone
• 5. Quarter Moon
Kesh Jig
Banish Misfortune
• 6. Irish Rover
• 7. From Amish to Irish
• 8. Swallowtail Jig
Rakes of Kildare
• 9. Whup Jamboree
• 10. Farewell to Whiskey
Whiskey Before Breakfast
Sally Gardens
• 11. Come Out, Ye Black & Tans
• 12. Courtin' in the Kitchen
• 13. Smash the Windows
Jig of Slurs
Mug of Brown Ale
• 14. Johnny, I Hardly Knew Ye
• 15. Scarce o' Tatties
Lilting Banshee
Scarce o' Tatties
• 16. The Night Pat Murphy Died

Tom Knapp: fiddle, bodhran, backing vocals
Chet Williamson: lead and backing vocals, guitar
Recorded, mixed and mastered by Timothy Truman at Punkin' Studios, Lancaster, Pa.
Back to the Fire in the Glen home page.