A match made in heaven

Elizabethtown Hotel was looking for Irish music;
Fire in the Glen was looking for a venue
When Michelle Orth first heard Irish folk music, she said she immediately fell in love.
"I was at a street fair in Elizabethtown and heard the local band Wyndfall playing," she said. "It was amazing, and I've been hooked ever since."
Fortuitously, when she became the owner of the Elizabethtown Hotel last year, she found a way to mix business with her musical pleasure.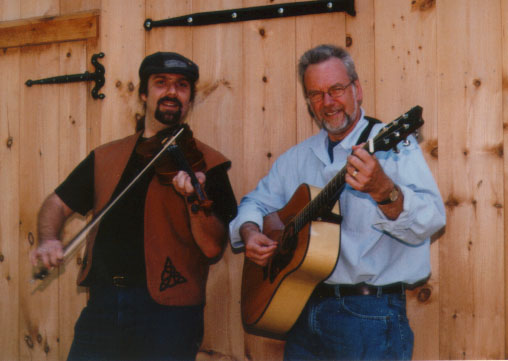 "We wanted to create an attraction at the Elizabethtown Hotel, something people could get into," she said. "So we decided to have an Irish Pub Night every week."
In celebration of this new weekly event, the Elizabethtown Hotel will host the Great Guinness Toast tonight, between 6 and 9 p.m., complete with drink specials, appetizers and the musical stylings of local Irish folk bands like Fire in the Glen and Wyndfall.
"We thought using the Great Guinness Toast as a launching event was a great idea because it's a tradition that people observe all over the world," Orth said. "Every year someone designates a date, and people try to have the longest toast. It just invokes the idea of people eating, drinking and being merry."
In fact, before Orth and her husband, Trevor, purchased the former Elizabethtown Inn in September 2002, they conceived of organizing a special evening devoted entirely to Irish music.
"We approached Tom Reese, who's in Wyndfall, to play at the hotel before we even bought the place," she said. "It's just something we felt strongly about doing."
Irish Pub Night is a godsend not only to fans, but to local musicians who play the folk music exclusively and have difficulty finding venues.
Just ask Tom Knapp, Fire in the Glen's fiddle player.
"A lot of local Irish bands are interested in finding more venues for our music in Lancaster County," he said. "But Irish folk music isn't an easy sell, and we know that. People always seem to like it when they hear it, but no one ever sits around and spontaneously says, 'Hey, let's go listen to a live Irish band.' At least not here."
And while Knapp feels the music has a universal appeal, he doesn't think it's mainstream enough to keep up with other genres commercially.
"If you're a club owner, you may think devoting a whole night to Irish music is risky," Knapp said. "A rock band with a singer/songwriter in front is safer in terms of business."
Knapp said since the music's not as accessible as pop or rock, many people discover Celtic folk music by accident.
"I always liked it, but I didn't always play it," he said. "I started out as a classical violin student in the third grade; then I stopped taking lessons when I got to high school."
He said he put his violin in the closet where it gathered dust.
"Then a friend of mine invited me to a jam," he said. "I told him I didn't have an instrument to play, and he suggested I break out the violin. I did, and fell in love with it all over again."
However, his relationship with the violin changed once he began playing Scottish, Irish and maritime music.
"This time, I was playing the fiddle, not the violin," he said. "There's a difference in attitude and sound. With classical music, there's a precision in finger positions. With fiddle, there's a looser, casual approach. You might say it's sloppier, but in my opinion, it's richer sounding."
He also plays the bodhran, a goatskin drum played with a two-handed stick, and provides the backing vocals for Fire in the Glen. His partner, Chet Williamson, handles the lead vocals and the acoustic guitar.
Knapp, who's also a staff writer for the Intelligencer Journal, met Williamson while he was covering a story.
"Chet's a local novelist who writes horror and contemporary fiction, and I had to interview him one day," he said. "We got to talking, and I mentioned that I was looking for a new partner to play with. He eventually filled that spot."
Still, he has the habit of calling Fire in the Glen a "band," when most would agree that two musicians constitute a duo.
"Two people can have a full sound," he said. "So in my opinion, we're a band."
Knapp said Fire in the Glen plays lively, mug-thumping Irish music as opposed to the tragic, maudlin variety.
"We'd rather have an audience applaud and be loud than quiet and in tears," he said. "I just like it better when it's happy and festive. If you don't feel like tapping your feet to it, then you should check your pulse.
"I think that's why I like the music, the people and the culture so much," he added. "Their spirit is incredible and they know how to celebrate. Even at their wakes they don't mourn. They celebrate the life of the deceased by having the kind of party they would have enjoyed."