Good old-fashioned ballads should be performed in a good old-fashioned way and this group does just that. From the first bars of "Whiskey You're the Divil" on, Pirates, Wakes & Whiskey exudes an atmosphere of performers who enjoy performing.
Fire in the Glen, based in Lancaster County, Pa., features Chet Williamson (vocals and guitar) and Tom Knapp (fiddle, bodhran and backing vocals). I hope they will not be insulted if I compare them to the Clancy Brothers. The first track reminded me of those heady days when a group of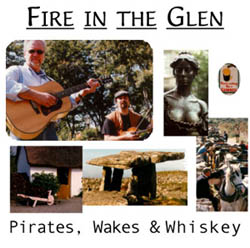 Irish performers brought out the heritage of song to a wider audience and conquered them. Fire in the Glen has that same enthusiasm, whether in a classic old ballad, a rousing instrumental or a brand new song.
"I'll Tell Me Ma" is one of those songs that can only work if sung from the heart, and here it works. Bob Franke's "Beggars to God" takes us neatly from the rousing crowd-pleasing ballad to the thoughtful and well-written new piece of folk. This is a love song of the folk genre and a beautiful story that holds the listener enthralled to hear the outcome.
In the folk camp there are two factions: traditionalists who only like a song sung as it was written decades or centuries ago, and revisionists who like their music evolving. Each has a point, and sometimes when I hear a revised folk song I want to join the traditionalist camp. On this CD, the revision and updating works very well, in particular on "Wild Rover," a song that has had many words added and subtracted in its lifetime.
It is always more difficult to review the instrumental pieces. These are either reviewed by dedicated players who recall each nuance or variation of note or by people like me who cannot play but greatly appreciate good music. The non-lyric tracks here are a joy to hear and they lift the spirit and the heart.
The band members offer some of their own compositions, including "Keep It Up," about some unusual medical advice, and "Scots-Irish," which compares two distinctly different and similar cultures. These are comic songs in the old tradition of music hall and raise more than a few smiles. The latter was my preferred song of the two. Another original is "Susquehanna Pirate," which takes a distinctly local (central Pennsylvanian) view on piracy.
Fire in the Glen gives us an eclectic mix of tunes on this CD. Some are very well known. Some were popular a few years ago, like "Old Dun Cow," but have been unfairly neglected since, and it is good to see them revived. Tracks 1 to 11 are studio based with a further 8 tracks recorded live.
If I have to find a quibble with the CD, it is that like so many pieces that use comedy it can be great or slightly annoying as time goes by. I bet this group would be a treat in concert.
The tracks have a short write-up on the insert, but unfortunately no lyrics are included -- a shame for those tempted to join in on the rocket pace of "Mari Mac."
- Rambles
written by Nicky Rossiter
published 15 March 2003