Every once in a while, an artist can't resist the urge to take a risk, and Ed Gerhard's recording, House of Guitars, is one such project. In this case, Gerhard, in a fit of nostalgia, managed to get his hands on a collection of used, virtually worthless guitars, the sorts of guitars most of call our first guitar, and decided to make a recording using those guitars. Fortunately, the risk was worth taking.
Not being familiar with Gerhard's work, it's difficult to compare this to things he has done in the past. However, I can't begin to imagine how difficult this must have been. It's not just a question of playing the right chords or picking the right notes on these guitars. Each of these guitars has its own personality, and chording, picking and/or strumming would all have to be adjusted for each. That takes a sensitive touch, and Gerhard is up to the task. While Gerhard warns that "all the buzzes, pickup hiss, rattles and noises are right there," I could find very few places where these are truly significant, and I'm guessing it takes a fairly sophisticated system (and ear) to hear those inconsistencies. The most obvious is "I Just Can't Keep from Crying Sometimes" but it's nothing that will bring forth a grimace and exclamation of "what was he thinking?" In fact, the tone of the guitar adds to the blues flavor of Blind Willie's song.
The selection of tunes includes a mix of originals ("Promised Land," "Try to Stay," "Because of You, This") and Gerhard's arrangements of popular or traditional tunes, such as "Let It Be Me," "I Will" and "Poor Wayfaring Stranger." His style has modern and classical overtones, and is very easy to listen to. However, it's not necessarily "easy listening" music. There is passion and depth in the simplicity of Gerhard's style. In "Poor Wayfaring Stranger," a traditional folk song, Gerhard makes the guitars sing the words, with each guitar singing in its own voice, including a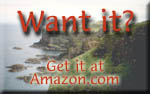 plastic Maccaferri archtop. "Promised Land," a Gerhard original, takes the listener to that special place a musician and his or her instrument aspire to be. It's all between the player and the guitar.
Gerhard does all of the work, with the exception of "Because of You, This," on which Randy Roos backs him up on electric guitars and Ray Brunelle plays drums. The result is quite a bit of over-dubbing on this recording, since there are often three or more guitars played in any given piece. But credit must be given to the recording and mixing, done by Gerhard, and mastering, done by Toby Mountain, because it all works well together, and the finished result is well-polished without being over-produced. This is the sort of CD you can't wait to buy as a gift for your friend, the connoisseur of fine music.
And finally, listening to this recording brought back memories of my first guitar. My father's cousin had a friend who provided used guitars to prison inmates, and as a favor, he sent me one when I was 14. I spent hours over the years on that thing, and had it for six years before I could afford a "real" guitar. Now I feel guilty for trading it in. Of course, if I could play like Ed Gerhard, I wouldn't have had to.
[ by Alanna Berger ]
Rambles: 19 April 2002