Jay Whelan is a multifarious individual living in New York, attempting to make his mark as a writer. He is 40, husband to a beautiful woman and father to a beautiful boy, said beauty owing more to the mother than to the father -- at least to hear Jay's friends tell it. They may be a bit biased. Come to think of it, so may he.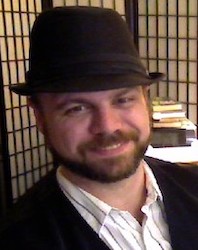 At various times Jay has been an author, an actor, a poet, a bad musician, a passable lyricist, a competent songwriter, a singer of note (he only knew the one note so he kept singing it until they told him to stop), a demon in the kitchen, an angel in the outfield and a student of film, music, theater and just about anything else that crossed his path -- including the caterpillars. He reviewed on Amazon.com for several years until his pursuits took him elsewhere. Now he's been bitten by the critical bug again and will be submitting reviews to Rambles.NET while working on his own writing projects in what little spare time he has.
Aside from writing several dozen Amazon reviews (including several "spotlight" featured reviews), Jay's fiction work has appeared online in a round-robin story-writing project on Tumblr called "Too Many Cooks," which can be found here. He contributed to the first two story cycles and to part of a third before medical issues forced him to withdraw. Jay is currently at work on one novel and plotting two more. More on this as circumstances warrant.
Reviews by Jay include:

Miles Davis
• Birth of the Cool

Dean Station
• Raising the Root

Jane Fallon
• Gemini Rising in a Patchwork Sky

Jenny Gillespie
• Kindred

Pete Mroz
• Detachment

Edward Powell
• Ragmakam

Sultans of String
• Yalla Yalla!




David Almond
• Raven Summer

Greg Bear
• Darwin's Radio

David Brin
• The Uplift Saga #1: Sundiver
• The Uplift Saga #2: Startide Rising
• The Uplift Saga #3: The Uplift War

Daryl Gregory
• Pandemonium

Carolyn Kephart
• Wysard

Stephen King
• The Dark Tower #4: Wizard & Glass
• The Dead Zone
• Insomnia
• The Stand

Stephen King & Peter Straub
• Black House
• The Talisman

Tim Powers
• The Anubis Gates

Anne Rice
• Memnoch the Devil

Peter Straub
• Koko
• Shadowland



All Star Superman, Vol. 1 & 2