Sabine Keevil has constructed the perfect fantasy romance in her novel Guitars & Cadillacs, the latest in the Soundmaster Romance Series. The romance between country super-hunk Colton "Mr. Right" Wright and radio personality Reanne Parker is right out of a storybook, complete with passionate fighting and equally passionate reconciliation. At the same time, she appeals to that part of us that longs to see the behind-the-scenes footage of celebrity lives.
Keevil places her characters inside today's Nashville, complete with many references to popular country stars; this gives the story more of a ground in reality, especially for fans of country music. I've never been to Nashville, but I imagine her descriptions of the music business as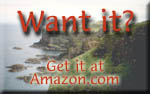 image-fanatic and not always kind are fairly accurate. And, of course, her characters rise above that superficiality to find true love. It's all rather nice, actually -- pure escapism. I really enjoyed reading this story -- there were many nights when I just did not want to put it down. I simply had to turn the page to find out if that was where they were going to kiss and make up and ride off together into the Nashville sunset.
That said, I do have to point out that, at times, the editing (or lack thereof) drove me to distraction. The unfortunate thing is that it made Keevil's effort as a storyteller less noteworthy when basic rules of grammar and punctuation were ignored. It started to take away from the story and left me with what is probably an unfair impression of her talents as a writer.
If you're looking for a romantic tale with a couple of twists and turns, some exotic locales, and good old-fashioned fallin' in love, this is a book for you. I would be interested in reading the rest of the series as well -- I would imagine that the world of professional performers is an inexhaustible resource for her blend of fact and fiction.
[ by Rachel Jagt ]
Rambles: 28 April 2002