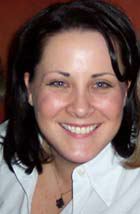 Rachel Jagt is, it is safe to say, a music fanatic. So when the time came to shake off the dull existence of post-university career choices, reviewing CDs seemed to be a light shining from above -- and it was telling her to write. And here she is today.
Her favourite things include anything Canadian (music, books, beer commercials...), the little jumps her heart takes the first time she listens to a really beautiful song, watching the sun set on the Atlantic on the way to Newfoundland....
She tends to search out things she can really experience, from live music to a gentle breeze on a deceptively warm fall day. She expects a new interest in photography to become one of her great loves.
She's a sucker for a really sad song, one that shows the writer isn't afraid to throw his or her soul open to whomever will listen. To Rachel, that's the point of music and poetry -- to pull listeners into a world they need but can't get on their own. Contact her at trubblemaker_76@yahoo.com.
Reviews by Rachel include:
Lisa Angelle
• Lisa Angelle
Dave Anthony
• 31B Victoria
The Backstabbers Country Stringband
• Let the Sunshine In
Anita Best
• Crosshanded
Paul Bromley
• Where I Come From
Kim Buchanan
• Will I Ever Know?
Tory Cassis
• Anywhere But Here
Nathan Caswell
• Einstein's Brain
Robert Crenshaw
• Victory Songs
Clayton Denwood
• Sunset on the Highway
Cliff Eberhardt
• Borders
The Fables
• Tear the House Down
Aengus Finnan
• Fool's Gold
• North Wind
Kathy Fleischmann
• Ten Doors Down
Doug Folkins
• Signs Along the Way
• Touchstone
Radney Foster
• Another Way to Go
• Are You Ready for the Big Show?
Lennie Gallant
• Le vent boheme
• Live
Lisa Gentile
• Becoming
Melinda Gidaly
• This Mortal Lust
James Gordon
• One Timeless Moment, with Sandy Horne
Great Big Sea
• Road Rage
Dave Gunning
• Caught Between Shadows
Bruce Guthro
• Guthro
Debra Guy
• That's Miss Passive-Aggressive to You
The Hackensaw Boys
• Keep It Simple
Tom Hambridge
• Balderdash
Joy Eden Harrison
• Unspoken
Tim Harrison
• Wheatfield with Crows
Into June
• The Lost Lyric
Colin James
• Fuse
Paul Joses
• Gold in a Muddy River
Bob Kemmis
• Okay so...
Lehto & Wright
• The Further Adventures of Darling Cory
John Spyder MacDonald
• By Sea, By Land
Madrigal
• Reverie
Jayne Margo-Reby
• Shades of Reason
Lydia McCauley
• Entrances
Suzanne McDermott
• Ephemera
Trevor Mills
• Karaoke Cowboy
Pamela Morgan
• Seven Years
Don Morrell
• After All These Years
David Newland
• Evergreen
Eamon O'Tuama
• Behind Every Life
Terry Penney
• Missing Marshville
Alun Piggins
• Balladesque
Jeremy Proctor
• Sundays & Mondays
Radio Kings
• self-titled
Roadside Theater
• Wings to Fly
Stacie Rose
• This is Mine
Justin Rutledge & the Junction Forty
• No Never Alone
Sarah Slean
• Blue Parade
• Universe
Bob Snider
• Stealin' Home
Sons of Maxwell
• Among the Living
• The Neighbourhood
Sons of the Never Wrong
• One If By Hand
Cory Tetford
• Grace
various artists
• Sailing on the Sea: An East Coast Compilation
• Remembering Stan Rogers: An East Coast Tribute
• Rollin' into Memphis: The Songs of John Hiatt
• Stan Rogers -- A Matter of Heart: The Musical Revue
The Wakami Wailers
• Waltz with the Woods
The Wayfaring Strangers
• This Train
Nancy White
• Stickers on Fruit
Ina May Wool
• Moon Over 97th Street
ArtsCan Circle Benefit Concert
Jory Nash, Aengus Finnan, Joel Morelli
Stan Rogers - A Matter of Heart: the Musical Revue
Sabine Keevil
• Guitars & Cadillacs
• Long Way Home