Back in the early '90s, I was producing a television series called Prisoners of Gravity, which explored genre fiction including SF. I met Geoff Ryman because my associate producer set up an interview with him during our trip to London. I had not read any of Ryman's fiction, although I owned copies of The Child Garden and Was because they'd both been recommended so highly. My wife, who is a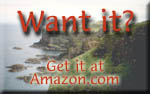 big fan of The Wizard Of Oz, read Was, in which the central characters include Judy Garland and Dorothy Gael, and she absolutely loved it. This despite the fact that she is not a big fan of SF. Well, when I finally read Was I had to agree that it was magnificent.
In Was, Ryman spins a tale of intersecting lives that spans more than a century, the time during which the world of Oz has been a part of our world. The reader meets Dorothy Gael growing up troubled in Kansas, Judy Garland growing up troubled in California, an actor named Jonathan who is about to play the Scarecrow role on stage, a makeup woman on the set of the movie The Wizard Of Oz and a host of other fascinating characters.
It's a great feeling to want to rave about a novel. And people shouldn't feel that an intimate knowledge of Oz is required in order to enjoy Ryman's book. I've never read L. Frank Baum's novels. I have seen the movie a couple of times but nothing like the 30-odd times my wife has seen it. Was is beautifully written, a joy to read. I cannot recommend it strongly enough.
[ by Gregg Thurlbeck ]
Rambles: 30 May 2002