Weather the Storm is a beautiful folk CD by Janet Saadian and while it may take a moment or two to wrap itself around you, it will pull you into the music once it does.
The music on the CD is wonderful and Janet has a strong, clear voice that goes down smooth. The musicians are Robbie Magruder (drums), Wade Matthews (electric bass), Paul Bell (lead guitar, acoustic guitar, electric guitar, resonator guitar), Casey O'Neal (pedal steel), Heidi Gerber (background vocals, tambourine, electric bass, percussion), John Jennings (hammond organ, percussion), Charlie Pilzer (acoustic bass), Mike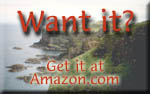 Griffith (snare drums), Mike Crotty (flute, clarinet, bass clarinet) and Akira Otsuka (mandolin). Edna and Marge provide background vocals on "Highway Signs." Janet Saadian also plays the acoustic guitar on several of the songs.
The CD starts off with "Weather the Storm" and it takes the song a moment or two to get to me. There is an insistent hope in the lyrics and eventually the sound of the song gets to where the lyrics are. Once the two meet, you're hooked. "She's Scared" is an energetic song about branching off on your own.
The title of "I Want to be in Love" gives a good feel of the content of the song; it is a strong song that finds a way to work. The mood and tempo change for "Pray for Rain," a fast-paced song expressing the need to slow down for a while. "She Should Have Known by Now" is another song about love, but this time coming after it has ended. Well, mostly -- listen to the song and you'll hear what I mean.
"Long Time Gone" is a strange song looking back and looking ahead at the same time. Then comes "Tear My Stillhouse Down," which has an old-style feel to it even though it isn't that old. It is followed by the soft good-bye song, "Casualties of War." The next song takes us back to love that was; "Martinsburg (Two Hours Away From)" tells of the feelings when lovers are apart.
"Kiss Me" is a beautiful love song, but from a side that is rarely touched on in song. Then comes "Darcy Farrow," a tragic love ballad. The CD ends off with "Highway Signs," a fun love song that plays around with a bunch of metaphors.
Weather the Storm is a wonderful CD that is well worth the listen. There is a warmth in much of the music that is wonderful to hear. Take the time to find it and give it a try.
[ by Paul de Bruijn ]
Rambles: 10 November 2001