There are those musicians who tour because they must. They need to promote a new CD, revive a career or maybe they just want the money. It's generally clear that they're tired of performing the same songs over and over again, and that they're not particularly interested in their audiences. They may appear as if they're simply going through the motions.
Richard Thompson isn't that kind of performer. True, Action Packed -- The Best of the Capitol Years was released fairly recently on his former label, but Thompson, who left Capitol on his own accord, is his own man. Sure, he must want to sell copies of this new CD, but the mischievous look in his eye upon entering Union Chapel's stage makes it clear that he's there for more than that. Dressed in his usual black

(complete with the requisite black beret), clutching an acoustic guitar and performing solo, he launched into a brand new song, "Words Unspoken, Sight Unseen." By itself, it initially seemed sparse without a band, but the ending was almost hypnotic as Thompson worked his fingers on the guitar's higher frets.
Immediately, without segue or conversation, he moved to "Walking on a Wire," a song he originally performed with ex-wife, Linda Thompson. Only after the close of that song did he stop to speak. It was his second night in a row at Union Chapel, and he acknowledged that fact with a grin. "Nice to see you all here again. Well, it's again for me." The venue itself brought about some musing. "It's daylight, and we're in a church," he acknowledged. At that point, a man half-dancing back to his seat attracted Thompson's attention. Thompson always seems to notice his audience -- he sees what they're doing -- and reacts. He immediately directed his guitar towards this fan, then he started playing riffs that sounded as if they were from Stevie Nicks's "Rhiannon." "You can sing along on this one," he then announced, before beginning a rather emotional "Crawl Back (Under My Stone)."
Thompson not only watched the audience; he listened also. He took requests when possible. (He started the gentle, romantic "Beeswing" almost immediately after a fan called out the title.) Regarding one particular request, he laughingly admitted that "I don't remember all the words -- is that OK? Or the tune?" He turned down another request by claiming with a sly smile, "I'm saving the really good ones till the end." He joked about what he termed "arcane show biz rules" about having to perform a fast song followed by a slow one, followed by an uptempo piece. The requests he performed, blended with songs from Action Packed, new pieces and music from the pre-Capitol years, spanned pretty much of all his post-Fairport Convention career. He included the sweet-sounding "Persuasion" (often performed as a duet with his son Teddy), "Did She Jump or Was She Pushed" (a song fans have associated with Sandy Denny's death, although Thompson has denied any such connection), and a blues rocker Thompson referred to simply as "'Kidzz' -- with two zeds." The latter is a cynical, yet realistic, number about "when teenage culture and the corporate world collide," and create a "messy interface."
While his songs generally are cynical and bittersweet both in mood and tone, Thompson isn't always so somber. When he performed a serious number such as "1952 Vincent Black Lightning" (rumored to be the most requested song on National Public Radio in the United States), he is incredibly thoughtful with his guitar playing. (Thompson has the enviable ability to make one guitar sound like at least two.) By the end of the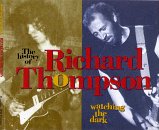 song, his face looked as if he were still living the narrative -- or, perhaps he was just being a mite dramatic since he popped up with a big grin immediately afterwards. His between-song banter reflects a strong sense of humor. When asked where his son Teddy was, he said that he honestly didn't know and joked about how that was "typical." "Can I borrow your guitar, car, house," he said with a grin while playing on stereotypes of grown-up children.
A couple of songs took the humor even further. While he didn't do the requested anti-Kenny G number, he did sing his anti-Madonna song. "As a semi-Scot, I was disgusted," he commented about Madonna's Scottish wedding. "I wrote this song for Madonna and Guy to the tune of another Scottish wedding song," he announced. Mid-song, he paused briefly to apologize for the "desperate rhyme scheme," such as matching Madonna with nirvana. Madonna fans may not see any humor in lines such as "Two bastards now instead of one / What can done to regain my honor / We'll get headlines nice and bold / Or my career's a goner," but the London crowd overwhelmingly approved. Perhaps less insulting to any living artists was "My Daddy is a Mummy," the "Egyptian" song he wrote for a school. He'd been asked to come to a school and sing songs from ancient Egypt. Since he couldn't find any real ones, he wrote one containing "real information" since it's "for schools." "Stylistically, I'd put it between the two Memphises," he said, to which the audience responded appropriately with laughter. The chorus became a sing- along to an Elvis-rocking rhythm.
Before the show actually started, I'd thought I'd spied a second microphone onstage; it quickly disappeared. From past experience, I knew that Thompson was known to introduce special guests, particularly towards the end of shows. Therefore, it wasn't too much of a surprise when he brought on a guest after the first song of a five-song encore. The guest's identity, however, was a delightful surprise. Christine Collister, who has performed with Thompson in the past and sounds quite comfortable singing his songs, was in good voice. She and Thompson sang duets on four numbers, including a slower sounding than usual "Wall of Death." It's quieter with that pace, without the band, but it still works well. The final song, "A Heart Needs a Home," afforded Collister a solo and the chance to show off her smoky, resonant, and emotive voice.
Collister's voice goes well with Thompson's. She's a good choice for him to sing with, and their performances on these last numbers merely were the icing to an evening marred only by occasional distortion on bass notes in the monitor. Once again, Thompson demonstrated his typical contrast between bittersweet, cynical angst and a clever sense of humor.
Opening for Thompson was Manchester-based singer-songwriter Josephine Oniyama, whose voice features an incredible vibrato. Unfortunately, some of her songs often sound too similar at this point in her song-writing career. She has a voice that yearns for lush pieces. The slower pace of "Stranger in the Room" made nice use of the vibrato, which at other times was overpowering. Her closing song, "The Hardest Thing," also took advantage of the vibrato. The talent is there. She simply needs to develop her material further and find her niche; with time, she could use that voice to make her audiences ride some amazing waves.
[ by Ellen Rawson ]
Rambles: 8 September 2001