Tom Knapp is the founder, editor, publisher, designer, dishwasher, dog groomer and chief writer for Rambles.NET. He is also a newspaper reporter and freelance writer in Lancaster, Pennsylvania, where he amuses himself playing Irish, Scottish and Cape Breton folk tunes on his fiddle, bodhran, CD player and car stereo.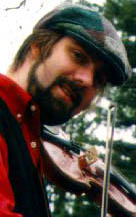 Determined to share (or inflict, depending who you ask) his music in as many ways as he can possibly imagine, he formed Fire in the Glen, a regionally prominent Irish traditional/Celtic eclectic duo with four CDs and a varied performance schedule under its collective belt. Having worked with two partners in the past -- John Varner and Chet Williamson -- Tom now is happily performing with singer/guitarist Jason Mundok.
Tom is married to the lovely Kate and has been entrusted with the care of two impressionable young children, Vinnie and Molly. Kate is beating out of Tom his unusual sense of interior design, although he is imposing on her his nautical style. They share their home with a dog, Casey, and a variety of fish and snails, too numerous to name here. (Morgan, Tom's beloved canine companion for more than 15 years, and his cats Puck and Marlowe are now waiting for him on the other side.)
A wild Celt by nature (and proudly eccentric), Tom collects swords and other sharp, pre-gunpowder implements of destruction, which he stockpiles against the day the Romans, Saxons or Normans (re)invade. Although he is well-versed in several brands of computer, he is a proudly devoted Mac head.
His personal website includes photos from Ireland, Scotland, England and Norway, plus Cape Breton in Canada, Walden Pond in the U.S. and Cancun in Mexico; a substantial collection of quotes from famous and esoteric sources; and a wide array of links. He can be reached via e-mail at tknapp@rambles.net.
Editing and publishing Rambles.NET each week keeps Tom plenty busy, but he hasn't let that interfere with his writing. (Yet!) You can see lists of Tom's reviews, interviews and essays by clicking on the menu selections to the right. Thanks for visiting!


music