Charlie Zahm,
The White Snows of Winter
(independent, 2001)
---
The big question with any Christmas-themed album is always, how well did the performer present those old holiday favorites that we've known and loved for years?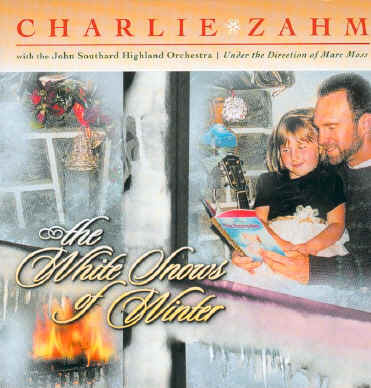 Charlie Zahm, whose choice of 14 Christmas and other seasonal tracks on The White Snows of Winter is pretty much flawless, interprets these chestnuts with passion and a great, booming voice.
This is, without question, one of the best renditions of "O Holy Night" I've heard. Other traditional and well-known selections include "The Little Drummer Boy," "I Saw Three Ships," Mel Torme's "The Christmas Song," "Do You Hear What I Hear," "Silent Night," "I Wonder as I Wander," "Jingle Bells," the spiritual "Go Tell It on the Mountain" and "Have Yourself a Merry Little Christmas."
Zahm also throws in some more unusual selections, which are equally solid: the Kingston Trio's "The White Snows of Winter," the African-American traditional "Children, Go Where I Send Thee," Gordon Lightfoot's "Song for a Winter's Night," and "Scarlet Ribbons" by Evelyn Danzig and Jack Segal.
He performs with Steve Hobson on acoustic and electric guitars, Tad Marks on fiddle, Jim Allison on harmonica, Marc Moss on bass, percussion and guitar, and Mark Sullivan on percussion, as well as the John Southard Highland Orchestra, directed by Moss.
A lot of Christmas albums have a short lifespan in my collection -- either they are too hackneyed, too similar to everything else that's been recorded over the years, or they are too out there, not really sounding to me like Christmas. Zahm treads the line perfectly, and this is one I'll keep in my holiday rotation.
[ visit the artist's website ]







Rambles.NET
music review by
Tom Knapp

20 December 2014


Agree? Disagree?
Send us your opinions!