Pirates, privateers & buccaneers,
bold captains & fierce corsairs,
fishermen, lobstermen & whalers,
swashbucklers, sailors & seamen,
mateys, sprogs & jolly jack tars
---
Tall ships & the briny deep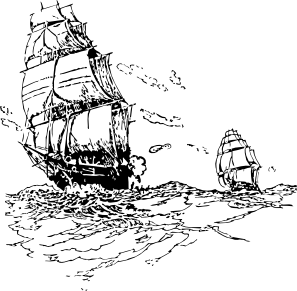 ---

Adventure on the High Seas: Books (fiction & nonfiction)


Avi
• The True Confessions of Charlotte Doyle

Michael Aye
• The Reaper
• HMS SeaWolf

Kage Baker
• Or Else My Lady Keeps the Key

John Baur & Mark Summers

• Well Blow Me Down! A Guy's Guide to Talking Like a Pirate
Peter Benchley
• Shark Life: True Stories about Sharks & the Sea
David Blackmore
• Blunders & Disasters at Sea
Christophe Blain
• Isaac the Pirate: To Exotic Lands
Robert Ellis Cahill
• Haunted Ships of the North Atlantic
Broos Campbell
• Matty Graves #1: No Quarter
• Matty Graves #2: The War of Knives
• Matty Graves #3: Peter Wicked
Nigel Cawthorne
• A History of Pirates: Blood & Thunder on the High Seas
Owen Chase
• The Wreck of the Whaleship Essex
Edward Chupack
• Silver
Susan Cooper

• Victory
David Cordingly
• Under the Black Flag
William S. Crooker
• Pirates of the North Atlantic
William Crooker & Elizabeth Peirce
• Saladin: Piracy, Mutiny & Murder on the High Seas
Mike Dash
• Batavia's Graveyard
Gideon Defoe
• The Pirates! In an Adventure with Scientists
• The Pirates! In an Adventure with the Romantics
Debra Denson
• Magician's Spell
David Donachie

• Nelson & Emma #1: On a Making Tide
• Nelson & Emma #2: Tested by Fate
• Nelson & Emma #3: Breaking the Line
•

The Privateersman Mysteries #1: The Devil's Own Luck
Mark P. Donnelly & Daniel Diehl
• Pirates of New Jersey
Joan Druett
• In the Wake of Madness
• Rough Medicine: Surgeons at Sea in the Age of Sail
• She Captains: Heroines & Hellions of the Sea
Richard Ellis
• Monsters of the Sea
Anthony R. Fanning
• Natalie's Good Fortune
C.S. Forester
• Horatio Hornblower #1: Mr. Midshipman Hornblower

• Horatio Hornblower #2: Lieutenant Hornblower
• Horatio Hornblower #3: Hornblower & the Hotspur
• Horatio Hornblower #4: Hornblower During the Crisis
• Horatio Hornblower #5: Hornblower & the Atropos
• Horatio Hornblower #6: Beat to Quarters
• Horatio Hornblower #7: Ship of the Line
• Horatio Hornblower #8: Flying Colours
• Horatio Hornblower #9: Commodore Hornblower
• Horatio Hornblower #10: Lord Hornblower
• Horatio Hornblower #11: Admiral Hornblower in the West Indies
• Hunting the Bismarck
Gregory Fremont-Barnes

• Nelson's Officers & Midshipmen
• Nelson's Sailors
• Trafalgar 1805: Nelson's Crowning Victory
George J. Galloway
• The Powder Monkey
Elizabeth Garrett
• The Sweet Trade
Robert A. Geake
• The New England Mariner Tradition: Old Salts, Superstitions, Shanties & Shipwrecks
Joyce Glasner
• Pirates & Privateers
Linda Greenlaw
• All Fishermen are Liars
• The Hungry Ocean
• The Lobster Chronicles: Life on a Very Small Island
Richard Hamilton

• Violet & the Mean & Rotten Pirates
Neil Hanson
• The Custom of the Sea
Brian Hicks
• Ghost Ship: The Mysterious True Story of the Mary Celeste & Her Missing Crew
David Wesley Hill
• At Drake's Command
Seth Hunter
• Nathan Peake #1: The Time of Terror
• Nathan Peake #2: The Tide of War
• Nathan Peake #3: The Price of Glory
Bill Jessome
• Maritime Mysteries & the Ghosts Who Surround Us
• More Maritime Mysteries: Everyone Has a Story
Mark Keating
• The Pirate Devlin
Alexander Kent
• Richard Bolitho, Midshipman

• Midshipman Bolitho & the Avenger
• Band of Brothers
• Stand into Danger
• In Gallant Company
• Sloop of War
• To Glory We Steer
• Command a King's Ship
• Passage to Mutiny
• With All Despatch
•

Form Line of Battle!
S.K. Keogh
• The Prodigal
Robert Kurson
• Shadow Divers: The True Adventure of Two Americans Who Risked Everything to Solve One of the Last Mysteries of World War II
Allison Lawlor
• Rum-Running
Tanith Lee

• Piratica
Peter Lerangis
• Antarctica: Escape from Disaster
Alan J. Levine
• The Adventures of Short Stubbly Brownbeard
Edward Lodi
• Nantucket Sleigh-Ride
Walter Lord
• A Night to Remember
• The Night Lives On
Sara Lorimer
• Booty: Girl Pirates on the High Seas
Steven E. Maffeo
• The Perfect Wreck
Frederick Marryat
• Mr. Midshipman Easy
Valerie Martin
• The Ghost of the Mary Celeste
Misty Massey
• Mad Kestrel
Mary McGrigor
• Defiant & Dismasted at Trafalgar: The Life & Times of Admiral Sir William Hargood
L.A. Meyer

• Jacky Faber #1: Bloody Jack
• Jacky Faber #2: Curse of the Blue Tattoo
• Jacky Faber #3: Under the Jolly Roger
• Jacky Faber #4: In the Belly of the Bloodhound
• Jacky Faber #5: Mississippi Jack
• Jacky Faber #6: My Bonny Light Horseman
• Jacky Faber #7: Rapture of the Deep
• Jacky Faber #8: The Wake of the Lorelei Lee
• Jacky Faber #9: The Mark of the Golden Dragon
• Jacky Faber #10: Viva Jacquelina!
• Jacky Faber #11: Boston Jacky
Craig Moodie
• A Sailor's Valentine
• Salt Luck
• Seaborn
Andrew Motion
• Silver: Return to Treasure Island
Dallas Murphy
• Rounding the Horn
James L. Nelson

• Benedict Arnold's Navy
• Brethren of the Coast #1: The Guardship
• Brethren of the Coast #2: The Blackbirder
• Brethren of the Coast #3: The Pirate Round
• The Confederate Navy #1: Glory in the Name
• The Confederate Navy #2: Thieves of Mercy
• The Only Life That Mattered
• Reign of Iron
• Revolution at Sea #1: By Force of Arms
• Revolution at Sea #2: The Maddest Idea
• Revolution at Sea #3: The Continental Risque
• Revolution at Sea #4: Lords of the Ocean
• Revolution at Sea #5: All the Brave Fellows
Patrick O'Brian
• #1: Master & Commander
• #2: Post Captain

• #3: H.M.S. Surprise
• #4: The Mauritius Command
• #5: Desolation Island
• #6: The Fortune of War
• #7: The Surgeon's Mate
• #8: The Ionian Mission
• #10: The Far Side of the World
• #11: The Reverse of the Medal
• #12: The Letter of Marque
• #16: The Wine-Dark Sea
• The Golden Ocean
Vernon Oickle
• Ghost Stories of the Maritimes
Wes Oleszewski
• Ghost Ships, Gales & Forgotten Tales
Roger Paine
• Clear Lower Deck: A Collection of My Naval Yarns
Lin Pardey
• Bull Canyon
Bryan Perrett
• The Real Hornblower: The Life & Times of Admiral Sir James Gordon GCB
Nathaniel Philbrick
• In the Heart of the Sea: The Tragedy of the Whaleship Essex
Dudley Pope
• Decision at Trafalgar

• Ramage
• Ramage & the Drumbeat
• Ramage & the Freebooters
• Governor Ramage R.N.
• Ramage's Prize
•

Ramage & the Guillotine
Tim Powers
• On Stranger Tides
Diana & Michael Preston
• A Pirate of Exquisite Mind
Howard Pyle
• The Book of Pirates
Celia Rees

• Pirates!
Sandra Riley
• Sisters of the Sea
S. Thomas Russell
• Charles Hayden #1: Under Enemy Colors
• Charles Hayden #2: A Battle Won
• Charles Hayden #3: Take, Burn or Destroy
W. Clark Russell
• The Wreck of the Grosvenor
Lee Sandlin
• Wicked River: The Mississippi When It Last Ran Wild
David J. Seibold & Charles J. Adams III
• Shipwrecks & Legends 'Round Cape May
Donald G. Shomette
• The Othello Affair
Jacqueline Church Simonds
• Captain Mary, Buccaneer
Barbara Smith
• Ghost Stories of the Sea
Robert Louis Stevenson
• Treasure Island
Julian Stockwin

• Thomas Kydd #1: Kydd
• Thomas Kydd #2: Artemis
• Thomas Kydd #3: Seaflower
• Thomas Kydd #4: Mutiny
• Thomas Kydd #5: Quarterdeck
• Thomas Kydd #6: Tenacious
• Thomas Kydd #7: Command
• Thomas Kydd #8: The Admiral's Daughter
• Thomas Kydd #9: The Privateer's Revenge
• Thomas Kydd #10: Invasion
• Thomas Kydd #11: Victory
• Stockwin's Maritime Miscellany
V.A. Stuart

• Phillip Hazard #1: The Valiant Sailors
• Phillip Hazard #2: The Brave Captains
• Phillip Hazard #3: Hazard's Command
Rayner Thrower
• The Pirate Picture
Steve Turner
• The Band That Played On
V.E. Ulett
• Captain Blackwell's Prize
Alan Villiers
• Square-Rigged Ships
Mark Warner
• The Tragedy of the Royal Tar
C.D. White

• The Broken Sword
• Standards Left Ragged
William H. White
• The Greater the Honor
• In Pursuit of Glory
• The War of 1812 #1: A Press of Canvas
• The War of 1812 #2: A Fine Tops'l Breeze
• The War of 1812 #3: The Evening Gun
Gene Wolfe
• Pirate Freedom
Richard Woodman
• Nathaniel Drinkwater #1: An Eye of the Fleet
Jane Yolen
• The Ballad of the Pirate Queens
Richard Zacks
• The Pirate Hunter: The True Story of Captain Kidd




---

Music for Sailors, Whalers & Pirates


The Bilge Pumps
• Greatest Hits Vol. VIII
•

The Idiodyssey
• A Pirate's Christmas Wish
• We Don't Know
The Bottomfeeders
• Waterview
Paul Clayton
• Whaling & Sailing Songs from the Days of Moby Dick
The Crimson Pirates
• The Crimson Pirates
• Your Day in the Barrel
A Crowd of Bold Sharemen
• A Crowd of Bold Sharemen
Evans & Doherty
• Sailing Ships & Sailing Men
Golden Bough
• Pirate Gold
Great Big Sea
• Great Big Sea
Pat Kelleher
• Songs of the Sea
Julia Lane
• Song of the Sea
Tom Lewis
• Mixed Cargo
• 360 Degrees
John Spyder MacDonald
• By Sea, By Land
Scott Macmillan
• Celtic Mass for the Sea
Eagle McCall
• Song of the Seas
Dan McKinnon
• Between Wind & Water
McGinty
• Atlantic Favorites
• Atlantic Favourites II
• Sea Songs
Dan Milner
• Irish Ballads & Songs of the Sea
• Irish Pirate Ballads & Other Songs of the Sea
Mutiny Gone Overboard
• Mutiny Gone Overboard
The Pyrates Royale
• Hello Sailor
• Love at Fyrst Nyte
• Lyve Behind Bars
• Black Jack
John Roberts & Tony Barrand
• Across the Western Ocean
various artists
• Rogue's Gallery
• Round Cape Horn
• Sailing on the Sea: An East Coast Compilation
• Songs of the Wooden Boat
Bob Walser
• Outward Bound on the J.M Carpenter
The Whiskey Bards
• The Recruiter ... & Free Rum Ain't Free




---

Movies about Pirates, Fishermen & Sea Captains


Captain Horatio Hornblower R.N. (1951)

Cutthroat Island (1995)
Deep Rising (1998)
Erik the Viking (1989)
Ghost Ship (2002)
Hook (1991)
Horatio Hornblower
• The Even Chance, a.k.a. The Duel (1998)
• The Examination for Lieutenant, a.k.a. The Fire Ships (1998)
• The Duchess & the Devil (1999)
• The Frogs & the Lobsters, a.k.a. The Wrong War (1999)
• Mutiny (2001)
• Retribution (2001)
• Loyalty (2003)
• Duty (2003)
Master & Commander: The Far Side of the World (2003)
Moby Dick (1998)
The Perfect Storm (2000)
Peter Pan (1953)
Peter Pan (2003)
The Pirates of Penzance (1983)
Pirates of the Caribbean: The Curse of the Black Pearl (2003)
Pirates of the Caribbean: Dead Man's Chest (2006)
Pirates of the Caribbean: At World's End (2007)
Pirate Tales (1997)
Poseidon (2006)
The Secret of Roan Inish (1994)
The Shipping News (2001)
Titanic (1997)
U-571 (2000)
Yellowbeard (1983)