Carole McDonnell is a poet, essayist, devotional writer, reviewer and writer of speculative fiction.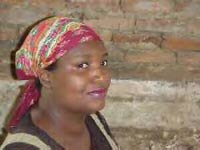 Her works appear in Christian print and online publications and in various Christian or spec-fic anthologies including So Long Been Dreaming: Post-colonialism in Science Fiction, edited by Nalo Hopkinson, as well as Fantastic Visions III, W.W. Norton's LIFENOTES: Personal Writings by Contemporary Black Women, Then an Angel Came Along, Jigsaw Nation, Seasoned Sistahs: Writings by Mature Women of Color and Nobody Passes: Rejecting the Rules of Gender & Conformity.
Her Bible study, "Seeds of Bible Study," is available for free download here and here. Her speculative novel Wind Follower will be published by Juno Books in June 2007.
Reviews by Carole include:

Jane Bom-Bane
• Round-a-way Wrong Songs

Burrito Deluxe
• The Whole Enchilada

Bruno Coulais
• The Chorus (Les Choristes)

John Debney, various artists
• Chicken Little

Pedro Luis Ferrer
• Rustico

Jackie Frost
• Calliope

Betty Harris
• Intuition

Paul Iwancio
• Open Heart Stories

Cyril Lance
• Live from the Outskirts

Bob Margolin
• In North Carolina

Ann Rabson
• In a Family Way

Paul Reddick
• Villanelle

Howard Shore
• A History of Violence

Keri Shore
• Finally

Jimmy Thackery
• Healin' Ground

Andre Thibault
• A Tropical Christmas

Jim Tozier
• Celtic Guitar
• Solo Guitar

Dan Treanor & Frankie Lee
• African Wind

Eddie Turner
• Rise

Chucho Valdes
• Virtuoso

various artists
• Many Blessings: A Native American Celebration

Well Tempered String Band
• Book Two

Kenny "Blues Boss" Wayne
• Let it Loose

Mick West
• A Poor Man's Labour




Jake Adelstein
• Tokyo Vice: An American Reporter on the Police Beat in Japan

Orson Scott Card, editor
• Getting Lost: Survival, Baggage & Starting Over in J.J. Abrams' Lost

Joni B. Cole, Rebecca Joffrey & B.K. Rakhra
• This Day in the Life: Diaries from Women Across America

Charles Gant & Greg Lewis
• End Your Addiction Now

Clark Gerhart, with Jefferson Scott
• Say Goodbye to Stubborn Sin: A Surgeon Explains the Physiological Factors that Trigger It

Marvin D. Hinten
• The Keys to the Chronicles: Unlocking the Symbols of C.S. LewisÕs Narnia

Toby Mac & Michael Tait
• Under God

Kathryn Stockett
• The Help

Saral Tiwari
• Abraham Lincoln: The Civil War President