Fire in the Glen




Our first CD, On the Road to Lisdoonvarna, is SOLD OUT!


But you can still get a copy online. See below!


Track list: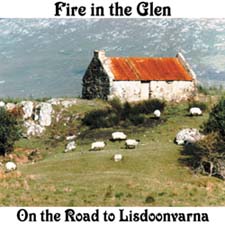 • Scarce o' Tatties
• Cockles and Mussels
• Lannigan's Ball / The Muckin' o' Geordie's Byre / The
Rattlin' Bog / John Ryan's Polka
• Whiskey in the Jar
• Stool of Repentance / Stan Chapman's Jig
• Lover's Heart
• Give Me Your Hand / Lord of the Dance / Fairy Dance / The Butterfly
• Paddy McGinty's Goat
• Ger the Rigger / Maggie in the Wood / Bill Sullivan's Polka
• All for Me Grog
• Road to Lisdoonvarna / O'Keefe's Slide
• Barrett's Privateers
• Dark Island / Devil's Dream

Tom Knapp: fiddle, bodhran, backing vocals
John Varner: lead and backing vocals, guitar
Guest vocalist: Ginny Bartholomew
Recorded, mixed and mastered by Steve Puffer at Parallel Productions, Lancaster, Pa.
Read reviews by Jo Morrison at Rambles.NET and by Naomi de Bruyn at Linear Reflections.
Although we're long since sold out of physical copies of this CD, you can still download the album from CD Baby! (Here, listen to samples of a few tracks!)
Back to the Fire in the Glen home page.