Visit Linear Reflections at http://www.LinearReflections.com.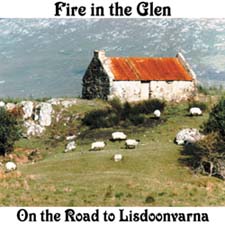 Linear Reflections
by Naomi de Bruyn
On the Road to Lisdoonvarna
by Fire in the Glen
Running Time: 45:41
(self-produced, 2000)
If there is one thing I love, it is a disc which brings with it not only music, but emotions. And Fire in the Glen has done that; this disc brings about a smile of pleasure, a laugh at just being alive. And to top it off, the music is pretty good, too!
Seriously, these two talented musicians are having such a great time playing that you cannot help but enjoy yourself as you are listening to some fine renditions of various old tunes. It is akin to seeing one of those memorable pub performances, where there is a rapport between the performers and the audience, and participation is welcomed and highly encouraged by the band. A night which will be filled with fun, singing, dancing and general merriment. This is the thread of emotion conveyed by this disc - and for that alone it is worth listening to. However, as I stated, the musicians are good as well - an added bonus!
Fire in the Glen is the delightful duo of Tom Knapp (fiddle, bodhran, backing vocals) and John Varner (lead and backing vocals, guitar). And there is also a guest appearance by vocalist Ginny Bartholomew, whose voice is not only smooth as silk but very memorable, on two of the 13 tracks.
I enjoyed the entire disc, so picking out a couple of examples wasn't easy. I decided to go with an old personal favorite, "Whiskey in the Jar." And while not as impressive as some of the other tracks before it, I enjoyed the fun behind it - including Tom's amusing comments in the background. This tune deals with an unfaithful girlfriend, but nothing is important - as long as there is whiskey in the jar! John does a wonderful job on the vocals, although in a number of places he has to work to keep from laughing. This is one of the best versions of this song that I have ever heard - and I'd love to see it live!
"Lover's Heart" is one of the two tracks which has Ginny joining the boys. Its beauty is heartbreaking, as the lovers come together only to be parted as war comes betwixt them. Parting is always such sweet sorrow when love is involved, and the blended harmonies of John and Ginny really really bring this song to life. The guitar and fiddle provide a quietly haunting backdrop for the picture painted by the vocals.
The disc finishes with a flourish as the boys show off their musical prowess with the medley of "Dark Island/Devil's Dream." This begins as a slow melancholy piece and ends at the speed of light! The guitar and fiddle are perfect accompaniment for one another all the way through, and the speeds they attain and maintain are really incredible - my fingers hurt just thinking about all those fast chord changes flying by!
Although this is a great effort, there are some mistakes - including a misprinting of the track orders. When you go to listen to "Lover's Heart" you'll find instead "Paddy McGinty's Goat," and vice-versa. Personally, this added to the overall charm for me. I wasn't expecting perfection. This is a disc of two performers having a great time playing together for "US" and putting the music first. Sure, the vocals are a little weak here and there, but the music is good and consistently so. This is what I'd call a "good time disc" and I'll be listening to it when I need some energy or need to find my good mood again, or just feel like enjoying some good music!
You can visit Fire in the Glen's site at http://www.rambles.net/fitg/. And I would suggest giving them a listen, the music deserves it!